Homemade Basil Pesto
By Jenn Louis
Basil pesto comes from Genoa, in Liguria, and is a truly beloved sauce. It can be made using different nuts and herbs, but the original is made from fresh basil, garlic, and pine nuts. Basil pesto is a rich and herbaceous sauce that, for many Americans, screams summertime. In Genoa, minestrone soup is finished with basil pesto and the sauce is also served on trofie, a regional pasta shape. Pesto is the first sauce I tasted on gnocchi, in Siena, Tuscany. It hooked me on gnocchi forever.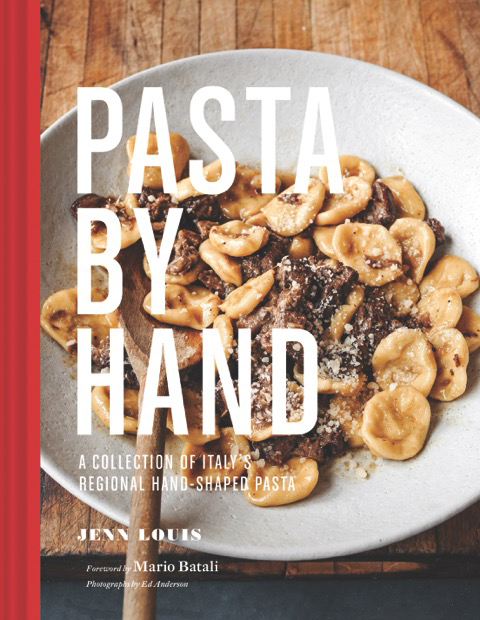 How to Make Fresh Basil Pesto
---
Ingredients
1/2 cup pine nuts
2 garlic cloves, peeled
Kosher salt

4  1/2 cups fresh basil leaves
3/4 cup (180 ML) extra virgin olive oil, plus more for storing and serving
1/2 cup finely grated Parmigiano Reggiano cheese, plus more for serving
Dumplings of your choice, just cooked
Instructions
Makes 2 cups (480 ml)
Combine the pine nuts, garlic, and 1  1/2 teaspoons 
salt in the bowl of a food processor and pulse until finely chopped. With a rubber spatula, scrape down the sides of the bowl, then add the basil, 1/2 cup (120 ml) of the olive oil, and the Parmigiano-Reggiano cheese. Continue to pulse, stopping occasionally to scrape down the sides of the bowl, until the basil leaves are coarsely chopped. Turn the processor back on and add the remaining 1/4 cup (60 ml) olive oil, processing until the mixture is finely chopped but not fully puréed. Turn the food processor off and scrape down the sides of the bowl several times during this process. The ingredients should be fully incorporated, with enough oil to hold the sauce together without being runny.
(To store, transfer to an airtight container and drizzle just enough oil over the top to cover—this will prevent the pesto from oxidizing and turning brown. Refrigerate for up to 4 days, or freeze for up to 1 month. To thaw, place in the refrigerator overnight or until fully thawed.)
To finish dumplings with pesto, for each serving, place a heaping 2 tablespoon of pesto in a bowl. Add the cooked dumplings along with 1 or 2 Tbsp of their cooking water and stir until coated with pesto. Season with salt, and finish with a drizzle of olive oil and grated Parmigiano-Reggiano. Serve right away.
Recipe from Jenn Louis' Pasta By Hand. Order your copy here.