Frozen Strawberry Custard with Lemon Curd
Nothing to me is as superb as homemade strawberry ice cream. Years ago, I swirled in some homemade leftover lemon curd and a new taste treat was born. This one takes a little work and a little forethought, but it is so so so worth it.
A note about ingredients: if you use supermarket commodity ingredients this recipe will be great. But if you use superb lemons—or Meyer lemons—and you use real butter, real cream and real strawberries, then you are in for a special treat. You will taste the difference.
Like this post? Save it on Pinterest!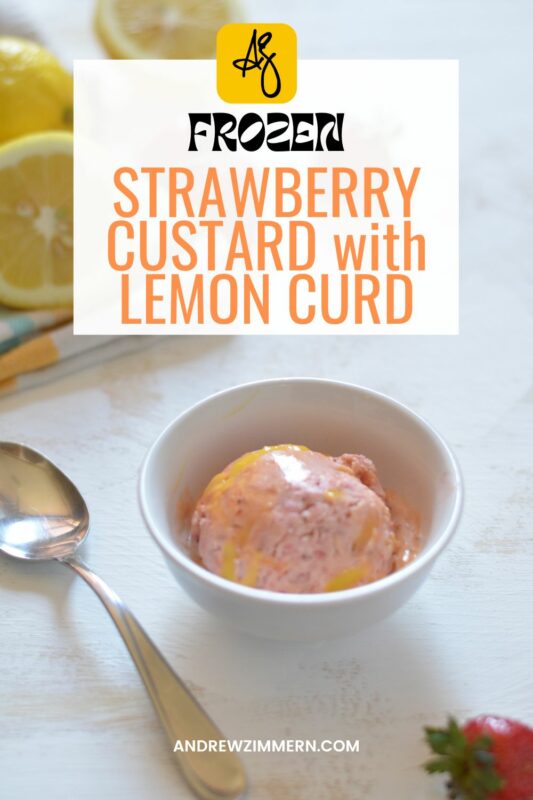 Frozen Strawberry Custard with Lemon Curd Swirl
---
Ingredients
Lemon Curd
6 egg yolks
Zest of 1 lemon
1/2 cup lemon juice
12 tablespoons sugar
One stick (8 tablespoons) unsalted butter, cold, cut into pieces
Ice Cream
1  1/2 pounds strawberries, hulled
1 tablespoon fresh lemon juice
1 cup sugar
2 cups heavy cream
1 cup whole milk
4 large eggs
2 teaspoons pure vanilla extract
Pinch of salt
Instructions
Make the Lemon Curd
Whisk together the yolks, lemon zest, lemon juice, and sugar in a stainless steel work bowl. Fill a larger bowl with ice and pour a few cups of water in and set aside.
Set lemon mixture over a pot of simmering water to create a double boiler, and stir constantly with a spatula, getting to the sides and bottom of pan with the edge of your tool. Cook until mixture is thick enough to coat the side of a spatula, 5 to 7 minutes.
Remove work bowl from heat and quickly stir in the butter, one piece at a time, mixing until smooth.
 Place bowl into the ice bath and stir to drop the temp and stop the cooking process, stir for a few minutes. Place a piece of wax paper or plastic wrap on the surface of the curd to prevent a skin from forming. Refrigerate and utilize. You will need half the curd to swirl into the 2 quarts below. The other half you can use on toast, in cakes, to dip fruit in or to fill tarts.
Make the Strawberry Custard
Working in batches, pulse the strawberries in a food processor until finely chopped but not pureed. Scrape the strawberries into a large bowl and stir in the lemon juice and 1/4 cup of the sugar. Let stand at room temperature for 1 hour.
Meanwhile, in a large saucepan, combine the heavy cream and milk and bring just to a simmer. In a large bowl, using a handheld mixer, beat the eggs at medium speed until frothy. Add the vanilla, salt and the remaining 3/4 cup of sugar. Beat at high speed until thick and pale, about 5 minutes. With the machine on, very gradually whisk in 1 cup of the hot cream mixture, then whisk in the rest. Scrape the mixture back into the saucepan and cook over moderately low heat, stirring constantly with a rubber spatula, until thickened, about 15 minutes. (The custard should be thick enough to coat the back of the spatula.)
Strain the custard through a fine mesh sieve into a large stainless-steel bowl set in an ice water bath. Let stand, stirring occasionally, until well chilled, about 20 minutes. Stir in the strawberries with their juices, then refrigerate until cold, about 1 hour.
In two batches, freeze the custard in an ice cream maker according to the manufacturer's instructions; when the custard is thick but not firm, scrape it into a medium bowl and using a rubber spatula, gently fold in 1/2 cup of the lemon curd per batch. Freeze the strawberry custard in airtight containers until firm, about 2 hours.
Originally published in Andrew Zimmern's Kitchen Adventures on foodandwine.com.
Photograph by Madeleine Hill.
• Toasted Almond & Candied Cherry Ice Cream
• Pomelo Sorbet
• Summer Berry Trifle