Quick Holiday Dessert
This simple cranberry cake is a perfect addition to your holiday dessert spread. Not too sweet and packed with fresh cranberries, it's as beautiful and festive as it is easy to make.
Like this recipe? Save it to Pinterest.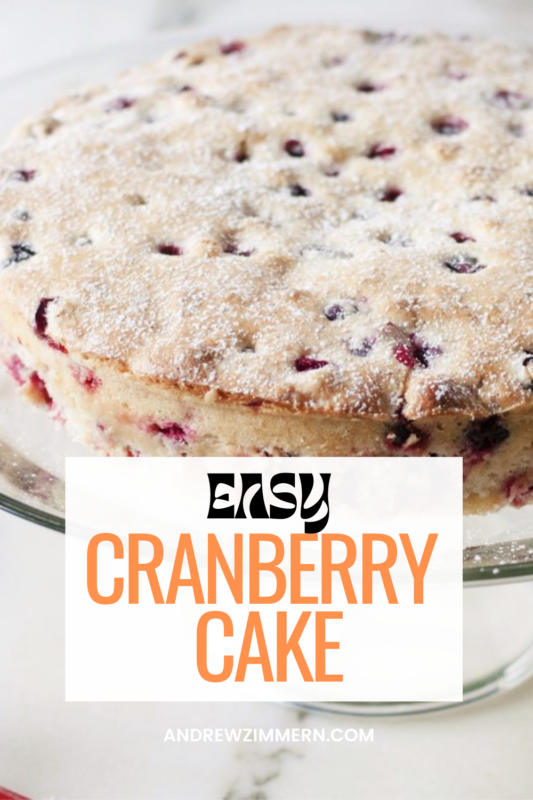 Cranberry Cake
---
Ingredients
3 tablespoons butter
1 cup sugar
2 cups flour
3 teaspoons baking powder
1/4 teaspoon salt
1 cup milk
3 cups whole cranberries
Instructions
Preheat the oven to 350 degrees F. Butter a 9-inch cake pan.
Cream together butter and sugar. Sift dry ingredients. Add the dry ingredients to the butter and sugar, alternating with the cup of milk.
Beat with an electric mixer or standing mixer.
Fold cranberries into the batter.
Using a spatula, spread batter into a buttered cake pan. Bake at 350 for 45 to 55 minutes, until a cake tester pulls out clean.
Cool on a baking rack, un-mold and sprinkle with powdered sugar. Serve with whipped cream.
Photographs by Madeleine Hill. 
• Apple Crumb Cake
• Angel Food Cake with Macerated Berries
• Almond & Orange Cake with Poached Plums