A Simple, Foolproof Treat
Everyone is baking these days, myself included. I venture to guess that it's because the category represents the ultimate comfort food: A warm crusty bread, perfect cookies, or these simple bars my Aunt Suzanne makes all the time. I just made this batch, and turned her notes into a fool proof recipe.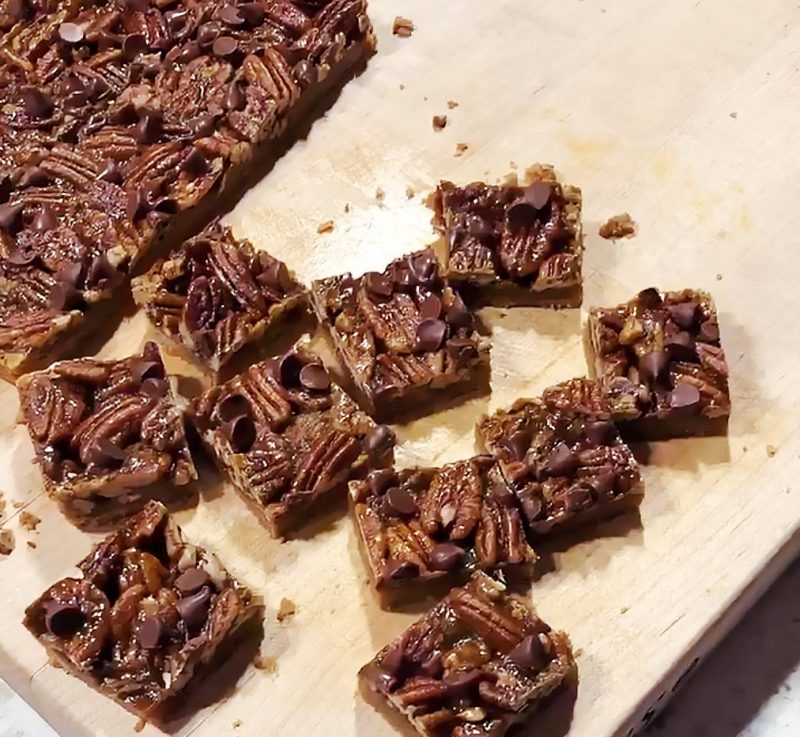 Aunt Suzanne's Caramel Pecan Bars
---
Ingredients
Crust
2 cups flour
1 cup packed brown sugar
1/2 cup of salted butter
Topping
2 cups pecan halves
1 cup of salted butter
3/4 cup of brown sugar
Flaky sea salt
OPTIONAL: for chocolate lovers, 1 cup dark chocolate chips
Instructions
Preheat oven to 350 degrees F.
In a standing mixer with the paddle attachment, mix all the crust ingredients together on a low speed for about 90-120 seconds.
Press the mixture into the bottom of a 9 x 13 baking pan and sprinkle the pecans on evenly. Set aside for a moment.
In a small sauce pot combine the butter and the brown sugar, cooking over medium heat, stir until it comes to a boil. Boil for one minute you will see it become homogenous and begin to rise up the sides of pot.
Pour the mixture over the nuts as evenly and quickly as you can. sprinkle with flaky sea salt.
Bake for 20 minutes at 350 degrees in the center of the oven.
Remove, and if you like chocolate and nuts, sprinkle with the chocolate chips at this time.
Cool for a few hours, cut one strip out of pan and cut into squares with a sharp knife. Then lift out the remaining plank, cut into strips and then into squares.
Enjoy. These store best in the fridge with baking paper in between the squares.