Vegetable Lentil Curry
Inspired by my dear friend, the brilliant chef and humanitarian José Andrés, here is my #RecipeForDisaster. This vegetable lentil curry is nutritious, wholesome and a great way to feed a lot of people on a budget. Think of this as an inspirational recipe, meaning you can use whatever leftover vegetables you have in the fridge combined with a nutrient dense legume like lentils for a delicious and easy meal. Swap the chicken stock with vegetable stock for a vegetarian dish.
Watch Andrew make this recipe:
Like this post? Save it on Pinterest.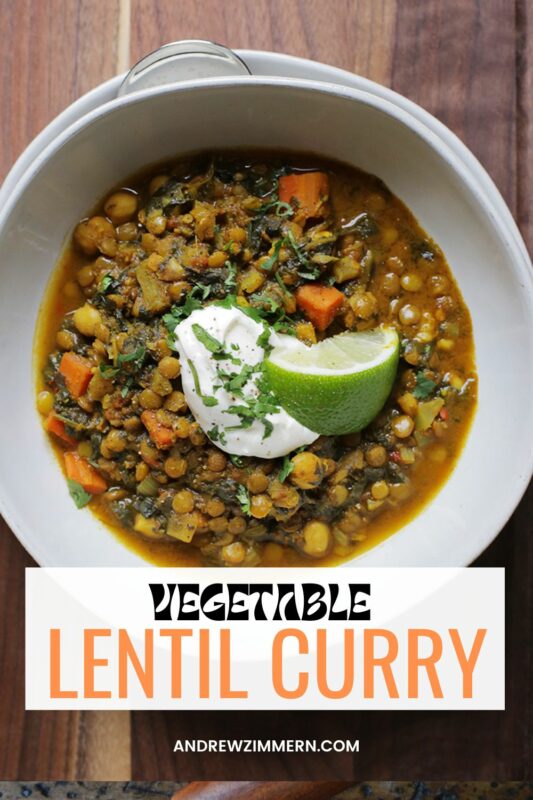 Vegetable Lentil Curry
---
Ingredients
2 tablespoons olive oil
1 medium onion, chopped
1 fennel bulb, trimmed and chopped
3 carrots, chopped
3 garlic cloves, halved
4 slices of fresh ginger
1 fresh red chile, sliced
Salt
1  1/2 cup green lentils
1 tablespoon garam masala
Several pinches red chile flakes
3 tablespoons curry powder
4 cups chicken stock or vegetable stock
1  14-ounce can of chickpeas, drained and rinsed
1/2 cup tomato puree
1 cup frozen spinach, thawed and squeezed dry
2 tablespoons red wine vinegar
Cilantro, minced for garnish
Crème fraiche, sour cream or yogurt, for garnish
Lime wedges, for garnish
Instructions
Heat a large pan over medium heat. Add the oil to the pan and when the oil ripples and becomes aromatic, add the onion, fennel, carrots, garlic, ginger, red chile and salt. Cook for 4 to 5 minutes, until onions are lightly caramelized. Next, add the lentils and stir. Add the garam masala, chile flakes and curry powder; stir to fully incorporate the spices
Add the stock, chickpeas, tomatoes and spinach. Bring to a simmer and cook for about 40 minutes. Season with a couple tablespoons of vinegar. Scoop into individual serving bowls, and garnish with cilantro, crème fraiche or sour cream, and a lime wedge.