Goat 101
By Andrew Zimmern
In this episode of Wild Game Kitchen, learn how to break down and butcher a whole goat, utilizing the leg and backstrap for a beautiful braised curry and saving some of the animal's offal for a delicious chef's snack on the grill. I will finish the meal with a classic tomato and cucumber salad and rice pilaf with caramelized onions.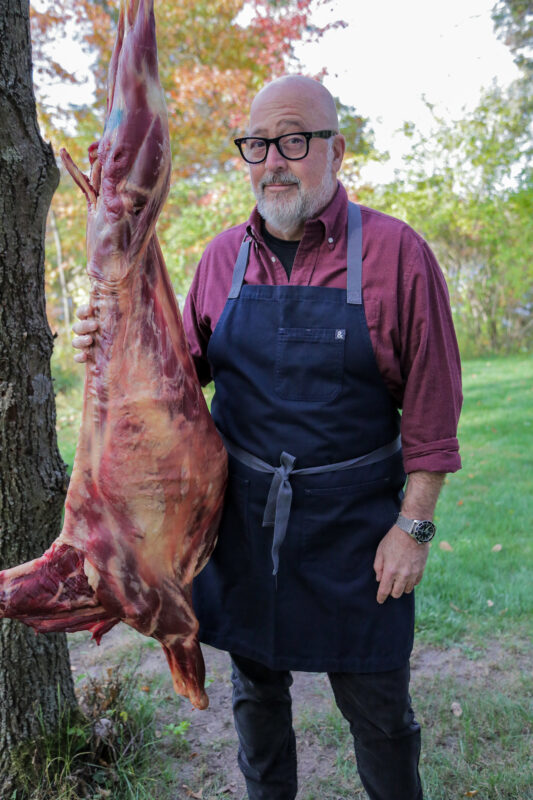 Goat Curry with Tomato-Cucumber Salad & Rice Pilaf
---
Ingredients
For the sauce
3 tablespoons vegetable oil
1 onion, chopped
1 serrano pepper, chopped
2 garlic cloves
2 tablespoons sugar
2 tablespoons turmeric
1 tablespoon ground black pepper
1 tablespoon Madras curry powder
1 tablespoon cumin
1 tablespoon garam masala
2 tablespoons paprika
2 cups of tomato puree
3 tablespoons plain Greek yogurt
1 cup heavy cream
Juice of 1/2 lemon
For the stew
2 pounds goat, cut into 1-inch piece
3 tablespoons butter
2 cups diced onions
1 cup diced carrots
1 cup diced celery
1 cup frozen peas
5 tablespoons madras curry powder
1 cup chicken broth
Instructions
Make the sauce: Place the oil in a large heavy saucepan over medium heat. Add the chopped onion, serrano pepper, garlic and saute for several minutes until starting to caramelize. Add the sugar, turmeric, ground black pepper, tablespoon of curry powder, cumin, garam masala, paprika and stir, cooking for a minute or two over low heat. Add the tomato puree and stir, bringing to a simmer. Cook for a minute and add the cream. Simmer on low heat for about 12 minutes. Using an immersion blender, blend until the sauce is smooth and creamy. Or let cool and puree in a blender. Reserve.
Preheat oven to 325 degrees F.
Cut goat into 1-inch cubed pieces and season with sea salt and ground black pepper. Brown meat on one side in a skillet over medium-high heat in the 3T of butter. Add the meat to the pot with the sauce. Add 2 cups of celery, carrot and onion to the pan along with the 5T of curry powder and toss, cooking for a few minutes, Add the cup of broth and stir. Cook for 30 seconds and pour into pot with the sauce and meat. Stir well, and bring to a strong simmer. Cover. Place in a 325 degree oven for 2 hours.
Test the meat for tenderness and when done, add the peas, yogurt and lemon juice.
Season with salt and serve.
Rice Pilaf
2 tablespoons vegetable oil
3 onions, diced
2 cups basmati rice
4 cups chicken broth
1 teaspoon saffron, mixed with 1 tablespoon water
In a dutch oven or saucepan over medium-low heat, add the vegetable oil and onions and cook until caramelized, about 20 minutes. Add the basmati rice and stir to coat. Toast for a minute, then pour in the broth and saffron. Bring to a simmer, cover and cook for 25 minutes.
Tomato-Cucumber Salad
3 small Persian cucumbers, diced
3 tomatoes, diced
3 shallots, diced
1 hot pepper, such as a jalapeno or serrano, sliced
1 cup chopped cilantro
1 lime, zested and juiced
1 lemon, zested and juiced
1 tablespoon freshly ground black pepper
Sea salt
Place the cucumbers, tomatoes, shallots and hot chile in four piles in a large salad bowl. Place the cilantro, black pepper and zests in the middle. Drizzle with lemon and lime juice. Season with salt and toss to taste right before dining.