Chocolate Swirl Pumpkin Bundt Cake
Recipe by Zoë François
I am in desperate need of lessons when it comes to baking, and I can't think of a better teacher than my friend Zoë François, an award-winning baker and author of the best-selling Bread in Five Minutes series. She is sharing her recipe for a ridiculously moist and delicious pumpkin bundt cake with chocolate streusel swirl, a perfect dessert (or breakfast) for the holiday season.
Watch Zoe make this recipe:
Like this recipe? Save it on Pinterest.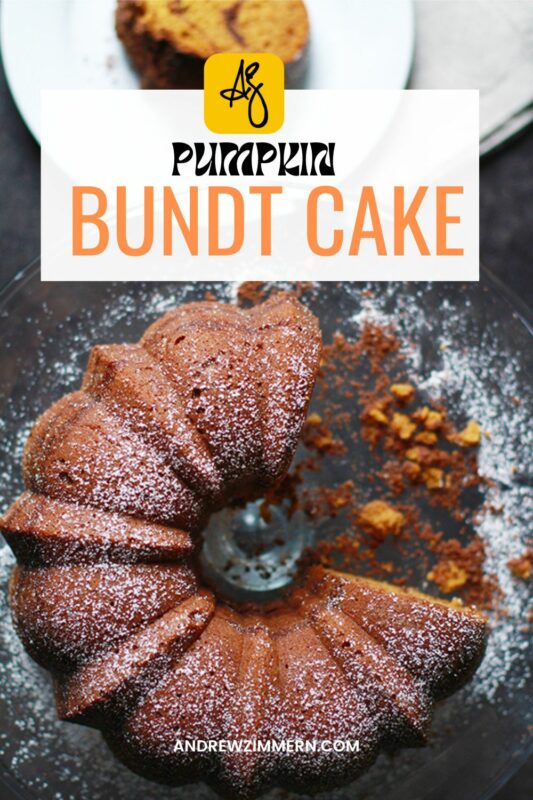 Andrew Zimmern Cooks: Pumpkin Bundt Cake Recipe with Zoë François
---
Ingredients
Cake
1 cup vegetable oil
1 cup (215g) sugar
1 cup (235g) brown sugar
3 eggs
15-ounce (425 g) canned or roasted pumpkin puree
3/4 cup (185g) sour cream
1  1/2 teaspoons vanilla extract
2  1/4 cups (295g) all-purpose flour
1  1/2 teaspoons baking soda
1 teaspoon kosher salt
1 teaspoon freshly grated nutmeg
1/4 teaspoon all-spice
1/2 teaspoon ginger
Chocolate Streusel
1/2 cup (70g) all-purpose flour
1/2 cup (118g) brown sugar
1 tablespoon (10g) dark cocoa powder
1 teaspoon cinnamon
3 tablespoons (118g) unsalted butter (browned is best), softened
Topping
1/2 cup confectioners' sugar
1 teaspoon pumpkin pie spice
Instructions
Preheat oven to 325°F. Butter and flour 10 cup Bundt pan.
Prepare the cake batter in a large bowl, combining the oil, sugar, brown sugar, and eggs. Once they are well combined add the pumpkin puree, vanilla and sour cream. In a separate bowl, whisk together the flour, baking soda, salt and spices. Add the dry ingredients to the pumpkin mixture and mix until it all comes together in a smooth batter.
Prepare the streusel by combining the flour, sugar, cocoa, cinnamon and butter until the mixture resembles corn meal, set aside.
Pour ¼ of the cake batter into the prepared pan. Sprinkle 1/3 of the streusel over the batter. Pour ½ of the remaining cake batter into the pan. sprinkle ½ the remaining streusel over the batter. Repeat with remaining cake batter and finish with the last of the streusel.
Bake for about 1 hour 15 minutes or until a tester comes out with moist crumb.
Allow to cool in pan for about 15 minutes, then turn cake out onto a serving dish. Once the cake is cool combine confectioners' sugar and pumpkin spice for the topping and sprinkle it over the top of the cake.
If you want a more sophisticated finish top with ganache. Heat the 6 ounces heavy cream to simmering in a small pot. Turn off the heat and add 6 ounces bittersweet chopped chocolate. Swirl the pan and allow to sit for 3 minutes. Gently whisk together and pour it or drizzle over the cooled cake.
• Pumpkin Pie
• Pumpkin Hand Pies
• Thanksgiving Dessert Recipes