Pasta Carbonara
This elegant Roman pasta is simple to make and one of the most soul satisfying meals I can think of. It's superb even without fussy ingredients, but it becomes HEAVENLY with a seriously good cheese, and orange-yolked farm fresh eggs. It will change your life.
Watch Andrew make this recipe:
Like this recipe? Save it on Pinterest.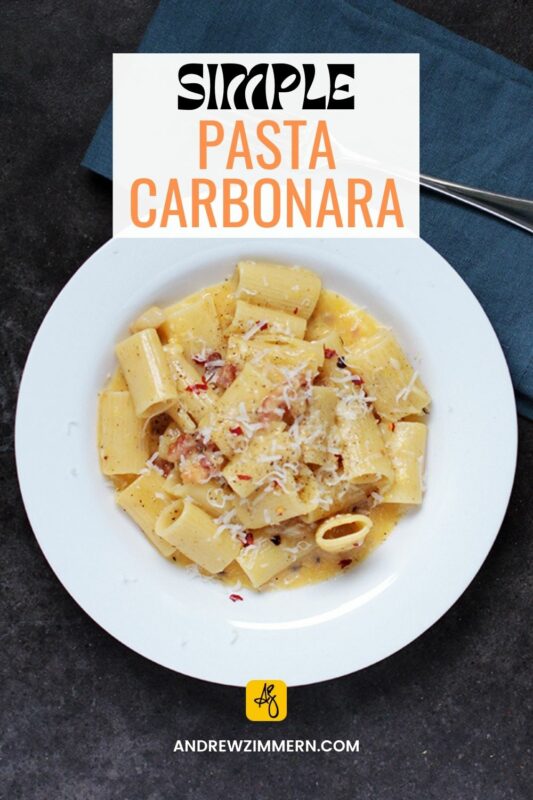 Pasta Carbonara
---
Ingredients
1 pound rigatoni
Salt
6 ounces pancetta or guanciale cut into 1/4-inch dice (I like to use a combination of both)
1 teaspoon olive oil
3/4 teaspoon crushed red pepper
1 cup freshly grated Pecorino Romano cheese
5 large egg yolks
1 large egg
Pepper
Instructions
In a large pot of salted boiling water, cook the pasta until al dente. Drain, reserving 1 cup of the cooking water.
In a large skillet, add a teaspoon of olive oil, the guanciale and pancetta. Cook over medium-low heat, stirring occasionally, until the fat is rendered and the meat is tender, about 10 minutes.
Add the drained pasta and pecorino to the pan with the pancetta and guanciale. Turn off the heat. Whisk the egg yolks and egg together, and add to the pan. Pour in 1/4 cup of the reserved pasta water and toss until creamy, about 1 minute; add more reserved cooking water if necessary. Season with salt and pepper. Serve in shallow bowls, and garnish with extra cheese.