Cold Cucumber Soup with Yogurt & Dill
This is a really simple Turkish cucumber and yogurt soup that only takes a few minutes to make. The technique couldn't be easier, you're basically blending a salad into a refreshing cold soup. I keep jars of this stuff in the fridge all summer long, it's the perfect healthy snack, appetizer or sauce for cold poached salmon.
Watch Andrew make this recipe:
Like this recipe? Save it on Pinterest.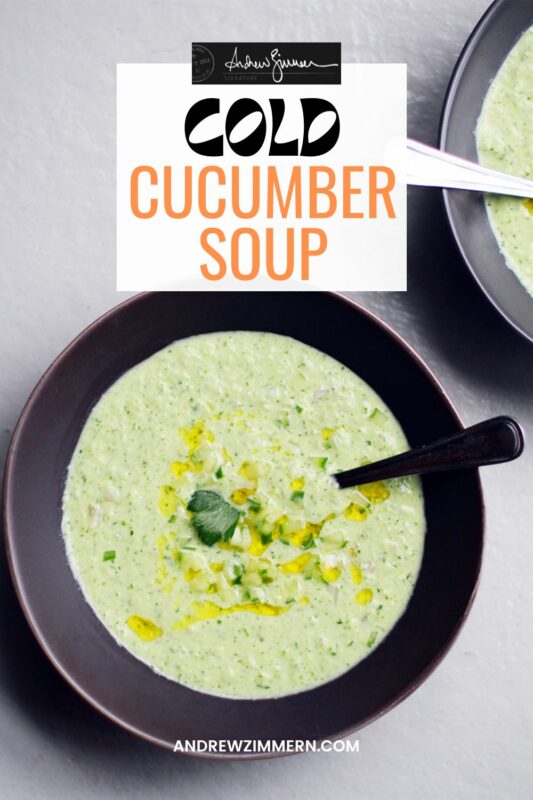 Cold Cucumber Soup with Yogurt & Dill
---
Ingredients
2 large European cucumbers, halved and seeded—1/2 cup finely diced and reserved for garnish, the rest coarsely chopped
1/3 cup loosely packed dill
2 tablespoons loosely packed tarragon leaves
1/2 red onion, minced
1/4 cup loosely packed flat-leaf parsley leaves
Fresh ground white pepper
Salt
1/4 cup olive oil, plus more for drizzling
1  1/2 cups plain Greek yogurt
3 tablespoons fresh lemon juice
1 garlic clove
1/2 shallot, minced for garnish
Instructions
In a blender, combine the chopped cucumber with the dill, tarragon, onion, parsley, ground white pepper, salt, olive oil, yogurt, lemon juice and garlic. Blend until smooth. Cover and refrigerate for 4 to 5 hours, or until chilled.
Taste and season the cucumber soup again as necessary just before serving. Pour the soup into bowls. Garnish with the finely diced cucumber, shallot and a drizzle of olive oil and serve.