New Orleans-Inspired Recipes for Mardi Gras
Mardi Gras is an indulgent and revelrous holiday, an annual excuse to eat, drink and celebrate all day long before the start of Lent. Next to king cake and party beads, you can't forgo a meal of classic Creole and Cajun flavors. So if a trip to New Orleans isn't in the cards this year, make your own Fat Tuesday feast with some of my favorite recipes.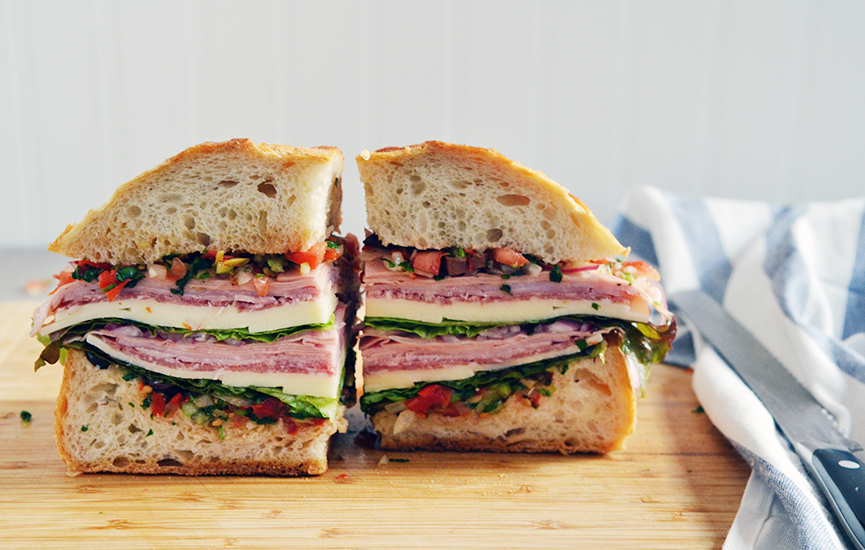 The muffuletta is a classic New Orleans sandwich, layered with a few different cured meats, provolone and a tangy olive and tomato relish that soaks into the crusty bread.
---
This dish's success hinges on the roux, which is the foundation to all gumbos. You're basically scorching the flour in the hot oil (that's why it turns that deep shade of brown), so do it slow and easy, kids. The stars of this gumbo are the fresh, shucked oysters and crab meat.
---
This chicken and andouille dish is chock full of bold Creole flavors. Served with sweet-and-spicy rice that's loaded with coconut, jalapeños, pistachios and raisins, the rich Southern stew is perfect for a Mardi Gras celebration.
---
Étouffée is a riff on the old French verb "to smother," and while there are as many recipes for étouffée as there are cooks who make it, this one is so easy that it's become an instant classic in our house.
---
This Peanut Butter & Banana King Cake with Candied Bacon comes from my good pal Donald Link. It's the perfect ending to a Mardi Gras celebration.
• Chef Donald Link's Top Picks for New Orleans
• My Favorite Po' Boy in New Orleans
• Willie Mae's Scotch House
• John Besh shares his recipe for Chicken Fricassee