What to Eat at the Minnesota State Fair
I like to stick with tradition when it comes to the State Fair, never passing up an opportunity for cheese curds, a foot-long hot dog, an ice cold 1919 root beer and a bucket of Sweet Martha's cookies. Fair food doesn't need to be, and probably shouldn't be, complicated or fancy. In no particular order, here's a list of my favorite foods at the Great Minnesota Get-Together.
I want to see what you're eating at the fair! Share your videos and photographs, tag @chefaz and use #AndrewsFairShare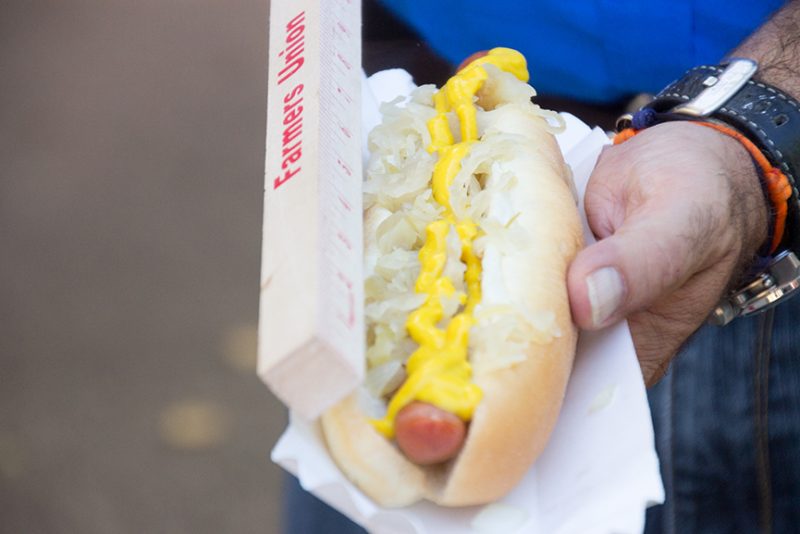 Foot Longs at Carnes and Nelson
I love the classics, and it just doesn't get better than this one. It's a real German-style (about-a-foot-long) frank with snappy skin. I get one everyday with sauerkraut, well-done onions and a little mustard. It's without a doubt, hands down, the best foot long at the fair. I eat one for breakfast every day I'm there.
Location: Next to the DNR building.
---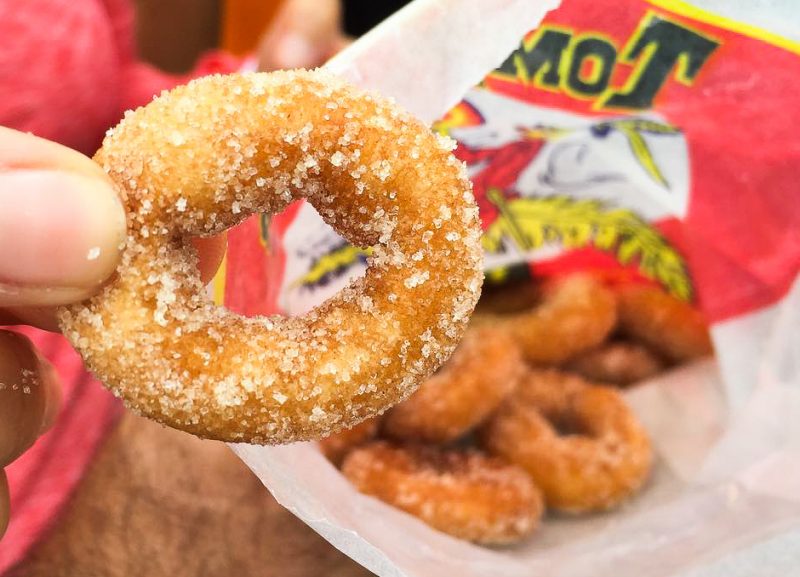 Tom Thumb Donuts
Mini donuts are right up there with footlongs and cheese curds when it comes to quintessential Minnesota State Fair food. You just can't walk past a Tom Thumb stand, as that fried dough smell wafts through the air, without buying a bag. These are only good straight out of the fryer, piping hot and dipped in sugar.
Location: West side of Cooper between Wright and Dan Patch.
---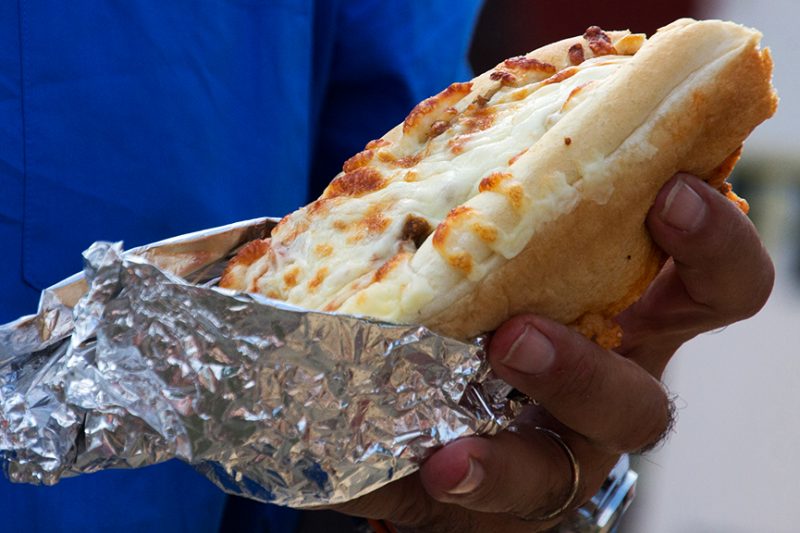 Gizmo
If I could pick only one state fair food, this would be it. A Gizmo is an Italian-style loose meat sandwich, made of ground beef and Italian sausage covered in red sauce and seasonings, topped with real melted mozzarella cheese and served on the perfect roll. It's like an edible torpedo of pleasure. I'm lucky enough that these guys hit both the Iowa and Minnesota state fairs, so sometimes, I get to eat them twice a year.
Location: On the west side of Cooper between Lee and Murphy.
---

Kiwanis Malts
There's a lot of dairy at the Great Minnesota Get-Together (we do carve our princesses out of butter). My favorite is the malt stand run by the Kiwanis ladies adjacent to the Fine Arts building. I have a hard time picking between chocolate, strawberry, or vanilla… so I'd suggest ordering all three and sharing with your comrades. It's been around since 1969 and I think they still employee some of the original folks. It's the only malt at the fair worth slurping.
Location: On east side of Cosgrove between Wright and Randall.
---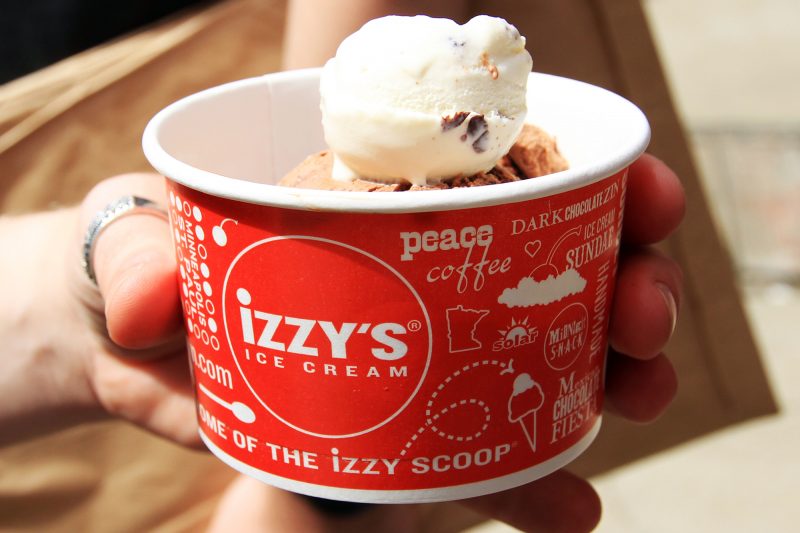 Izzy's Ice Cream
Even when the temperatures creep close to zero here in the winter, I crave Izzy's amazing ice cream. So it's no surprise that on a hot day, I make a beeline for Hamline Dining Hall, which serves up several Izzy's flavors. New this year is a mini waffle sundae, topped with a scoop of Izzy's cream cheese ice cream, warm maple syrup and a maraschino cherry.
Location: North side of Dan Patch between Underwood and Cooper.
---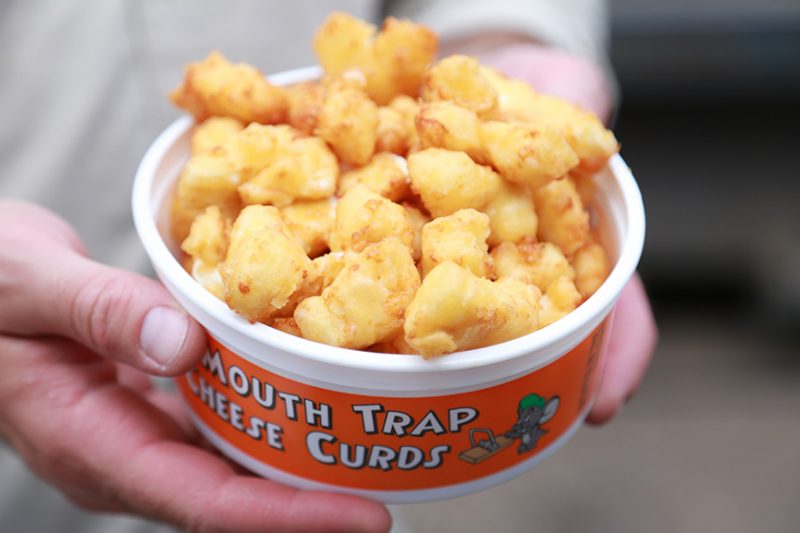 Mouth Trap Cheese Curds
What makes their product so perfect? Ellsworth cheese curds, fresh from the creamery, delivered daily—a total of 65,000 pounds of curds over the course of the 12 day festival.
Location: Food Building
---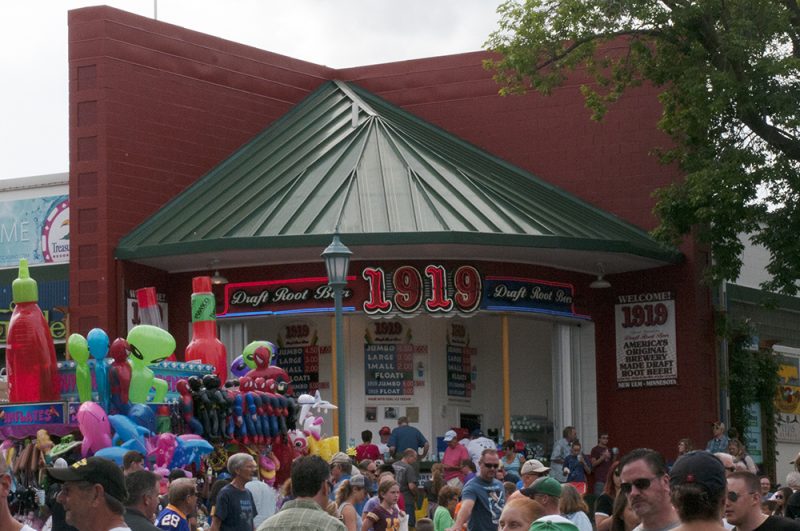 1919 Root Beer
I'm a sucker for great draft root beer. Made in small batches in New Ulm, Minnesota, 1919 Root Beer is one of my favorites. Order it plain or with a scoop of vanilla ice cream, either way you can't go wrong.
Location: On southeast corner of Dan Patch and Underwood.
---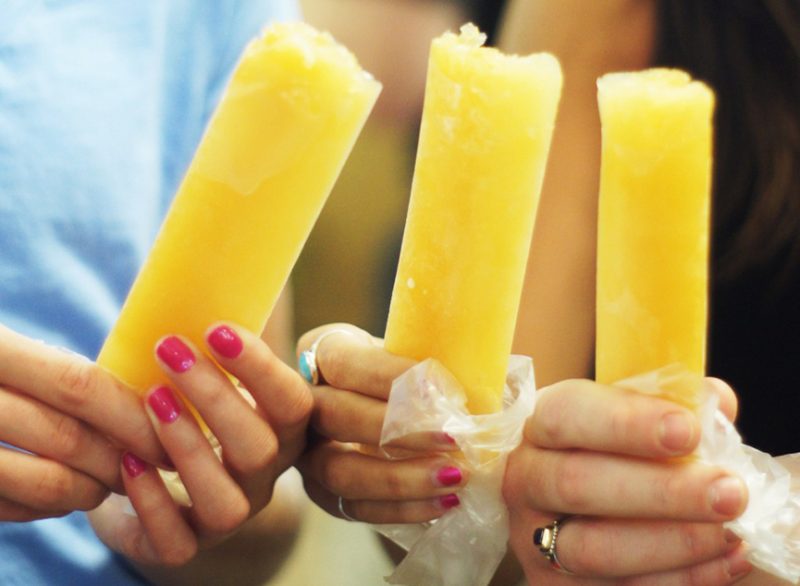 Frozen Cider Pop
I happen to love the apple cider freezies in the Horticulture building… it's reminiscent of the freezer pops from your childhood, but instead of sugary fake fruit flavors, they're made with delicious Minnesota apple cider. It's the best deal at the fair.
Location: In the Agriculture Horticulture building west hall.
---

Minneapple Pie
This stand has only been around for a few years, and after one bite you'll understand why it instantly became a fan favorite. They're dishing out individual apple, chocolate and pumpkin pies, deep fried on site and served with a dusting of cinnamon and sugar and a scoop of creamy cinnamon ice cream. It's fabulous, trust me.
Location: South side of Judson between Nelson and Underwood.
---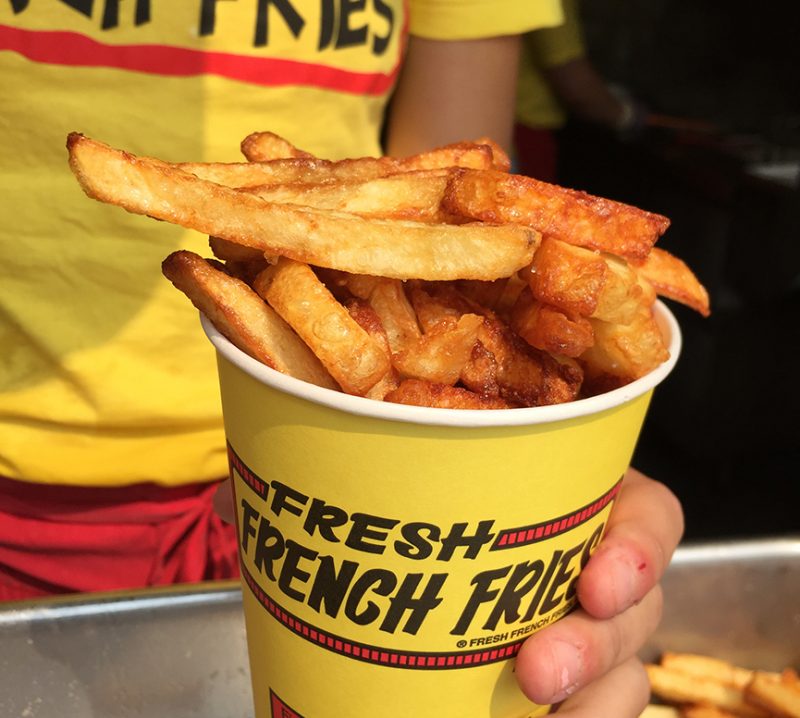 French Fries
I've been known to make a few stops at this french fry stand, it's a fixture of the fair and for good reason. A carton of these fries is perfect walking around food (plus, it's easy to share).
Location:East side of Liggett St. between West Dan Patch & Carnes Avenues.
---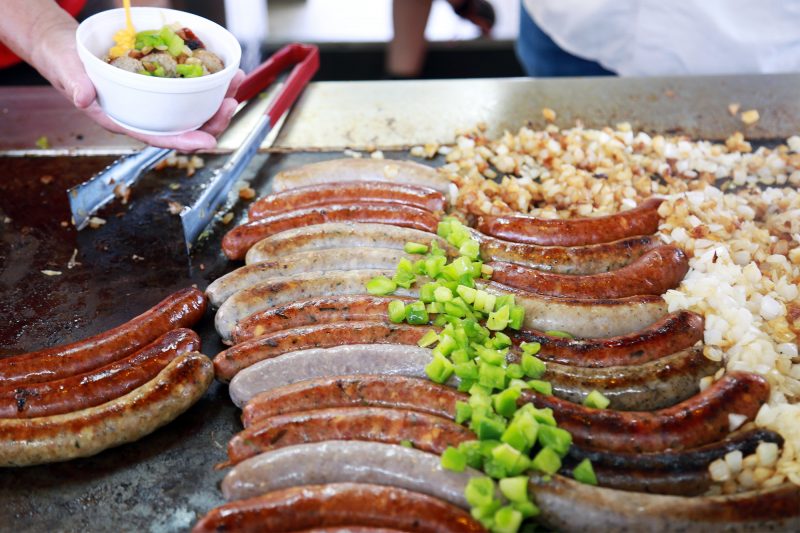 Sausage by Cynthia
At Sausage by Cynthia, everything is made from scratch. Their long menu of specialty sausages include Cajun Andouille, Creole chaurice, Minnesota wild rice and beef, Swedish, Northern Italian Tuscan, German Weisswurst… the list goes on and on. It's my favorite sausage at the fair. And their beef jerky? The best in America.
Location: North side of Judson between Underwood and Nelson.
---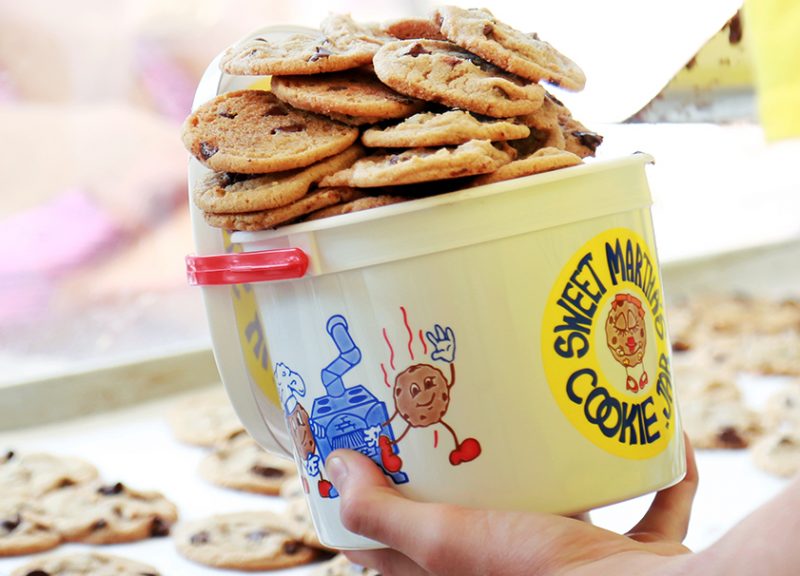 Sweet Martha's
This is a fair must, and one of those food experiences that cannot be accurately replicated at home EVEN IF their dough is available for purchase in your grocer's freezer. Few things can beat piping hot, messy chocolate chip cookies served with an enormous glass of milk. Martha (yes, Sweet Martha is a real person), I adore you!
Location: North side of West Dan Patch Ave. between Liggett St. & Chambers St.
---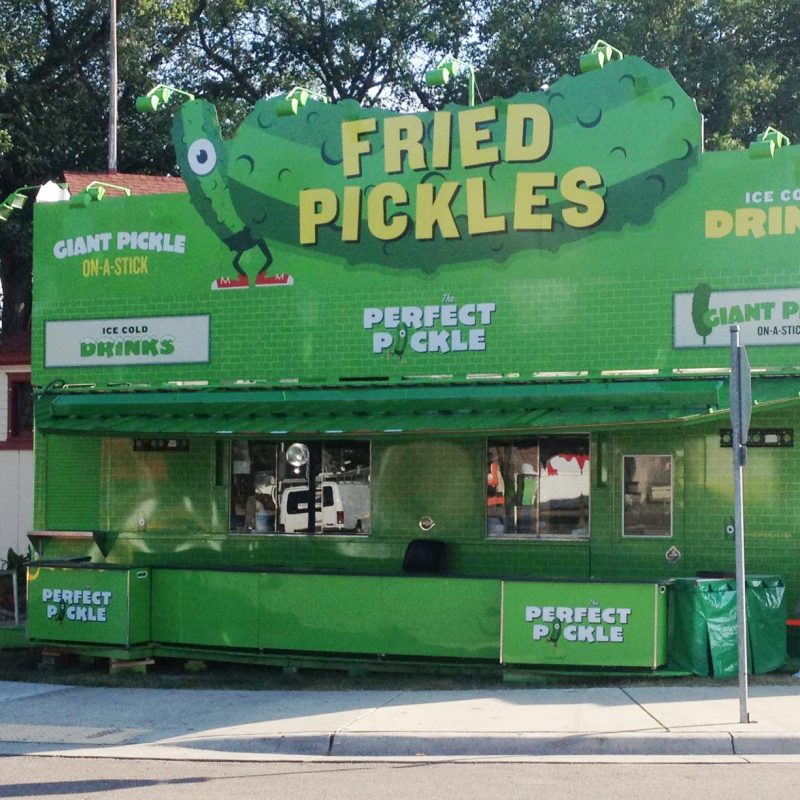 Deep Fried Pickles
What's not to love about deep-fried pickles? Salty, crunchy, sour… Another deep-fried victory.
Location: Southwest corner of Dan Patch and Liggett.
---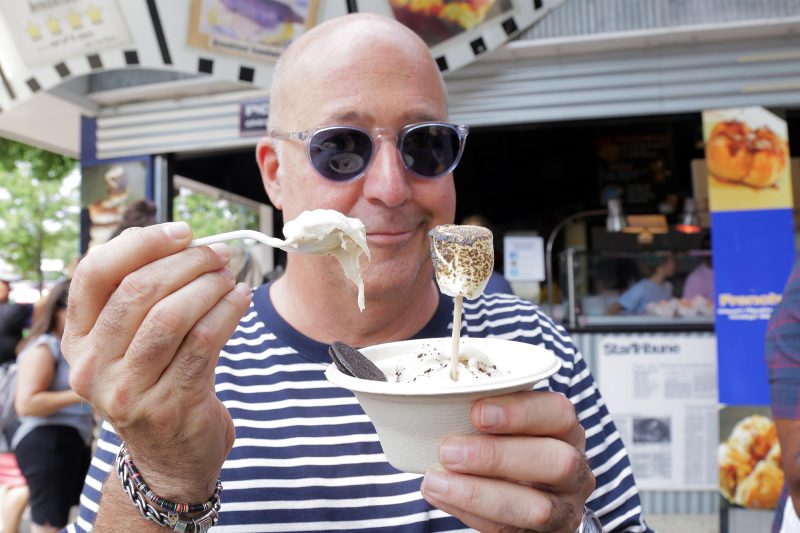 Blue Moon Dine-in Theater
The Blue Moon Dine-In Theater introduced their sweet corn ice cream a few years ago and it's been a huge hit ever since. It strikes a perfect balance between creamy and corny, and with the optional bacon maple syrup topper, it's the sweet-and-salty mix I'm always craving. Beyond ice cream, they always have a solid line up of sandwiches, pizza and sides—I'm excited to try the Turkish pizza this year.
Location: Located on Carnes Ave. & Chambers St.
---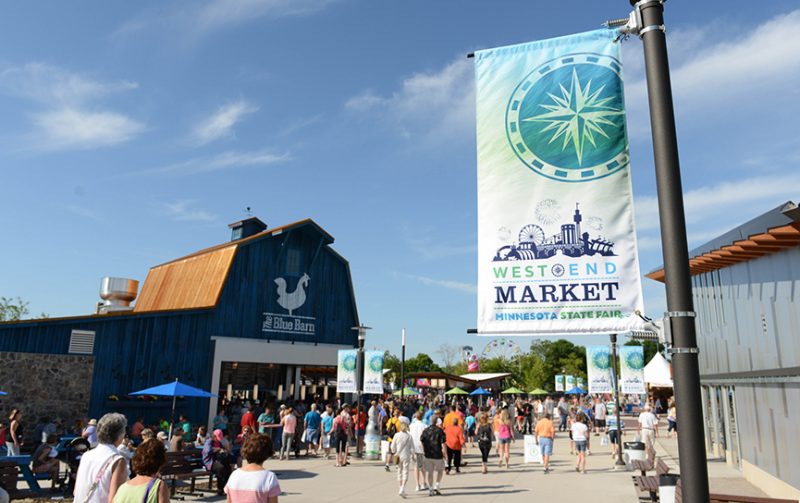 Blue Barn
David Burley and his team at The Blue Barn are killing it. You know why? Because they're serving real food, made by real cooks. The brioche French toast with Minnesota-grown wild berry compote and Pop Rock whipped cream, and the blue cheese corn fritters with chimichurri are just a few of my favorites from the past couple years. Can't wait to try the breakfast potato skins and Nashville hot chicken on-a-stick.
Location: At West End Market, south of the History & Heritage Center.
---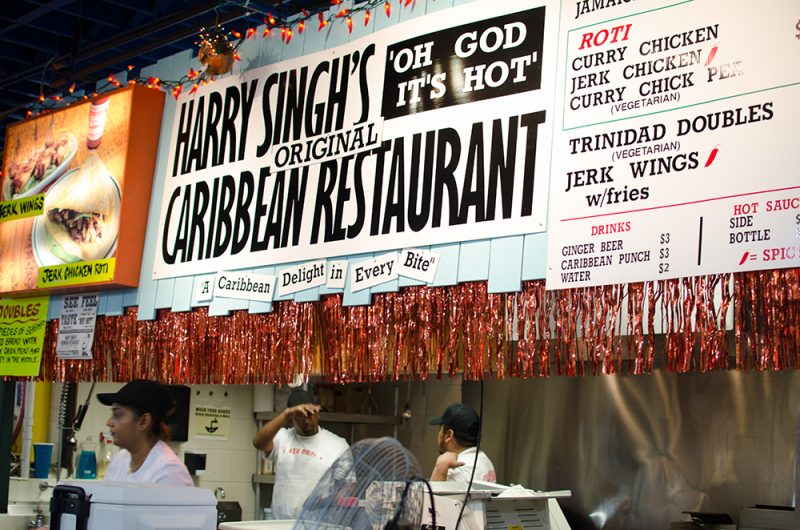 Harry Singh's
Vegetarians rejoice! There's a delicious, savory option beyond cheese curds at the fair. Harry Singh's Caribbean Restaurant is beloved in the Twin Cities for its mix of Trinidadian, Jamaican, Caribbean and West Indies comfort food. The booth in the Food Building serves some of their best specialties, like Trinidadian "doubles" filled with chickpeas, hot sauce and chutney.
Location: In the Food Building, east wall.
---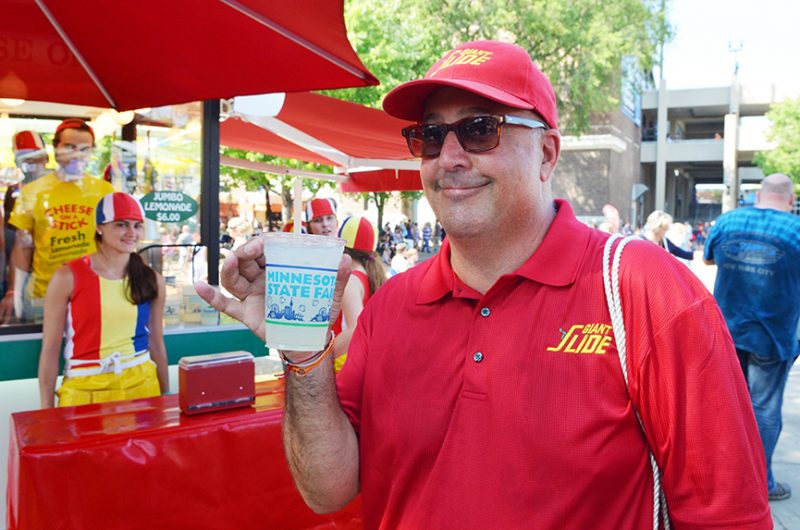 Cheese on a Stick/Lemonade Booth
On a hot, sticky August afternoon, there's really nothing better than a tart, sweet fresh-squeezed lemonade. I can't pass the 'Cheese on a Stick' booth by the Carousel without quenching my thirst.
Location: East side of Liggett St. between West Dan Patch & Carnes Avenues.
---

Duke's Poutine
Poutine is Canadian stoner food that's crept south of the border and become a mainstay on Minnesota menus. At Duke's, thick fresh-cut French fries are topped with cheese curds and hot gravy. Although it's only been at the around for four years, it's quickly become quintessential fair food.
Location: North side of Judson Ave. between Clough & Nelson streets.
---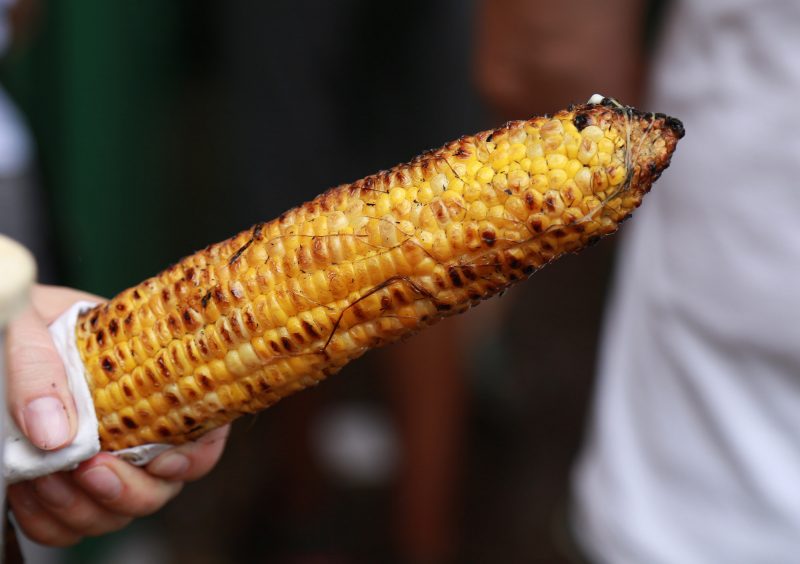 Corn Roast
One of the top grossing food vendors, the Corn Roast has been a fixture of the fair for more than 30 years. Just-picked Minnesota sweet corn is roasted in the husk, shucked and dipped in melted better—the concept is simple, but perfectly executed.
Location: Southeast corner of Dan Patch Ave. & Nelson St.
---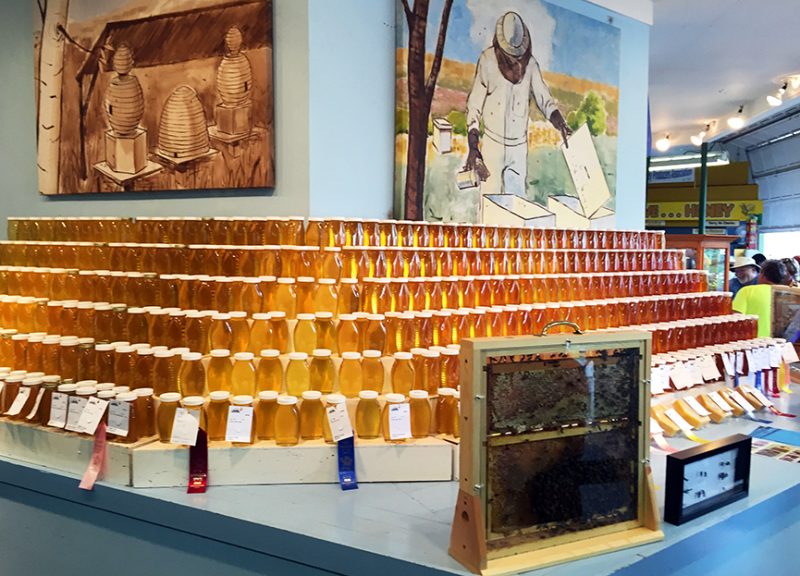 MN Honey Producers
Make a bee-line for the Ag Building to try honey in all its sweet forms: liquid, spun, creamed, comb, whipped… as well as in jams, jellies, candy, cookies, and my favorite, honey ice cream.
Location: In the Agriculture Horticulture Building, north side.
---
Pickle Dog
If you need a break from the greasy fair food, try the Pickle Dog: a pickle spear that's smeared with cream cheese and wrapped with pastrami. Does it get more Midwestern than that? They've also added a Reuben pickle dog with sauerkraut and Thousand Island.
Location: South side of Carnes Ave. between Liggett & Chambers streets.
---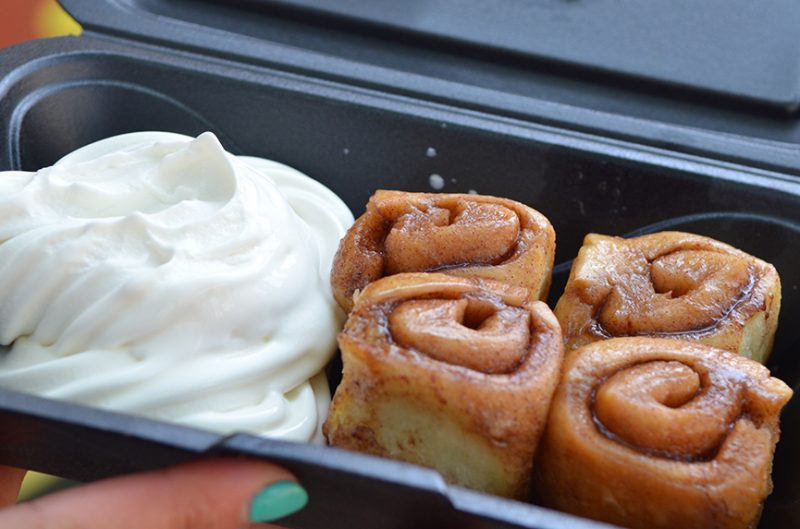 Cinnie Smiths
I always make a stop at Cinnie Smiths a priority. The cinnamon rolls are made from scratch (right in the booth) to order, with real butter, real cinnamon and real sugar. I'm getting hungry right now thinking about the gooey center of the warm cinnamon rolls, dipped in their homemade creamy vanilla custard.
Location: Murphy Ave. & Underwood St.
---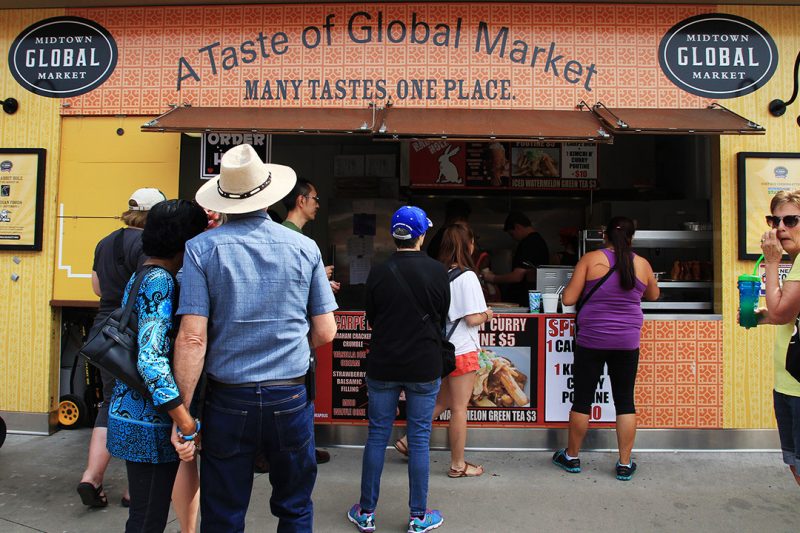 Midtown Global Market
I love to see local businesses succeed at the fair, and there's a few stellar choices at Midtown Global Market in the International Bazaar. This year the booth is hosting Hot Indian Foods, with crispy Kentikka chicken sliders and bhel puri, followed by Taco Cat's deep-fried tacos on-a-stick.
Location: At the International Bazaar, east wall.
---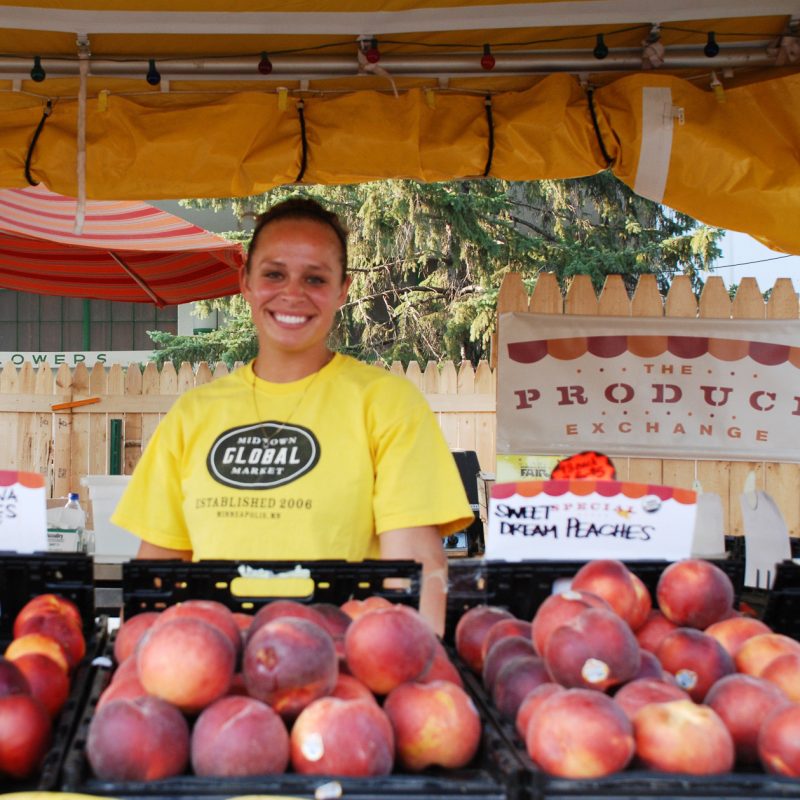 Produce Exchange
Slow your calorie count for the day with a stop at The Produce Exchange. Last year they introduced one of the best new food items in years—overripe and juicy Colorado Mountain Lion peaches that are halved, pitted and grilled, then topped with local goat cheese and herbs. Simple and insanely crave-able.
Location: Northwest corner of Carnes Ave. & Underwood St.
---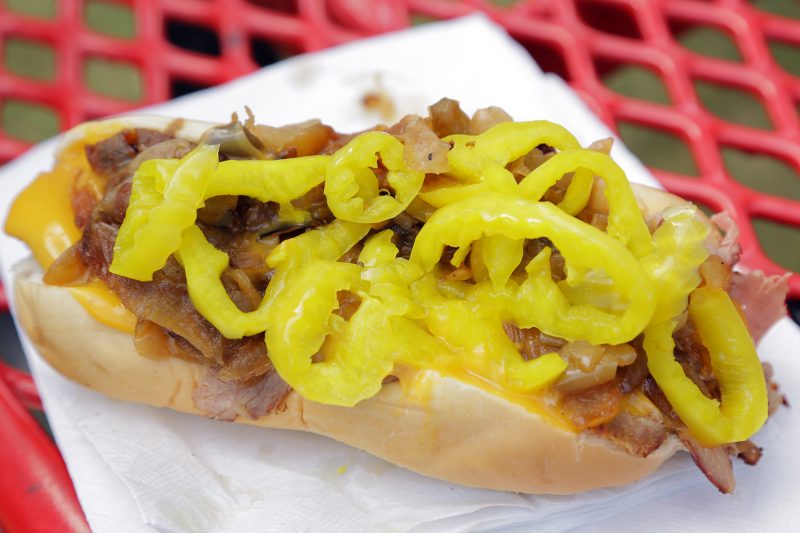 Butcher Boys London Broil
Butcher Boy steak sandwiches are the most underrated least talked about hidden gems at the fair.
Location: North side of Dan Patch Ave. between Nelson & Underwood streets.