Medium rare bison is such a treat.
I love serving it with two dipping sauces– an Indian-inspired tamarind sauce and a classic Hunan peanut sauce. In this recipe, I make bite-sized bison, fried until crisp, tossed in a spicy seasoning blend. They are absolutely addictive.
Watch me make this recipe here.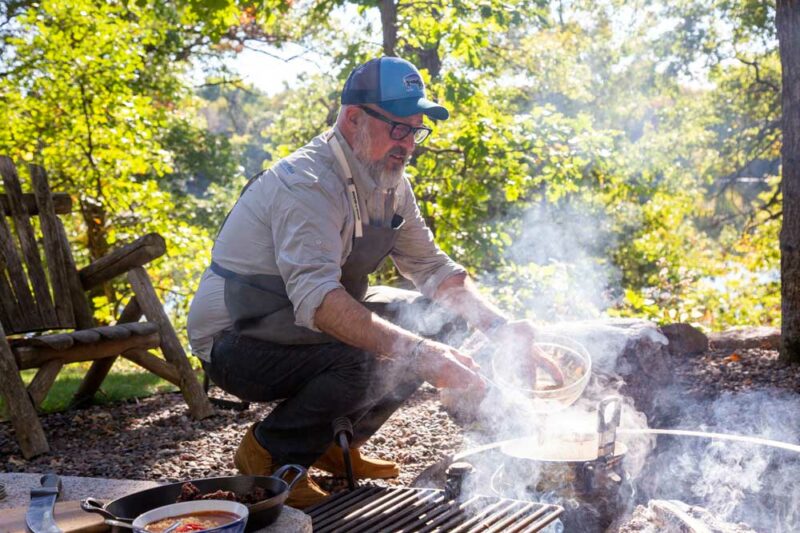 Like this recipe? Save it on Pinterest: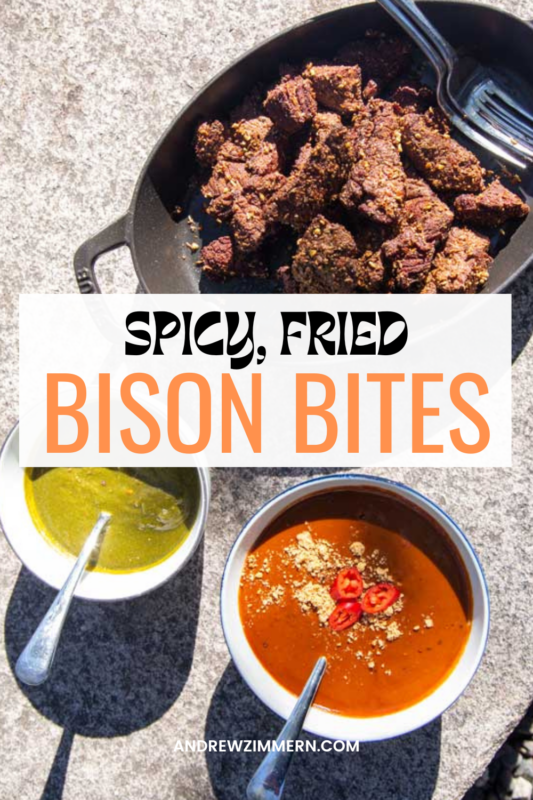 Spicy Fried Bison Bites Recipe with Tamarind and Hunan Peanut Sauce
---
Ingredients
For the Tamarind Sauce:
1 bunch fresh cilantro
1 bunch fresh mint leaves
3 tablespoons lime juice
1/2 cup tamarind puree
2 teaspoon sea salt
3 tablespoons brown sugar
1 jalapeno, seeds removed and chopped
1 teaspoon water
For the Seasoning Blend
5 tablespoons Sichuan peppercorns
8 tablespoons cumin seeds
3 tablespoons fennel seeds
4 tablespoons coriander seeds
3 tablespoons white peppercorns
2 tablespoons ground cinnamon
2 tablespoons sea salt
1/3 cup dried chiles, such as arbol chiles
For the Hunan Peanut Sauce:
1 teaspoon peanut oil
3 minced garlic cloves
1/4 cup tomato paste
1 tablespoon chile bean paste
1 teaspoon sugar
1/2 cup hoisin sauce
1 cup chicken broth
2 tablespoons smooth peanut butter
1/4 cup roasted ground peanuts
1 fresh red chile, seeded and thinly sliced, for garnish
For the Bison:
Vegetable oil, for frying
2 pounds bison tenderloin, cut into roughly 1-inch cubes
Instructions
First, make the tamarind sauce. Pulse all the ingredients in a blender until just homogenous, then puree on high until smooth. Taste and adjust for tamarind, sweetness and salt. Reserve in the refrigerator until ready to use.
Next, make the seasoning blend. Combine all ingredients in a large mortar and pestle or spice grinder. This is a large batch, reserve any leftovers for other recipes. Reserve.
Next, make the peanut sauce. Heat the oil in a small pan and add the garlic, tomato paste and chile bean paste. Cook for a couple minutes until the tomato paste smells nice and roasted. Add the sugar, hoisin and chicken broth. Simmer for 3 minutes, until it starts to thicken, then add the peanut butter and half of the ground peanuts. Reserve to the refrigerator until ready to use, then garnish with remaining ground peanuts and sliced chiles.
When you're ready to cook the bison, heat your oil to 400 degrees F.
Cut the bison tenderloin into roughly 1-inch cubes. Let it come to room temperature. Toss generously to coat with seasoning blend and let sit for 10 minutes.
Fry the bison bites in batches. In just a couple minutes they will develop a great crust and be almost medium rare. Don't crowd the pan, work in batches if you need to.
Fish out the batches when they are medium rare and toss with more of the seasoning blend. Set aside to keep warm and serve when you are done frying with the tamarind sauce and peanut sauce.