Scallops in Aguachile
Recipe by Chef Carlos Salgado from Taco Maria
In the Pacific states of Sinaloa and Nayarit, aguachile de callo de hacha (scallops in chile water) is the Rolls Royce of ceviche dishes, in which the luxurious scallop is bathed in a fiery solution of lime and fresh green chile. Traditionally, only two vegetables—cucumber and purple onion—serve as a garnish, so the dish shines with just a finish of sea salt and pepper. Not surprisingly, the elegantly simple aguachile has become a favorite of modern Mexican chefs like Carlos Salgado, who is slowly evolving the flavors in his versions.
Two notes: Poached shrimp, sliced in half down the middle, will substitute beautifully for the scallops if you prefer that. And if you can't find anise hyssop leaves (they are uncommon), fresh mint makes a delicious variation.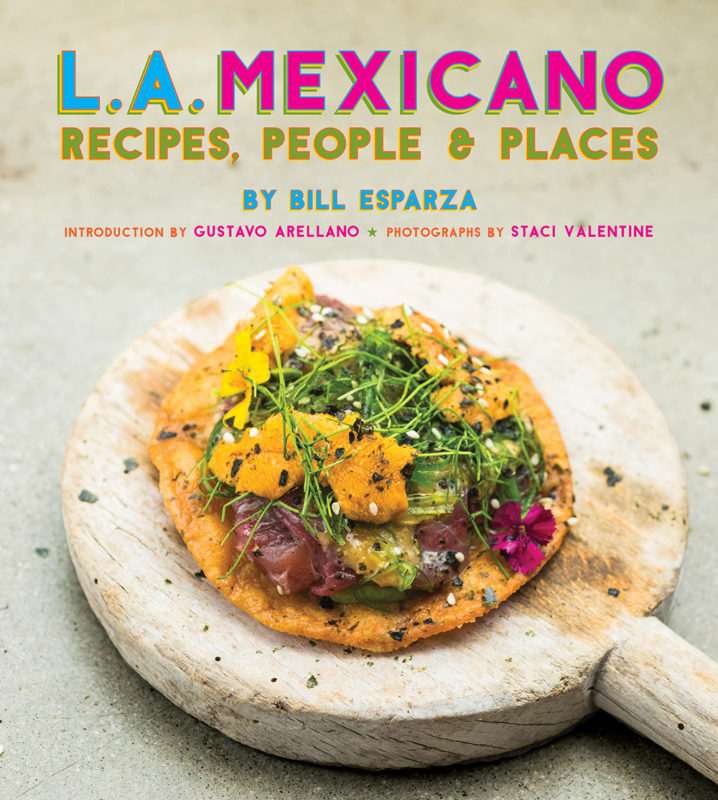 Scallops in Aguachile
---
Ingredients
6 large Hokkaido scallops
2 Persian cucumbers
2 teaspoons sugar, plus more if needed
30 anise hyssop leaves, plus a few more (with flower) for garnish
1 cup grapeseed oil
2 serrano chiles, stemmed
3/4 cup Bearss or key lime juice
1/4 cup Meyer lemon juice
1/4 cup mandarin orange juice
Sea salt to taste
Instructions
Place 6 flat bowls in the refrigerator or freezer to chill.
Remove the foot from each scallop, rinse under cold water, and pat dry. With the flat side of the meat down, slice each scallop in half, making two disks, then dice both into ½-inch pieces. Place in a container lined with a clean linen towel and refrigerate until needed.
Wash and dry the cucumbers and chop into ½-inch pieces, leaving the skin on. Place into a bowl, add 2 teaspoons sugar, and macerate until the sugar dissolves and the cucumber softens and releases its liquid. Set aside in the refrigerator to keep cold.
Prepare an ice water bath and, separately, bring a pot of water to a roiling boil. Add a pinch of salt. Drop in the anise hyssop leaves (or mint) and blanch until they are soft, 20 to 30 seconds. Remove with a finemesh skimmer (called a spider) and shock the leaves in the ice water. Drain the leaves, squeezing out any excess moisture. Purée in a blender with grapeseed oil until completely smooth.
Refresh the ice water bath and have a small stainless steel bowl ready to rest in the bath. Working swiftly, pour the hyssop oil into a saucepan and quickly bring to a simmer. After just a few seconds, remove from the heat and pour into the metal bowl over the ice bath. Stir to cool quickly. When cooled, strain through a coffee filter to obtain a clear, green-tinted aromatic oil.
Rinse chiles and drain them well. Place chiles and the 3 citrus juices into a blender and mix on high until fully combined. Add salt to taste. If the liquid is too spicy, add a bit of sugar to tone it down. Strain the aguachile liquid into a nonreactive container.
To serve, divide chopped scallops among the 6 chilled bowls. Spoon some macerated cucumber around the scallops, being sure to include some of the cucumber liquid. Spoon a few tablespoons of aguachile liquid around the scallops, then spoon a few beads of hyssop oil into the liquid. Finish by tearing some hyssop leaves and spreading the sweet flowers over the bowl. Garnish the scallops with a few grains of coarse salt and serve immediately.
Recipe excerpted from L.A. Mexicano by Bill Esparza. Photographs by Staci Valentine.
• Classic Ceviche
• Brazilian Tuna Ceviche
• Shellfish Fire Water Coctel