A culinary match made in heaven: simple corn pudding and sauteed pheasant in an apple, shallot and tarragon sauce.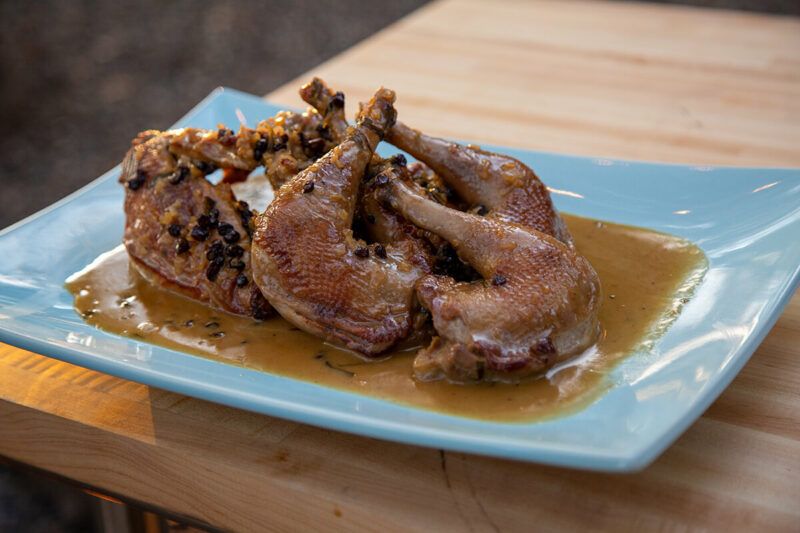 Inspired by the foods of northern France, this comforting farmhouse meal of pheasant in a creamy apple gravy paired with an easy corn pudding gets cooked right in the coals.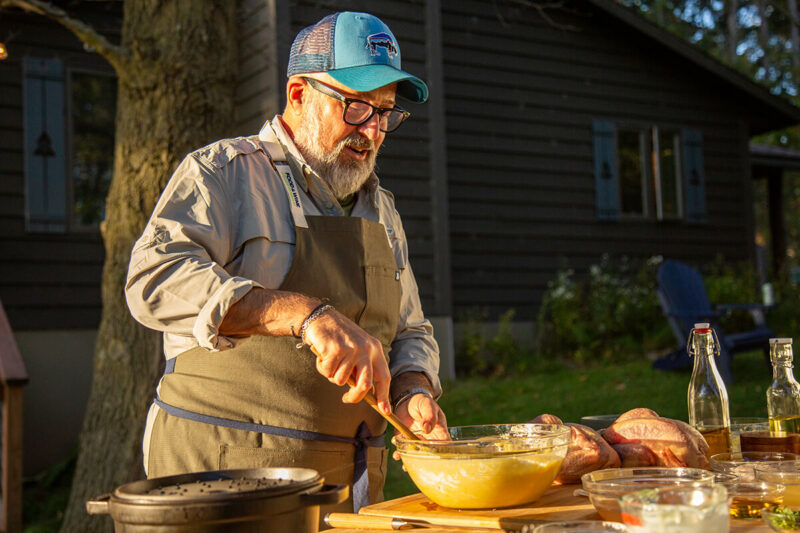 I make mine in a really big pan, and love to serve it with something that soaks up all that wonderful sauce. Enter this corn pudding. I make mine with buttermilk, eggs, and both creamed corn and corn cut right off the cob. I cook it in a cast iron dutch oven directly over the coals.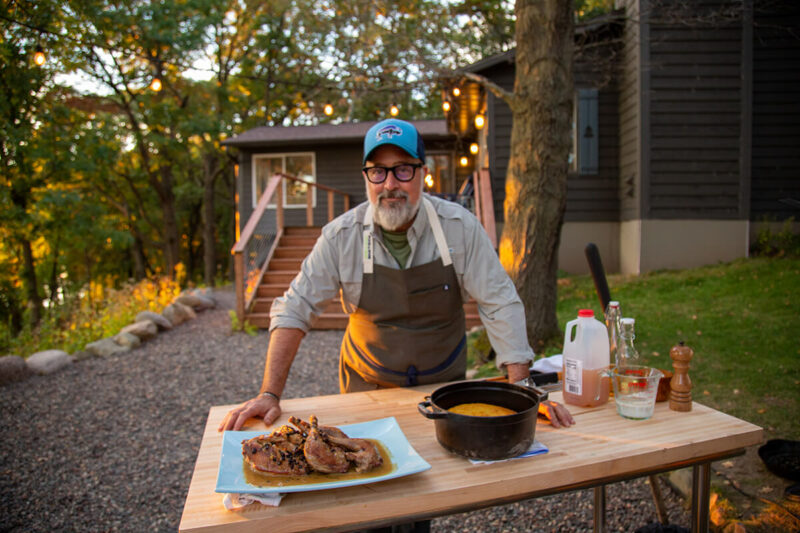 As for the pheasant, I love cooking on the bone. It helps with browning and imparts more flavor. Don't crowd the pan for better browning.
Watch me cook this recipe here.
Like this recipe? Save it Pinterest.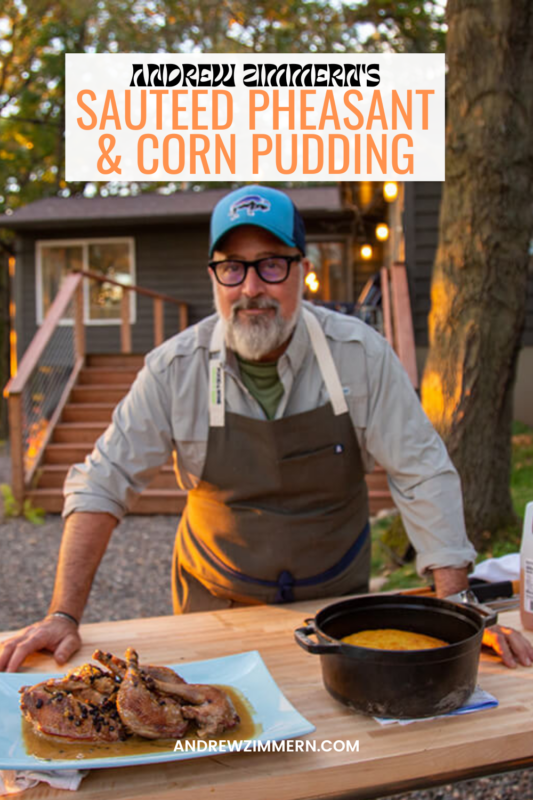 Sauteed Pheasant with Apple Gravy and Corn Pudding Recipe
---
Ingredients
For the Corn Pudding:
5 eggs
1 cup buttermilk
1/3 cup melted butter
1 14-oz can creamed corn
1 1/2 cups corn kernels (from about 2 ears)
1/3 cup brown sugar
1/4 cup cornstarch
1 cup corn flour
1 tablespoon vegetable oil
For the Pheasant:
3 tablespoons butter
2 pheasants, cleaned and cut into quarters, roughly 4 pounds
3 shallots, minced
1/2 cup apple cider vinegar
1 cup apple cider
1 cup chicken stock
1 tablespoon brown sugar
1/4 cup coarsely chopped fresh tarragon
1/3 cup dried Zante currants
1/2 cup heavy cream
Instructions
First, start the corn pudding. In a large mixing bowl, whisk together the eggs, buttermilk, melted butter, creamed corn, corn kernels and brown sugar. In a separate bowl combine the corn flour and corn starch. Stir the dry ingredients into the wet ones.
Grease a large dutch oven with vegetable oil. Pour in the batter and set over low coals, piling coals on top of the lid as well. Cook for 35-40 minutes. Check your pudding, it may need another 5-10 minutes depending on your heat and the temperature outdoors. Alternately you can cook this in a greased casserole pan uncovered for 50-60 minutes at 375 degrees in your oven.
Meanwhile, preheat a large skillet, suitable to hold all the pheasant quarters in one layer, over medium-high direct heat coals.
Add the butter, swirl, and when melted and foaming, add the pheasant pieces skin side down. Season the pheasant liberally with sea salt. Cook until well browned, about 10 minutes.
Add the shallots, saute for a couple minutes then add the cider vinegar, apple cider and chicken stock.
Bring to a simmer and add the brown sugar, tarragon and currants. Cook for 8-10 minutes, until liquids have reduced to a glaze, then add the cream. Allow the cream to tighten and reduce for a couple minutes. Remove from the heat and plate on a serving platter. Serve with the corn pudding.