Roasted Olives with Lemon, Garlic & Herbs
By Debi Mazar and Gabriele Corcos
Olive trees are everywhere in Tuscany, and they are traditionally used for oil production and not eating. These olives are relatively small with concentrated flavor. So, the olives used for appetizers are actually from Southern Italy, where the olives are also cured and eaten. Cured olives came on the ships with the Italian immigrants, as preserved olives would not spoil on the long trip. For the best color and flavor, look for two relatively new varieties. Cerignola, from Puglia, are big and meaty and come in intense red, green, and black hues. Sicilian Castelvetrano are smaller but equally tasty and have a pretty green color. A quick roasting with a few seasonings infuses them with herbaceous flavor.
Recipe from Super Tuscan  by Debi Mazar and Gabriele Corcos.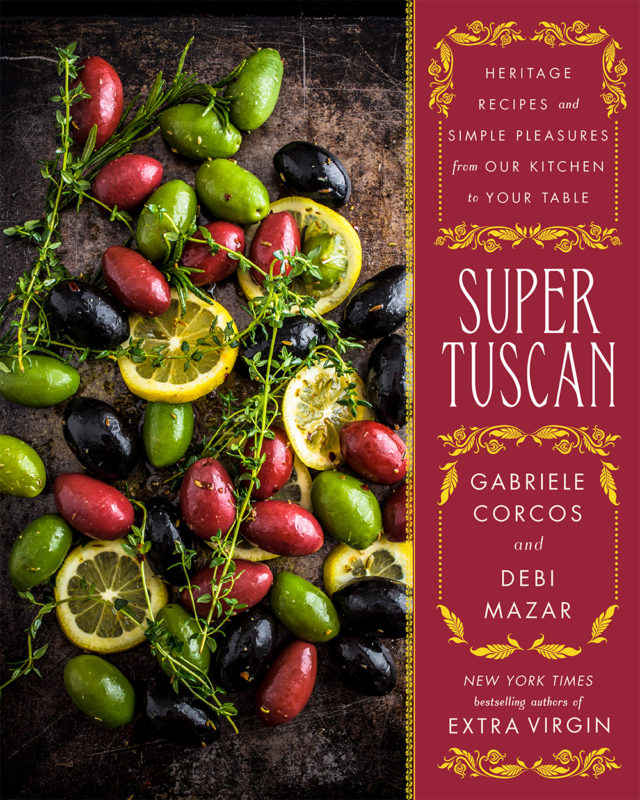 Roasted Olives with Lemon, Garlic & Herbs
---
Ingredients
2 tablespoons extra-virgin olive oil
Six 3-inch sprigs fresh thyme
Two 3-inch sprigs fresh rosemary
1/2 teaspoon coarsely crushed fennel seeds
1/4 teaspoon hot red pepper flakes
1 pound olives, such as Cerignola and Castelvetrano, in assorted sizes and colors (about 3 cups)
1/2 lemon, cut into 1/4-inch rounds
1 large garlic clove, unpeeled and crushed
Instructions
Position a rack in the center of the oven and preheat the oven to 400°F.
Stir and crush the oil, thyme, rosemary, fennel seeds, and hot red pepper together in a baking dish large enough to hold the olives in a single layer. (A terra-cotta baking dish or a ceramic quiche pan are both good options.) Stir in the olives and lemon rounds.
Roast, stirring halfway through cooking, until the mixture is very fragrant and sizzling, about 20 minutes. During the last 5 minutes, stir in the garlic. Remove from the oven and cool until warm or at room temperature.
The olives can be covered and refrigerated for up to 5 days. Remove from the refrigerator 30 minutes before serving.
Recipe excerpted from Super Tuscan  by Debi Mazar and Gabriele Corcos.
SaveSave