Pasta with Mozzarella, Basil & Tomatoes
This summertime orecchiette with mozzarella, basil and tomatoes is the easy pasta dish you need right now. I love topping mine with freshly grated Parmesan cheese. It's an easy dinner (vegetarian, too!) you'll return to all summer long.
Reasons I love this easy pasta recipe:
It can be served cold or at room temperature– perfect for a hot summer day. And it's not exactly a salad, but has salad vibes.
It uses SO MANY VEGETABLES, especially tomatoes. Use a tomato mixture from your garden or the farmer's market.
It's easy to scale up, making this ideal for summertime entertaining.
You can pack it up for a picnic lunch, or al fresco meal at the beach.
Yes, you can add protein if you want– chicken would do well here.
I love using orecchiette, but you could do penne pasta or any sort of sturdy al dente pasta.
It's great as leftovers.
Like my tomato basil pasta recipe? Save it on Pinterest.
Like this recipe? Save it on Pinterest.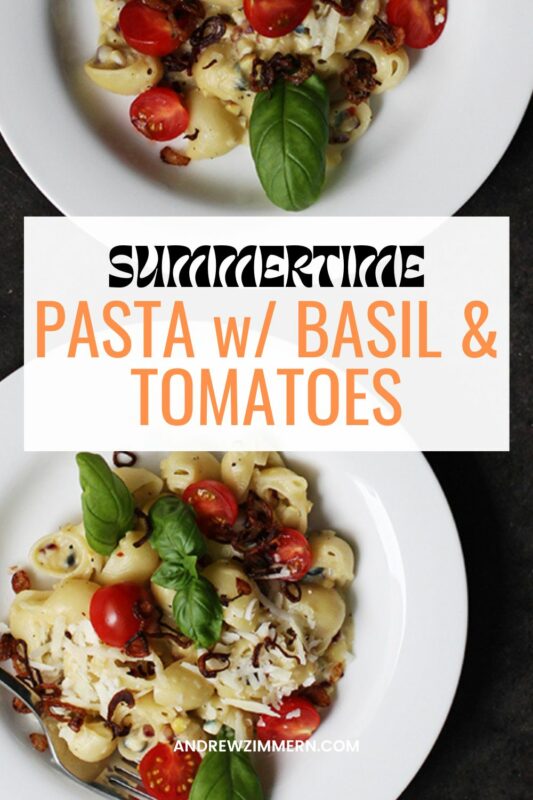 Pasta with Mozzarella, Basil & Tomatoes Recipe
---
Ingredients
1/2 pound pasta, small and flat works well, I like orecchiette from any maker in Gragnano
1/2 cup of your best olive oil
1 teaspoon dried oregano
2 cups halved cherry tomatoes
1 minced shallot, or more to taste
1  1/2 cups of mozzarella pearls or grated fresh mozz (use box grater, largest holes)
1 handful of fresh basil leaves
Sea salt and ground white pepper
Reggiano Parmesan curls, for garnish
Instructions
Let all your ingredients comes to room temp.
Bring a large volume of salted water to a boil. Cook the pasta to your taste.
While it's cooking, add all your ingredients except the basil to a large work bowl.
Drain the pasta, reserving 1/4 cup pasta water.
Add pasta to the large mixing bowl with the mozzarella and tomatoes. Toss well, the mozz should melt, and the pasta will cool as you toss as well. Add the basil, then the salt and pepper to taste. Serve warm or room temp, garnishing with Reggiano parmesan curls