This is my favorite way to prepare wild turkey.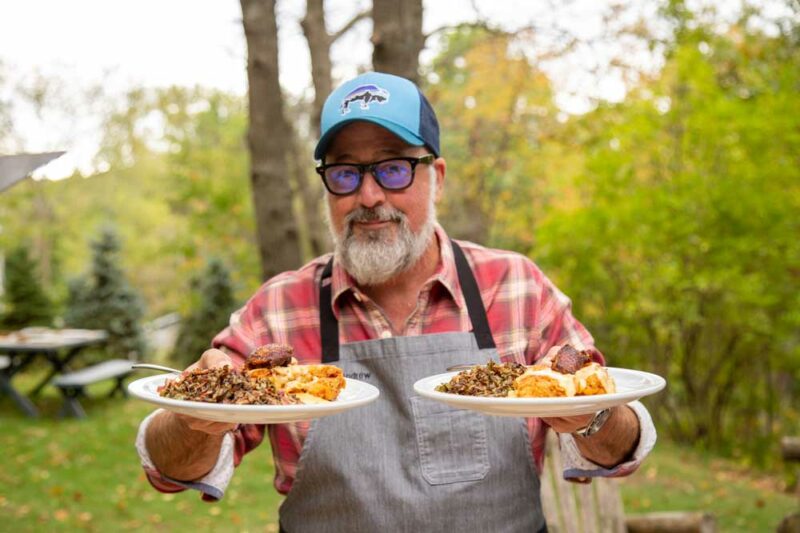 It's brined in pickle juice, dredged and pan-fried over an open fire, served with an indulgent cheese sauce and jalapeño-bacon wild rice.
For wild turkeys, I like to braise the dark quarters and simply loves brining and frying the white meat. One of the most indulgent ways to eat fried poultry is with a cheese sauce, it's fat-on-fat and a delicious meal for celebrating taking down a big tom.
Watch me make this recipe here.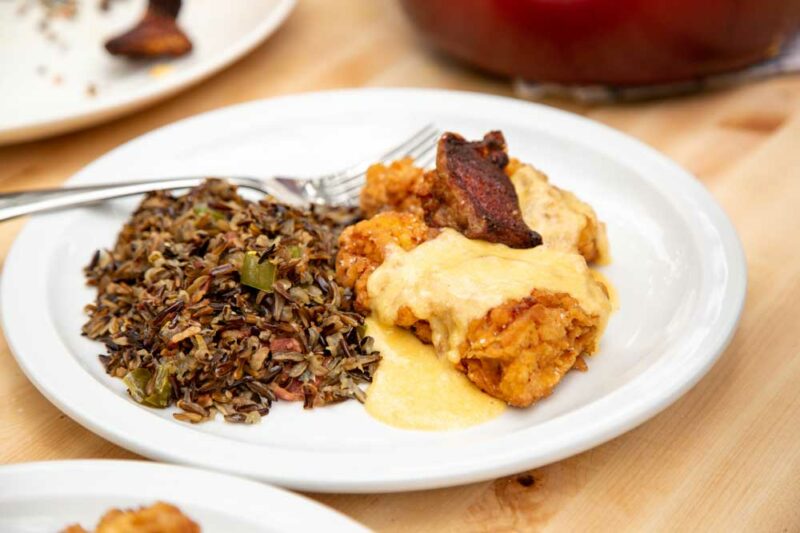 Like this recipe? Save it on Pinterest.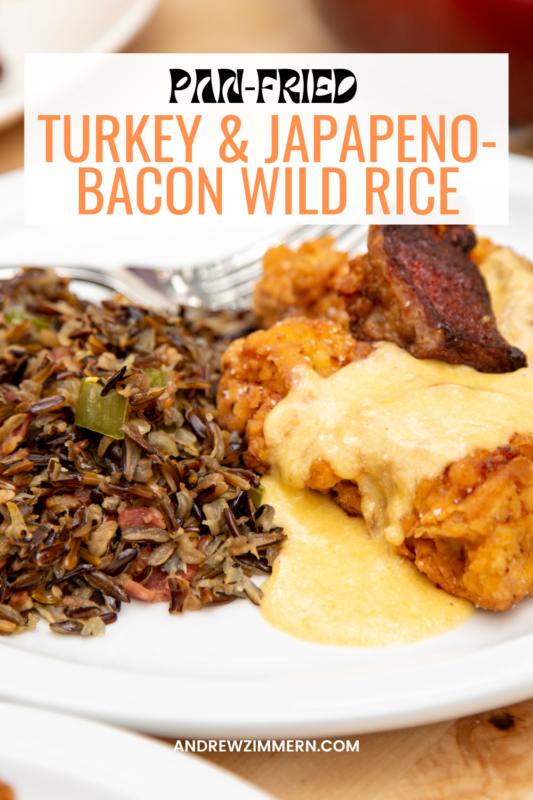 Pan-Fried Turkey with Jalapeño-Bacon Wild Rice and Cheese Sauce Recipe
---
Ingredients
For the Turkey:
1 wild turkey breast
Pickle juice, for brining
3 eggs
1 tablespoon whole milk
Flour, seasoned with salt and pepper
For the Jalapeño-Bacon Wild Rice:
5 slices wild boar bacon, sliced into 1/2-inch pieces
1 large onion, diced
4 jalapeño peppers, halved, cleaned (stems/seeds discarded) and sliced
2 cups wild rice, cooked to al dente and drained well
Salt
The Three-Cheese Sauce:
2 tablespoons butter
2 tablespoons flour
Several pinches nutmeg
2 cups milk
14 ounces mixed, grated cheeses (I like a mix of goat cheese, cheddar and gruyere)
Instructions
The day before you want to fry the turkey, marinate the breast in pickle juice for at least 8 hours, or up to 24 hours. Remove them from the brine and let them dry on a towel in the fridge for a couple hours before frying.
Next, start the wild rice. Place the bacon slices in a dutch oven or pot over medium direct heat. Saute for a few minutes, then add the onion and jalapeno peppers. Cook until the onions are glassy and the bacon is rendered, about 10 minutes. Add the cooked wild rice and season with salt. Cover and keep warm while you make the cheese sauce.
Start the cheese sauce. Add the butter to a saucepan over medium heat. Once melted, add the flour and stir to create a roux. Cook for 2 minutes. Add a pinch of grated nutmeg. Slowly add the milk, whisking as you go. Bring to a simmer. Once the milk starts to thicken, whisk in the cheese. I like to start with the soft goat cheese, then add cheddar and gruyere. Season and keep warm.
Remove the skin from the turkey breast, and discard or make fried turkey skin like a chicharon. Cut the breast into large fingers.