Grilled Flank Steak with Chimichurri
This recipe marries Caribbean and South American flavors in an easy, crowd-pleasing steak dinner. The meat is marinated overnight in a flavorful concoction of allspice, habaneros, orange and lime, then quickly grilled and served with a versatile, bright chimichurri. An herby condiment of parsley, mint, chiles, garlic, oil and vinegar, chimichurri is a staple in South America that pairs beautifully with rich beef. It's my idea of the perfect meal on a warm summer night.
Like this recipe? Save it on Pinterest!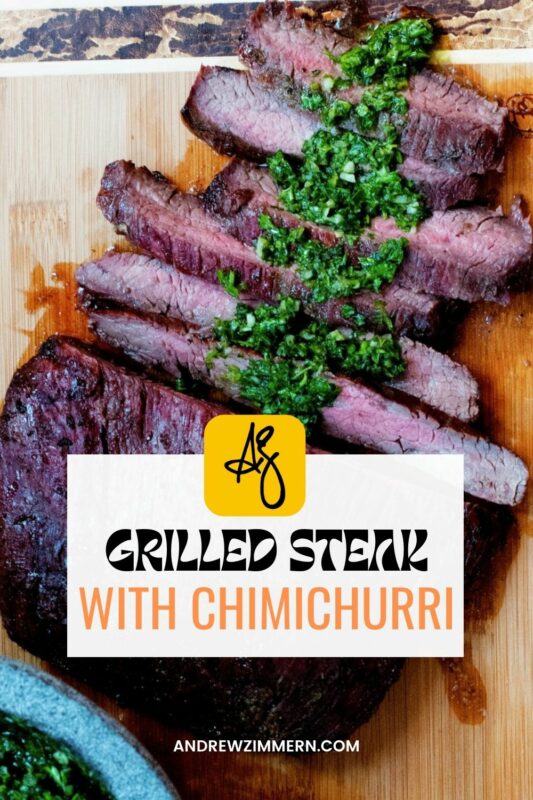 Flank Steak with Chimichurri
---
Ingredients
3 pounds flank steak
2 scotch bonnet or habanero chiles
1 bunch scallions
3 shallots
1 small onion
3 garlic cloves
1 tablespoon fresh ginger
2 teaspoons dried thyme
2 teaspoons ground allspice
3 tablespoons canola oil
3 tablespoons worcestershire sauce
3 tablespoons fresh lime juice
3 tablespoons dark brown sugar
2 tablespoons kosher salt
1 teaspoon ground black pepper
1/2 cup dark rum
1/4 cup fresh orange juice
Chimichurri Sauce
12 garlic cloves
4 fresh bay leaves, chopped
4 jalapenos, roasted, cleaned and minced
12 anchovies
2 tablespoons sea salt
2 cups parsley, minced
1/2 cup fresh oregano leaves, minced
1/2 cup fresh mint leaves, minced
2/3 cup extra virgin olive oil
1/4 cup white vinegar
1/4 cup fresh lime juice
3 tablespoons sugar
Instructions
In a blender, combine all of the ingredients except the beef to make the marinade. Blend until smooth. In a zip-top bag or a large non-reactive bowl, marinade the steak in the puree overnight in the refrigerator.
About an hour before you grill, bring the steak out of the fridge and let it come to room temperature.
Grill the steaks over high heat to medium rare, about 4 to 5 minutes per side depending on the thickness of the steak.
Let the meat rest for 5 minutes. Slice and serve with the chimichurri sauce.
Chimichurri Sauce
In a mortar, mash the garlic, bay leaves, jalapenos, anchovies and salt to a paste. You can use a food processor for this portion if you don't have a big enough mortar and pestle.
Add the herbs and grind a few times to incorporate. Don't over blend.
Transfer the mix to a bowl, and whisk in the oil, vinegar, lime juice and sugar.
Photographs by Madeleine Hill. 
• Flank Steak with Thai Herb Salad
• Wine-Braised Rabbit with Chimichurri
• Grilled Cornish Hens with Salsa Verde