Grilled Coconut-Curry Shrimp Skewers with Cilantro Chutney
Served with a side of my addictive cilantro chutney, this easy shrimp appetizer benefits from a long marinade of rich coconut and curry flavors followed by a quick char on a hot grill.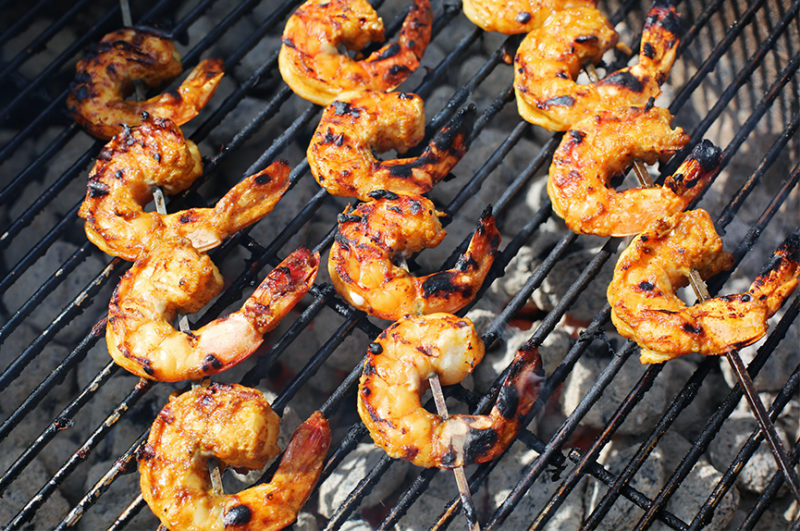 Grilled Coconut-Curry Shrimp Skewers with Cilantro Chutney
---
Ingredients
2 pounds large shrimp, roughly 15 per pound
2 tablespoons garlic, minced
3 tablespoons ground cumin
1 tablespoon chili powder
2 tablespoons ground coriander seed
3 tablespoons curry powder
1 cup coconut milk
3 tablespoons brown sugar
2 tablespoons lime juice
2 tablespoons fish sauce
Chutney
2 cups firmly packed cilantro
1 tablespoon fresh ginger, minced
1/2 cup onion, minced
3 jalapeno peppers, minced
1 tablespoon garlic, minced
1 tablespoon sugar
1 teaspoon salt
1 teaspoon ground turmeric
1 teaspoon ground coriander seed
2 tablespoons fresh lime juice, or more to taste
Instructions
Peel and devein the shrimp.
Make the marinade by whisking together the garlic, cumin, chili powder, coriander, curry powder, coconut milk, sugar, lime juice and fish sauce. Place the shrimp in a zip top bag and add the marinade. Place in the refrigerator and let marinate for 12 hours, or up to 24 hours.
Remove from marinade and skewer the shrimp. Prepare a grill for direct high heat cooking. While the grill is preheating, combine all of the ingredients for the cilantro chutney in a blender, and blend until sooth (you may need to add a few tablespoons of water to induce blending).
Grill the shrimp skewers over hot charcoal, about 2 to 3 minutes per side. Serve immediately with the cilantro chutney as a dipping sauce.
Photographs by Madeleine Hill. 
• Grilled Shrimp with Rum-Guava Glaze
• Char-Grilled Chili Shrimp
• Broiled Shrimp with Tomatoes & Feta