Chicken Paillarde with Panzanella Salad
This panzanella salad set atop a grilled chicken paillarde is a recipe I used on restaurant menus in NYC in the 80s! Good food is always good. Improvising with the panzanella salad is never a mistake. Try adding arugula, watercress, or whatever fresh vegetables look good at the farmers market.
Like this recipe? Save it on Pinterest!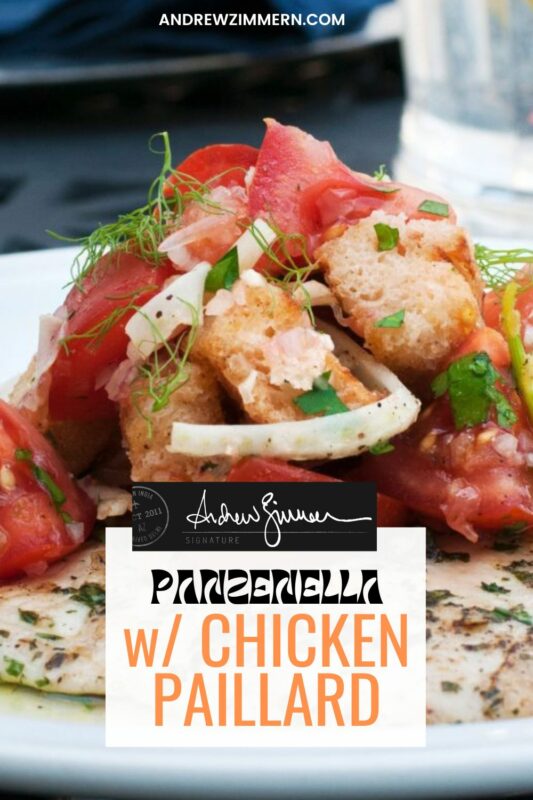 Chicken Paillarde with Panzanella Salad
---
Ingredients
Panzanella Salad
3 cups day-old artisan bread, cut into ½-inch cubes
4 tablespoons olive oil
2 cloves garlic, minced
4 large vine ripened summer tomatoes, chopped
2 shallots, minced
12 basil leaves, thinly sliced
1 cup fennel bulb, shaved
1 red grapefruit, segmented, free of peel and pith
1/3 cup extra virgin olive oil
7 teaspoons aged sherry wine vinegar
Lemon juice to taste
Sea salt and pepper to taste
Chicken Paillarde
4 boneless, skinless chicken breasts, each weighing 4 to 5 ounces
3 tablespoons olive oil, plus a drizzle for garnish
1 tablespoon garlic, minced
2 tablespoons parsley, minced; plus a tablespoon for garnish
2 tablespoons chives, minced; plus a tablespoon for garnish
Sea salt and freshly ground white pepper
Instructions
Cut the bread into 1/2-inch cubes, you'll need about 3 cups. Heat the olive oil in a large skillet, add half of the minced garlic. Stir briefly and add the bread cubes in a single layer. Pan fry for a few minutes on one side until light brown, flip and continue to pan toast. When toasted, spill bread onto a cookie sheet and reserve.
Combine all the other panzanella ingredients and season with sea salt and freshly ground black pepper. Let the mixture sit for 10 minutes to allow salt and acids to work their magic. Toss with the bread cubes, and reserve while you make the chicken paillarde.
For the Chicken Paillarde
Season the chicken with the olive oil, garlic, parsley, chives, salt and pepper. Place breasts one at a time in between sheets of plastic wrap and gently pound out into 7-inch circles.
On a grill or preheated grill pan, cook over high direct heat for 2-3 minutes, turning once.
Plate the paillardes and serve the panzanella salad divided on top of the chicken. Garnish with additional parsley, chives and a drizzle of olive oil.
Photograph by Madeleine Hill.
• GiGi's Chopped Salad
• Fried Chicken & Watermelon Salad
• Country Club Salad with Two Dressings