Fried rice is one of those dishes that is even easier to make than it is to order! I like to use day-old rice (white rice, jasmine rice, basmati rice… any leftover rice– by the way, did you know you can even freeze rice for future use?) and any protein I have left over from the week. It's also a great way to use up vegetables. This will feed your whole family and they'll be begging you to make this instead of calling in for takeout.
Don't have a wok?
Any pan in your kitchen will do, but I highly suggest investing in a wok! They are versatile and so fun to cook with. Here's one of my favorites.
Why You Shouldn't Scramble Eggs Before Adding Them to the Wok
I personally prefer to break up the eggs in the hot wok. Scrambling eggs before placing them in the wok makes the egg tough and doesn't look as nice.
There are so many great homemade kimchis available these days (even the local supermarket brands are pretty awesome), that rather than tell you how to make it, I thought it might be more fun to tell you what I do with it most often: eat it from the jar with leftover sticky rice.
It was after a visit with some Korean Hawaiian families in Kona that I got addicted to the stir-fried kimchi and rice dish here. It's an awesome side for any Asian-inspired meal…or perfect on its own for lunch with a crisp salad.
Like this fried rice recipe? Save it on Pinterest!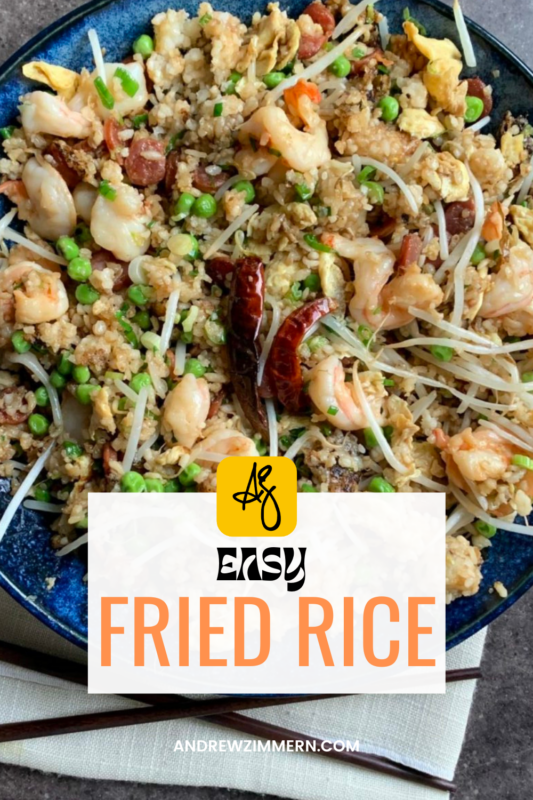 My Easiest Fried Rice Recipe
---
Ingredients
3-4 cups of Asian short or long grain rice, can be defrosted from freezer or leftover from night before. Fresh hot rice doesn't make the best fried rice. I love this dish with short grained rice best of all
4 Tablespoons peanut oil
3/4 cup of defrosted frozen peas
2 beaten eggs
6-8 large peeled and deveined shrimp, cleaned and cut in half lengthwise
2 dried whole, hot chiles
2 Tablespoons minced ginger
2 Tablespoons minced garlic
1 cup chopped scallions
1 cup bean sprouts
2-3 Tablespoons high-quality, natural soy sauce
1 Tablespoon oyster sauce
1 Tablespoon Shao Xing (Chinese rice wine)
1 teaspoon toasted sesame oil
6-8 ounces of thinly-sliced Chinese sausage (Lap Cheong). (Feel free to use leftover roasted chicken, beef, BBQ pork or all of them!)
Instructions
In a wok or large sauté pan, add one tablespoon peanut oil and place over high heat. When it becomes rippling and aromatic cook the egg stirring with chopsticks or a spatula, and when cooked reserve to a side plate.
Add another tablespoon of peanut oil to the wok/pan and when VERY hot, flash cook the sausage to lightly brown.
Place sausage on side plate with the egg.
Add the shrimp to the pan and cook briefly, they will only take 30-45 seconds to par cook, and add to the plate with the sausage and egg.
Add the remaining oil and when hot, add the ginger, garlic and the hot chiles, quickly sauté and swirl the oil in the pan.
Add the rice and cook, stirring every 30 seconds for several minutes to heat through and lightly scorch.
Add the egg, shrimp and sausage stirring and breaking up the egg as you go.
Continue stirring and add the peas and scallions. Stir.
Add the soy sauce/oyster sauce/sesame oil/rice wine in a thin stream
Cook for a minute, add the bean sprouts.
Keep tossing for another 30-40 seconds and serve family style in a large bowl
Photograph by Abigail Sliva