Fried Duck Confit with Eucalyptus Honey & Mustard Greens
Who can resist crispy duck skin that gives way to supple, yielding, moist meat? I can't, which is why I suggest you make this "times two" because you're sure to want seconds. Or—gasp!—you can indulge in cold fried duck confit tomorrow.
Recipe from So Good  by Richard Blais. Get your copy here.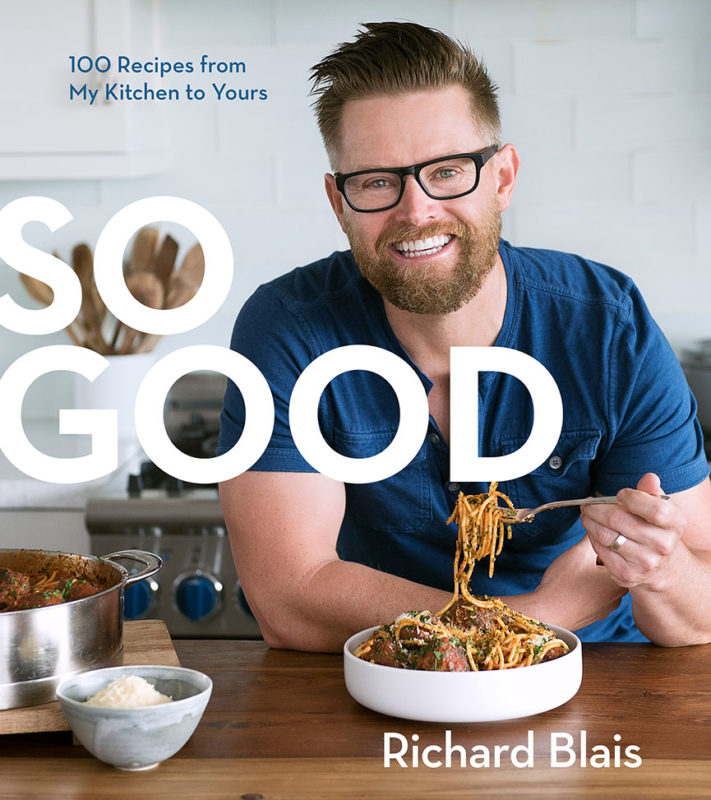 Fried Duck Confit with Eucalyptus Honey & Mustard Greens
---
Ingredients
2 to 3 cups coarse salt
2 to 3 tablespoons dried thyme
1 tablespoon whole cloves
1 tablespoon coriander seeds
1 bay leaf
8 duck legs
2 cups duck fat, melted
1/2 cup eucalyptus honey, or your favorite type
1/4 cup white wine vinegar
1 fresh serrano chile, seeded and sliced
Small handful fresh mint leaves (optional)
Small handful fresh cilantro leaves (optional)
Red pepper flakes (optional)
2 cups buttermilk
1  1/2 cups all-purpose flour
Vegetable oil, for frying
Mustard Greens
Musard Greens
 2 tablespoons unsalted butter
2 cloves garlic, minced
2 bunches mustard greens (about 3 pounds), stems trimmed
Kosher salt and freshly ground black pepper
Instructions
In a large mixing bowl, toss the salt with the thyme, cloves, coriander seeds, and bay leaf. Bury the duck legs in the salt mixture, adding more salt if needed to cover them completely. Set aside for about 3 hours at room temperature.
Preheat the oven to 325°F.
Lift the duck legs from the salt and wipe off the salt clinging to them. Transfer the legs to a deep, heavy baking dish and add the duck fat so that it covers them. Roast the duck legs for 4 to 5 hours, until very tender. Remove the dish from the oven and let it cool to lukewarm. Refrigerate the duck legs, still covered with the fat, for at least 4 hours or longer. Stir together the honey, vinegar, and chile. Add the mint, cilantro, and a few red pepper flakes, if using. Set aside to give the chile time to infuse the sauce. Just before serving, warm the sauce in the microwave (or on top of the stove in a small saucepan). Do not cook it, but warm it enough so that it drizzles easily over the duck.
Lift the duck legs from the fat and wipe off the excess.
Put the buttermilk in a shallow bowl and the flour in another. Dip the duck legs first in the buttermilk and then in the flour. Repeat to coat them twice. Set them on a platter while the oil heats.
Pour the oil into a deep, heavy pot to a depth of 3 to 4 inches. Heat over medium-high heat until a deep-frying thermometer registers 360°F. Fry the duck legs for 2 to 3 minutes on each side, until nicely browned and crispy.
Drain on paper towels.
Serve the duck and mustard greens together and pass the honey sauce on the side.
Mustard Greens
In a large skillet, melt the butter over medium heat. Add the garlic and the rinsed but not dried greens; there should be some water clinging to the leaves. Cook, stirring, until the greens wilt, about 15 minutes. Season to taste with salt and pepper and serve immediately.
Text excerpted from SO GOOD© 2017 by Richard Blais. Photographs © Evan Sung. Reproduced by permission of Houghton MifflinHarcourt. All rights reserved.