Spaghetti with Classic Tomato Sauce
A steaming bowl of spaghetti with homemade tomato sauce, fresh basil and a sprinkle of parmesan cheese is a guaranteed crowd-pleaser. To round it all out, serve with crusty bread and a big salad.
Like this recipe? Save it on Pinterest.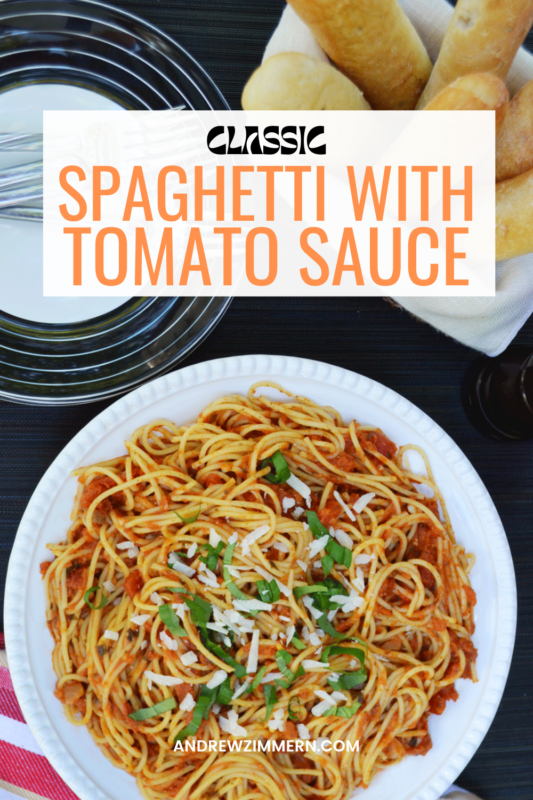 Classic Tomato Sauce with Italian Seasoning
---
Ingredients
1/2 cup olive oil
3 tablespoons Italian Seasoning
4 tablespoons sliced garlic
2 tablespoons minced anchovies
4 tablespoons minced shallots
1 bay leaf
48 ounces tomatoes, chopped, in their juices
2 tablespoons tomato paste
1 pound dry spaghetti
Salt and Pepper to taste
Instructions
Servings: 6 to 8
Make the Sauce
Place the olive oil in a large saute pan over medium heat. Add the Italian Seasonings, garlic, anchovies, shallots and bay leaf. Saute until shallots are glassy, do not let the garlic burn.
Add the tomatoes and tomato paste, and stir to incorporate. Simmer until the sauce is no longer watery, 45 to 60 minutes.
Cook the Pasta
Meanwhile, cook the spaghetti in a large volume of rapidly boiling salty water to al dente, typically about 8 to 10 minutes (be sure to check manufacturer's instructions).
Drain pasta quickly and if you need to hold it, cool under cold running water and drain well, tossing with olive oil and storing for a few hours at room temperature in a large bowl covered with plastic wrap.
To Serve
Transfer the cooked spaghetti to a large bowl. Add the sauce, and toss to fully coat the pasta. Serve family style, garnishing with fresh torn basil leaves and grated parmesan.