Chicken, Sausage & Artichoke Tagine
A hearty braise with an incredible blend of vibrant North African flavors, this tagine is one of my favorite quintessential comfort food dishes to make.
Like this recipe? Save it on Pinterest.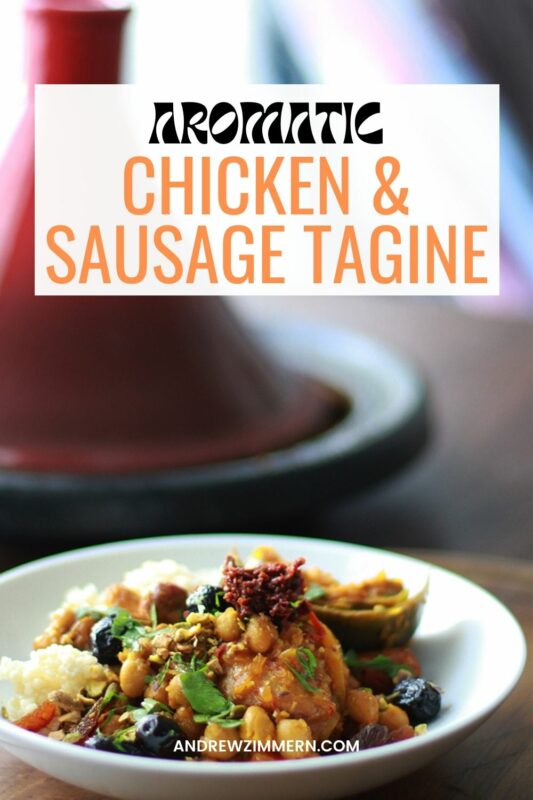 Chicken, Sausage & Artichoke Tagine with Grill Magic Seasoning
---
Ingredients
4 chicken legs
4 boneless chicken thighs
Salt
1/4 cup olive oil, plus a drizzle for garnish
1 pound merguez sausage links
1 onion, minced
3 garlic cloves, minced
4 fresh hot red chile peppers, julienned
3 tablespoons Grill Magic seasoning
Pinch of saffron
2 fresh artichokes hearts, cut in half
1 cup orange juice
2 cups chicken stock
1/4 cup preserved lemon, sliced
1 cinnamon stick
12 ounce can chickpeas, drained
6 cups cooked couscous
1 cup dry cured Moroccan olives
1 cup dried apricots, sliced
1/2 cup toasted pistachios, crushed
1/2 cup parsley, minced
Harissa, for garnish (optional)
Instructions
SERVINGS: 6
Preheat a tagine or other large pot, such as a Dutch oven or wok. Season the chicken with salt. Add the olive oil to the tagine. Over medium-high heat, brown the sausage and chicken.
Move the chicken and sausage to the edges of the pan and add the onions to the center. Next, add the garlic, chile peppers and Grill Magic seasoning. Mix the saffron with a teaspoon of the chicken stock, then add it to the pot. Cook for a couple minutes until the spices become fragrant, then stir to incorporate with the meats. Add the artichokes, then pour in the orange juice and chicken stock.
Place the preserved lemon and cinnamon stick in the pot, sprinkle the chickpeas on top and bring to a boil. Cover and simmer for 1 hour.
Place individual servings of couscous in bowls. Top with the braised chicken, sausage, artichoke and chickpeas. Garnish with olives, apricots, pistachios, parsley and a drizzle of olive oil. Add a spoonful of harissa if you like it spicy. Serve.