Slow Roasted Salmon with Preserved Lemon Vinaigrette
Slow roasting in olive oil is a foolproof cooking method that results in silky, tender and moist salmon. Gently poached in a 200 degree oven, it's a low maintenance technique for perfectly cooked fish. Served on top of seared avocado and drizzled with a preserved lemon vinaigrette, this recipe makes a light, elegant meal any day of the week.
Watch Andrew make this recipe:
Like this recipe? Save it on Pinterest.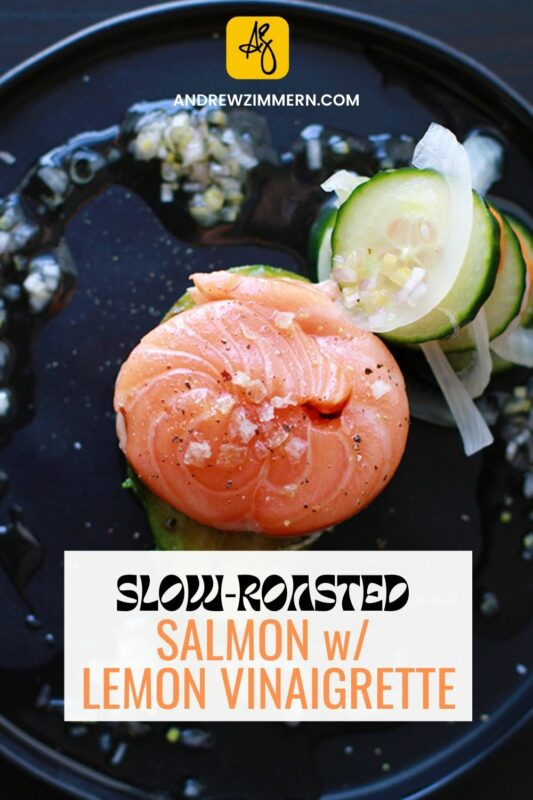 Slow Roasted Salmon with Preserved Lemon Vinaigrette
---
Ingredients
4  3-ounce portions of salmon
1  1/2 cups olive oil
2 avocados, halved
Fleur de sel
Swedish pickles (recipe below)
Preserved lemon vinaigrette (recipe below)
Swedish Pickles
3 cups water
2 cups sugar
1 cup white vinegar
1 bay leaf
3 all spice berries
4 black peppercorns
1 carrot, peeled and sliced
1 yellow onion, sliced
2 English cucumbers, sliced
Preserved Lemon Vinaigrette
1/2 cup fresh lemon juice
1 tablespoon shallots, minced
2 tablespoons preserved lemon, minced
Salt & pepper to taste
Sugar to taste
1 cup grapeseed oil
1/2 cup olive oil
Instructions
Preheat the oven to 200 degrees F.
Roll each piece of salmon into a pinwheel shape and secure with a wooden skewer. Place the salmon in an oven-proof dish and pour the olive oil on top. Bake for about 8-10 minutes. You want the salmon to look like it has just set up, almost translucent. You don't want to overcook the salmon!
While the salmon is cooking, sear the avocado in a cast iron pan or saute pan on both sides until golden brown. When the avocado is done place in the center of the serving plate and season with fleur de sel. When the salmon is done, remove from the oven and place on top of the avocado. Season the salmon with fleur de sel. Drizzle the preserved lemon vinaigrette around the plate and garnish with the Swedish pickles. Serve immediately.
Prepare the Swedish Pickles
Put all ingredients except the cucumbers in a non-reactive pot and slowly bring to a boil. Stir occasionally to help dissolve the sugar. Once it has boiled and the sugar is dissolved, remove from the stove. Place cucumbers in a heat resistant container and pour the hot pickling solution over the cucumbers. Allow to chill in the refrigerator for one hour.
Make the Vinaigrette
In a non-reactive mixing bowl, add the lemon juice, shallots and preserved lemon. Season with salt, sugar and pepper. Slowly whisk in the grapeseed oil and olive oil it has all been incorporated. Drizzle over the slow roasted salmon.
• Thai Coconut Salmon Soup
• Cold Poached Salmon
• Poached Salmon with No-Fail Hollandaise