Chicken Paillard with Panzanella Salad
Panzanella salad perched atop grilled chicken paillard is an old school recipe I used on restaurant menus in the 80s—proof that good food never goes out of style.
Watch Andrew make this recipe:
Like this recipe? Save it on Pinterest!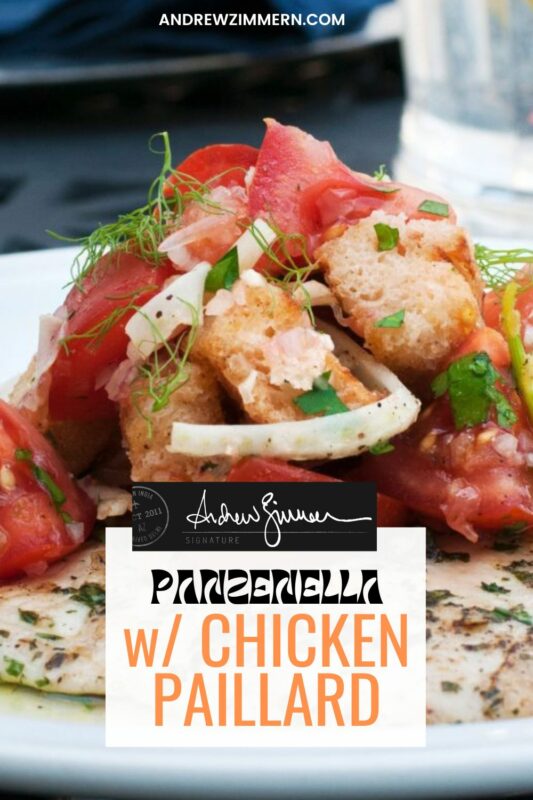 Andrew Zimmern's Chicken Paillard with Panzanella Salad Recipe
---
Ingredients
Chicken Paillard
4 boneless, skinless chicken breasts
3 tablespoons olive oil, plus a drizzle for garnish
1 tablespoon garlic, minced
3 tablespoons parsley, minced
3 tablespoons chives, minced
Sea salt and freshly ground white pepper
Panzanella Salad
1/3 cup olive oil, plus 4 tablespoons
2 cloves garlic, minced
3 cups day-old artisan bread, cut into ½-inch cubes
1 cup fennel, julienned
2 shallots, minced
4 vine ripened tomatoes, chopped
1 red grapefruit, segmented, free of peel and pith
12 basil leaves, torn into small pieces
7 teaspoons sherry wine vinegar
Lemon juice to taste
Sea salt and pepper to taste
Instructions
Season the chicken with the olive oil, garlic, 2 tablespoons of the parsley, 2 tablespoons of the chives, salt and pepper (reserve the remaining herbs for garnish). Place breasts one at a time in between sheets of plastic wrap and gently pound out into 7-inch circles.
Grill over medium direct heat for 2-3 minutes per side. Reserve.
Make the Panzanella Salad
Heat 4 tablespoons of olive oil in a large skillet, add half of the minced garlic. Stir briefly and add the bread cubes in a single layer.
Pan fry for a few minutes on one side until light brown, flip and continue to pan toast. When fried, spill bread onto a cookie sheet to cool.
Place the bread cubes in a big salad bowl, and add all of the remaining ingredients. Season with sea salt and freshly ground black pepper.
Plate the paillardes and serve the panzanella salad divided on top of the chicken.
Garnish with the remaining parsley, chives and a drizzle of olive oil and lemon juice.
• Fried Chicken Summer Rolls
• Chicken Recipes from Around the World
• Roast Chicken with Ratatouille