Amateur Schmamateur
Adam Roberts took a big risk when he quit law school to start an amateur food blog in 2004. As it turns out, he's pretty good at it. Seamlessly weaving recipes and photographs with personal narratives and humor, Adam transformed his a hobby into a full-fledged career (jealous?). For his new cookbook, Secrets of the Best Chefs, Adam cooked shoulder-to-shoulder with the country's best chefs, from Alice Waters to Jose Andres, taking their recipes and lessons and translating them for the home cook. We chat with Adam about how AmateurGourmet.com got started, useful cooking tips he learned while on the road and Los Angeles' food culture.
For a chance to win his new cookbook, tell us what chef you'd love to get a personal cooking lesson from (and why) below by January 30.
AndrewZimmern.com: How did the Amateur Gourmet come into fruition?
Adam Roberts: I was a third year law student at Emory University and had no intention of becoming a lawyer (it took three years of legal study to figure that out). My standard joke is that, "I went to law school to learn how to cook." And it turns out that's precisely what happened: I'd come home every day, my brain numb from arcane details about civil procedure, and I'd veg out watching the Food Network – back in the days of Sara Moulton and Mario Batali. Having come from a family where nobody cooked, this was all very new to me; eventually, I worked up the courage to try cooking myself and I was immediately hooked. My friends Josh and Katy suggested I blog my experiences–this was in 2004, before food blogs were really a thing–and I followed their advice and the rest, as they say, is history.
AZ.com: After nine years, how has the blog evolved? What's the craziest thing that's happened to you since you started the blog?
AR: The blog has gotten more polished, a little more mature. When I started out, I'd do things like eat cat food and make videos of myself singing songs about falafel. Every so often, I'll still do that stuff (check out my recent song "Waiter Don't Take My Plate Away") but now I mostly try to present useful recipes with pretty pictures wrapped up in humorous anecdotes. You can really see my growth, though, if you click through my archives: the early years were mostly kitchen disasters with terrible photography; now it's mostly kitchen triumphs with better-than-mediocre photography. As for the craziest thing, it's still gotta be having my Janet Jackson Breast Cupcake featured on CNN. That and hosting a VIP pool party in Las Vegas during my year as host of Food Network's "FN Dish." They named a cocktail after me and no one knew who I was. Even I didn't, in that moment.
AZ.com:  Any advice for fellow writers looking to make a profession out of blogging?
AR: Sure: don't make a profession out of blogging! I know that's glib, but hear me out. I started my blog while doing other things – the blog was a lark, a hobby, a chance to share things that I really wanted to share with no sense of it becoming my career. I think that's really important. Too many people start food blogs as if they're building a business. And that may work for a very small number of people, but mostly, it doesn't work at all because there are just way too many food blogs out there. Your best bet is to just put yourself out there full force, don't care about what kind of reaction you'll get, hone your voice, your style, your point-of-view. Stay unfiltered and authentic and an audience will come.
AZ.com: For Secrets of the Best Chefs, you traveled the nation to cook with, and learn from, the country's most respected chefs (including Nancy Silverton, Tom Douglas, Hugh Acheson and Michael White). Any shocking stories or unexpected encounters along the way?
AR: Two things shocked me the most writing this book: salt and fire. Let's start with salt. Chefs use lots of it, but I had no idea how much until Harold Dieterle, winner of Top Chef Season One and chef at New York's Perilla (as well as Kin Shop) taught me his recipe for his famous creamed corn. Essentially, you cook fresh corn in cream, blend it, then add more fresh corn. At the end, he asked me to season it so I put the salt shaker on the sprinkle holes, sprinkled some salt in and tasted. I said, "I think it's good." He tasted, smirked, then turned the salt shaker to the giant hole, turned it upside down and allowed a giant stream of salt to pour into the corn. He stirred it in and asked me to taste. The difference was enormous: he transformed it from wimpy creamed corn to powerhouse creamed corn just by seasoning it like a chef. So that was shocking.
The other shocking moment came when Susan Feniger taught me her recipe for black pepper clams. She put a skillet on high heat and then carried on a conversation with me as the pan got hotter and hotter and hotter. Almost 10 minutes later, she added a squirt of oil and a bowlful of clams and there was a giant explosion of flame. Feniger didn't flinch. I was basically curled up in a ball on the kitchen floor, but I played it cool. Later, when I recreated the recipe at home, I told myself I wouldn't get the pan as hot, that I wouldn't have a flame ball like she did, that it'd be too dangerous in my tiny apartment kitchen. I got the pan hot and then hotter and hotter and hotter until I finally added the oil and the clams and BOOM, a giant flame! When I served those clams to my friend Rob, I was shaking so violently he thought I had hypothermia. I realized then that I needed to be more fearless when it comes to harnessing those flames… Fire, if you understand it, is your friend in the kitchen.
AZ.com:  Top 5 tips you learned from these chefs while on the road?
Taste as you go. Not just for salt, but for acid (adding vinegar, lemon juice, etc.), for heat (adding peppers, chiles, hot sauce), richness (adding more butter, olive oil) and so on. You have so many tools available to you to make your food taste great; understanding those tools is way better than blindly following a recipe.
Put ingredients on display. I noticed that so many chefs had baskets full of beautiful farmer's market ingredients on their kitchen counters as they cooked. This doesn't just make your kitchen pretty, it facilitates cooking when you come home after a long day of work; there's that fennel and those heirloom tomatoes you brought home the other day. You're inspired to cook more than you would otherwise.
Use your internal timer. No chef ever set a timer when teaching me a dish in their kitchen; that's because chefs are constantly aware of what's going on around them. When something is almost done, they can smell it, they can look at it, they can take its temperature and know if it's time for it to come out of the oven. Using your senses instead of a gadget will always make your food taste better.
Clean with fluidity. Chefs don't dirty a bunch of dishes, go watch TV and find time to clean up later. They clean moment-to-moment: if they dirty a bowl making a cake batter, once that batter goes into a cake pan, the bowl goes into the sink where it's quickly rinsed and put on a drying rack. By the time food comes out of the oven, their kitchens are spotless which makes it easy to cook more and more and more.
Everyone makes mistakes. What matters isn't that you screwed up, it's how you recover after you screw up. When chefs make a mistake–and it happens quite often–they immediately clean up after themselves, start another pan of whatever it is they're making and shake off their mistake like it never happened. That's good advice for most of us who immediately order a pizza when one thing goes wrong. We have to learn to get over it too.
AZ.com: You recently moved from NYC to LA. Is there a big difference in the two cities' food culture?
AR: L.A.'s food culture has way more to offer those of us who can't spend our life savings on every meal. So when it comes to ethnic food–in particular, Mexican, Chinese, Korean, Thai and Japanese–L.A.'s got New York beat. Plus, we have Jonathan Gold, the world's only Pulitzer Prize-winning food writer pointing the way. That makes us very lucky indeed. That said, I think New York's restaurant scene is more essential: what's happening in New York feels absolutely relevant, partially because so much of our nation's food media is centered there writing about it. And on the higher end, New York has restaurants that can compete with Europe's finest establishments, restaurants like Daniel and Jean-Georges and Per Se. L.A. really doesn't have much in the way of fine dining and, again, because of my budget, I'm totally ok with that.
AZ.com: Favorite restaurants in LA?
AR: Pizzeria Mozza, Gjelina, Forage, ink., Loteria, and Ruen Pair.
AZ.com: As plugged into the food world as you are, any predictions for top food trends in 2013?
AR: I'm so bad at this stuff. Chocolate-covered pecans? I predict those will be huge in 2013. See, I told you, I'm really bad at this stuff.
AZ.com: What's in your fridge?
AR: Right now: cucumbers, milk, corn tortillas, cilantro, soy sauce, anchovies, eggs and Dijon mustard. Are you thinking what I'm thinking? Smoothie!
Check out Adam's recipe for Shrimp & Polenta with Chorizo from his new book Secrets of the Best Chefs.
For a chance to win his new cookbook, tell us what chef you'd love to get a personal cooking lesson from below.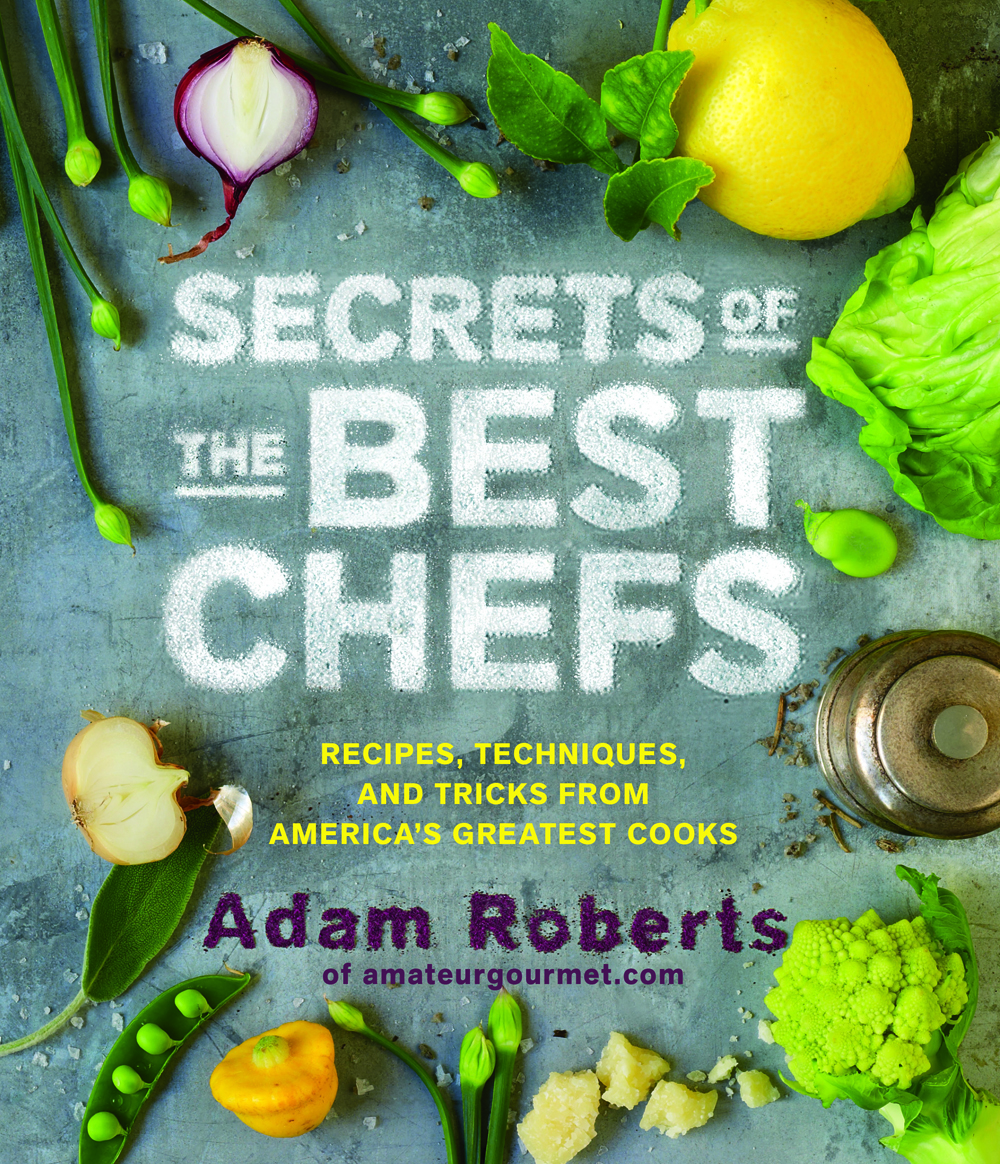 Adam Roberts is the creator of The Amateur Gourmet, called one of the "World's Best Food Blogs" by The Times of London and a "food world must-read" by the Denver Post. Roberts writes for Food & Wine, Salon.com, Serious Eats, The Huffington Post, and Epicurious. He has appeared on CNN and hosted several shows for Food Network online. He lives in Los Angeles, California. His new book, SECRETS OF THE BEST CHEFS, was released from Artisan Books in October 2012.
Photograph by Elizabeth Leitzell.