Braised Carne Adovada
By Andrew Zimmern
Learn to make carne adovada in this episode of Wild Game Kitchen, with easy tips for butchering and braising wild hog shoulder with lots of chiles, vinegar and Mexican oregano in a dutch oven over an open fire. To complete the meal, I'm cooking up a pot of cilantro lime rice and charred tomatillo salsa. Add bowls of guacamole, cotija cheese, jalapenos and onion for the ultimate taco spread.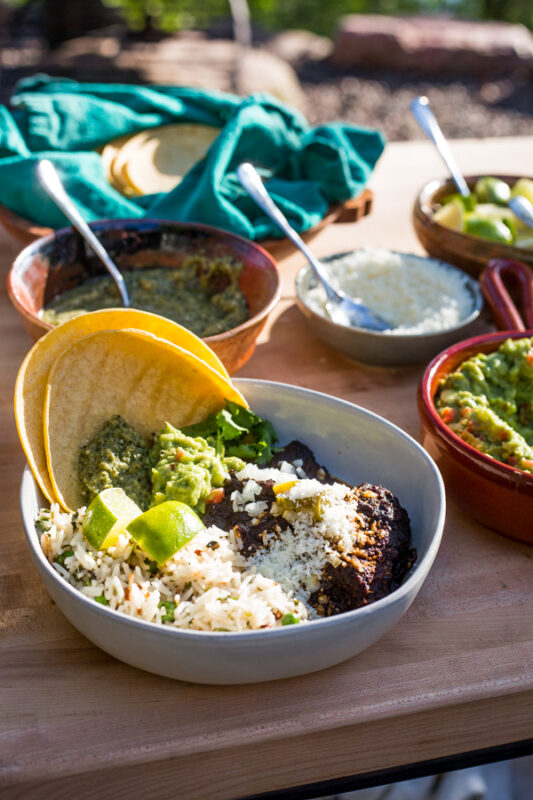 Wild Hog Adovada
---
Ingredients
4 tablespoons canola oil
3 pounds boneless wild hog shoulder or leg, cut into 2-inch pieces
5 dried ancho chiles
5 dried pasilla chiles
3 dried chipotle chiles
2 large onions, chopped
8 cloves garlic, halved
1 tablespoon oregano
1 tablespoon ground cumin
1 tablespoon ground coriander
3 tablespoons ancho chile powder
6 cups chicken broth
1/2 cup chopped dried unsulphured apricots
1/4 cup cider vinegar
1 cup fresh squeezed orange juice
2 bay leaves
Charred tomatillo salsa, for serving (recipe)
Cilantro-lime rice, for serving (recipe below)
Optional sides: Guacamole, minced onions, cilantro sprigs, lime wedges, grated Cotija cheese, pickled jalapenos, and warm tortillas
Cilantro-Lime Rice
3 tablespoons vegetable oil
1 onion, minced
3 cups chicken broth
2 cups long grain white rice
3 tablespoons freshly squeezed lime juice
1 cup frozen peas, defrosted
1 cup minced cilantro
1/3 cup julienned fresh mint
Instructions
Add the oil to a large cast iron pan over high heat. When oil is very hot, add the meat in an even layer and brown on one side. Reserve meat to a bowl.
Cut the stems off the whole dried chiles and discard. Remove and discard the seeds. Toast the whole chiles in the cast iron pan until dark and very aromatic. Reserve to a plate.
Add the onions to the pan. Saute until caramelized and add the garlic, toasted chiles, oregano, cumin, coriander and chile powder. Cook for several minutes, stirring. Add the broth, dried apricots, vinegar and the orange juice. Simmer for 10 minutes. Remove from the heat and let stand for 10 more minutes. Puree with an immersion wand or by placing in a blender.
Place the blended chile mixture into a large dutch oven, along with the browned meat and bay leaves.  Cover and simmer for an hour over low heat. Make sure the heat is low enough that you don't scorch the sauce. Adjust the lid so it is slightly ajar and simmer for another hour.
Taste the sauce and adjust for seasoning with salt. The sauce should be rich and thick; the pork should be tender.
Serve the adovada with the rice, salsa and all the fixings.
Cilantro-Lime Rice
Place the oil in a medium dutch oven or saucepan pot over medium heat and cook the onion until caramelized. Add the broth and bring to a simmer. Add the rice and stir. When a simmer returns, cover and lower heat. Cook for 20 minutes. Remove lid, add lime, peas and stir. Cover and let rest for 10 minutes off heat. Uncover and add herbs, season with salt, stir and serve. Season with salt and pepper.