Wild boar ribs: It's what's for lunch.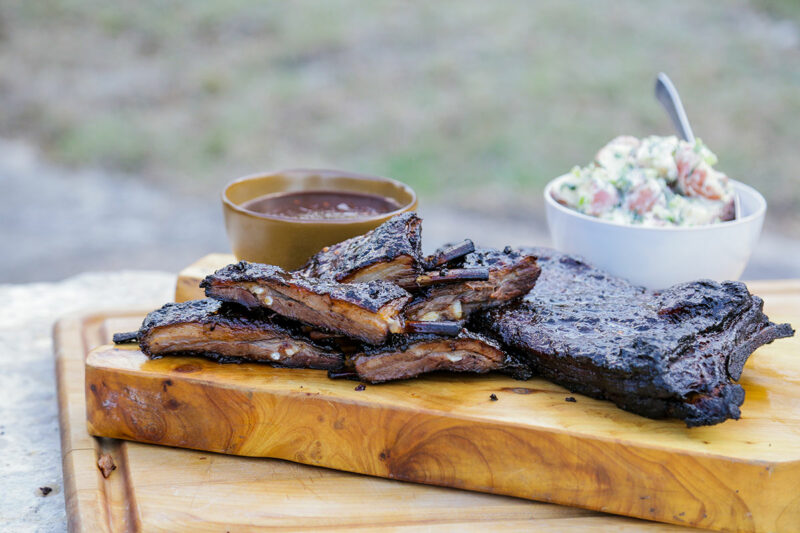 In this episode of Wild Game Kitchen, I make a homemade barbecue rub, basting sauce and barbecue sauce for wild boar ribs. After smoking the racks low and slow for a few hours over hardwood coals, you'll have a legendary feast.
In addition to the boar, I also make my favorite foolproof potato salad. With big piece of parsley and a bright mayo, mustard and vinegar dressing, it's the best old school potato salad of its kind.
Watch me make this recipe here.
Like this recipe? Save it on Pinterest.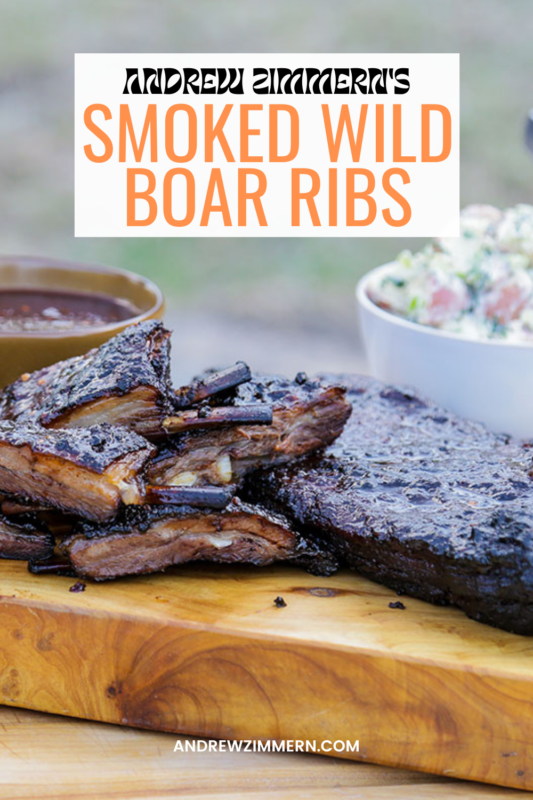 Smoked Wild Boar Ribs with Classic Potato Salad
---
Ingredients
For the Wild Boar:
2 racks wild boar spare ribs, trimmed
For the Barbecue Rub:
1/4 cup brown sugar
1/4 cup paprika
3 tablespoons kosher salt
1 teaspoon ground ginger
1 teaspoon cayenne pepper
1 tablespoon celery seeds
1 tablespoon garlic powder
1 tablespoon onion powder
1 1/2 teaspoons ground black pepper
For the Basting Sauce:
1 1/2 cups cider vinegar
1 small onion, minced
1 tablespoon kosher salt
1/4 cup brown sugar
1 teaspoon hot red chile flakes
1 teaspoon ground black pepper
For the Barbecue Sauce:
2 cups cider vinegar
1/3 cup brown sugar
2 teaspoons kosher salt
2 teaspoons red chile flakes, or to taste
2 tablespoons Worcestershire sauce
3 tablespoons molasses
2 tablespoons Crystal hot sauce
2 tablespoons dark corn syrup
1 cup Heinz chile sauce
For the Potato Salad:
2 pounds baby Yukon gold or very small red skinned potatoes
4 scallions, thinly sliced
2 tablespoons chopped parsley
1/2 cup mayonnaise
2 tablespoons white vinegar
1 tablespoon Dijon mustard
2 ribs celery, finely diced
Salt
Pepper
Instructions
To prepare the ribs, remove the silver skin from the backs of the ribs. Combine the rub ingredients and massage well into the racks. You will have leftover rub, store it in an airtight container for next time. Refrigerate the ribs overnight.
In a medium saucepan, combine all the basting ingredients. Bring to a boil, then reduce heat to maintain a simmer for about 15 minutes. Allow to cool, and reserve until ready to baste the ribs.
In another medium saucepan, combine all the barbecue sauce ingredients and let simmer as low as possible until it reaches a rich sauce consistency, about 45 minutes. Reserve until ready to serve with the ribs.
Prepare your grill to cook the ribs over indirect low heat, keeping coals to one side. When the temperature reaches 275 degrees, add a handful of wet hickory smoking chips. Place a rib rack on top of the grate and add the ribs. Add additional coals as needed throughout the cooking process to maintain a temperature of roughly 250 to 275 degrees. Grill over indirect heat, covered with a dome for about 2 hours, mopping every 30 to 45 minutes or so or until ribs have shrunk back from the rib tips, and the meat is nicely browned in spots. If you like a smokier rib, add a few handfuls of wet fruit wood chips or shavings in several batches to the hot coals during the first 2 hours.
After two hours, wrap the ribs in butcher paper and continue cooking for another hour over indirect heat, under the dome. Remove from paper. Ribs should be fork tender but not falling off the bone.
Unwrap the ribs and place them directly on the grate. Open the grill vents to raise the temperature to about 300 degrees Fahrenheit. Cook the ribs for another 30 minutes.
Baste with barbecue sauce during last few minutes of cooking. And serve with more sauce and plenty of potato salad.
To prepare the potato salad, bring a pot of well salted water to a boil. Add your potatoes, lower heat to maintain a strong simmer and cook for about 10-15 minutes, depending on the size of your potatoes.
Drain and cool immediately. I like to rinse under cold water for a few minutes, then place them in the fridge to cool completely. Cut in half or quarters and place in a large mixing bowl. Add the scallions, parsley, mayonnaise, vinegar and mustard. Mix well to combine, then stir in the celery. You can serve right away or refrigerate. If you do place in the fridge, let the potato salad come to just below room temp before serving.