Is there anything better than eating a shore lunch on the shore? Not in my world.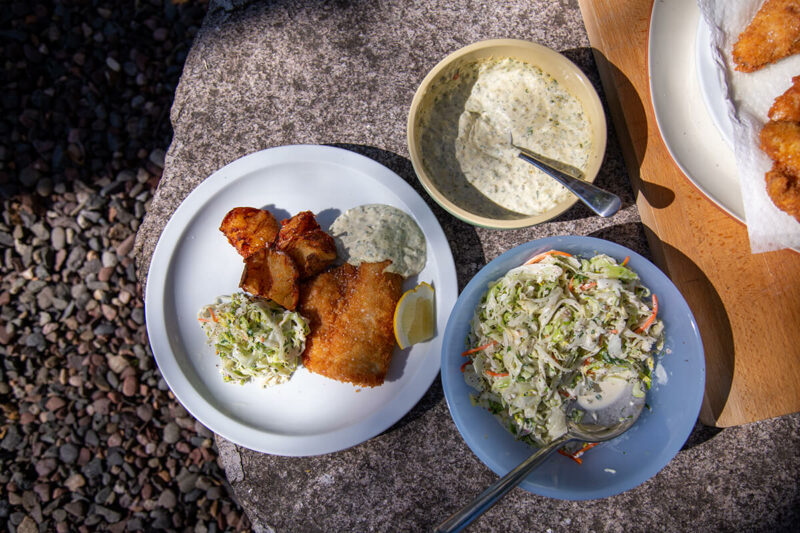 A shore lunch in Minnesota means walleye. A great fish fry is as much about the sides as it is about the fish itself. That's why I think this is the ultimate shore lunch: fried walleye filets, served with a tangy homemade tartar sauce, coleslaw and crispy fried potatoes. Homemade tartar sauce is really the biggest difference-maker, and is the thing that turns a good fish fry into a great one. As you'll see with the recipe below, it's not hard to make yourself.
Watch me cook this recipe here.
Like this recipe? Save it on Pinterest.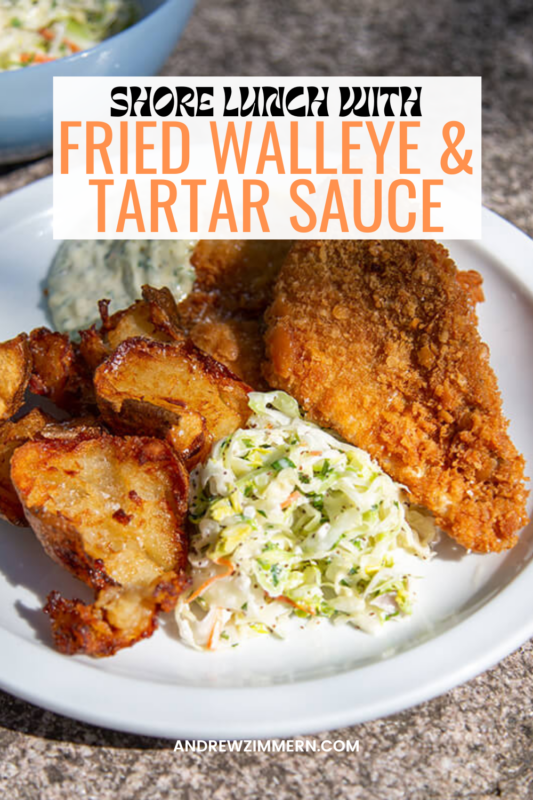 Shore Lunch of Walleye, Homemade Tartar Sauce, Coleslaw and Crispy Potatoes
---
Ingredients
For the Tartar Sauce:
3 egg yolks
1 tablespoon white vinegar
1 teaspoon Dijon mustard
1 cup canola oil
1 cup olive oil
Juice and zest of 1 lemon, or more to taste
3 tablespoons Andrew Zimmern's French Kiss Seasoning (or your favorite mixed dried herb seasoning)
4 tablespoons sweet pickle, minced
3 tablespoons capers, minced
3 tablespoons parsley, minced
For the Coleslaw:
5 cups thinly shaved cabbage, tossed with 2 tablespoons salt and left to drain in a colander for 6 hours
1/2 cup mayonnaise
1 shallot, minced
2 tablespoons sugar
1 tablespoon ground celery seed
2 teaspoons dry mustard
3 tablespoons parsley, minced
2 ribs celery, sliced thin
1 carrot, julienned
Sea salt and black pepper
For the Fish:
3 quarts vegetable oil
2 pounds walleye or whitefish filets, trimmed and cut into 3-to-5-ounce filets
Ground white pepper
Salt
2 cups flour, seasoned very well with salt and ground white pepper
3 eggs, beaten
2 cups crushed Ritz crackers, pulsed in food processor
For the Potatoes:
4 Idaho baking potatoes, baked and refrigerated overnight
Instructions
First, start salting and draining the cabbage in the morning. Then make the tartar sauce. Add the yolks, vinegar and mustard to a food processor and pulse. In a thin stream, emulsify the canola oil into this mixture with the food processor running. Next, add the olive oil in a thin stream to emulsify. Place mayo in a mixing bowl and add the lemon juice and zest, seasoning mix, sweet pickle, capers and parsley. Refrigerate until chilled while you finish cooking.
Next make the coleslaw. Gently squeeze the moisture out of the cabbage. Place in a mixing bowl and add the mayonnaise, shallot, sugar, celery seed, dry mustard, parsley, celery and carrot. Stir to combine, and season with salt and pepper. Refrigerate while you cook the fish and potatoes.
Heat your oil to 375 degrees F in a deep pot or Dutch oven.
Season the fish pieces with white pepper and salt. Dredge the fish in the flour mixture. Dip into the beaten eggs, coating well, and then into the Ritz cracker breadcrumbs. Fry the fish pieces in batches until golden brown, about 5 minutes. As the fish come out of the fryer, season with salt.
For the potatoes, break the cold baked potatoes with your hand for a rustic look or cut into steak fry shapes. Fry until golden brown and very crispy, about 6 minutes. Drain on paper towel, season with salt. You can fry the potatoes at the same time you fry the fish if your pot is large enough.
Serve the walleye and potatoes with the coleslaw, tartar sauce and lemon wedges.