You should be eating more rabbit.
Why? It's lean, healthy, high protein, and sustainable. Plus, it tastes great.

In this recipe, I skewer the kidney, livers and hearts and cook them over live fire. It's my favorite part. The rest of the rabbit is braised in a rich and flavorful red chile sauce and served in taco shells. Top it all off with a blended tomatillo salsa and fresh cilantro and you're in business.
Watch me cook this recipe here.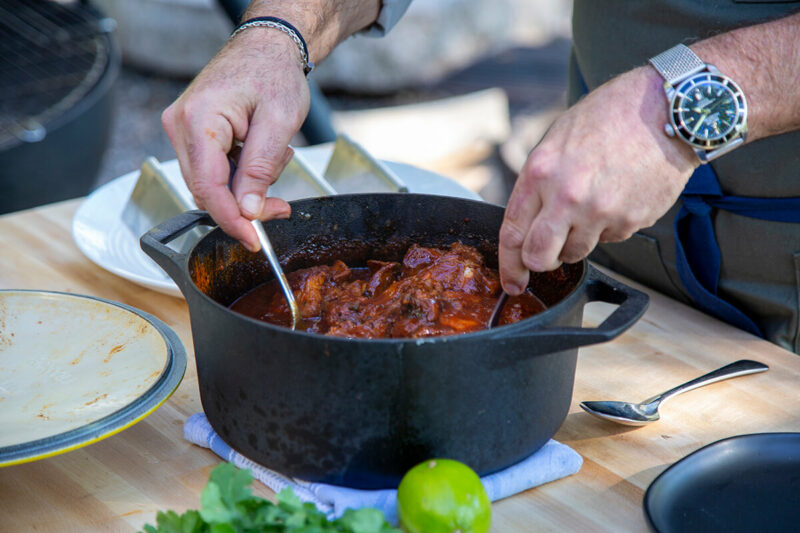 Like this post? Save it on Pinterest!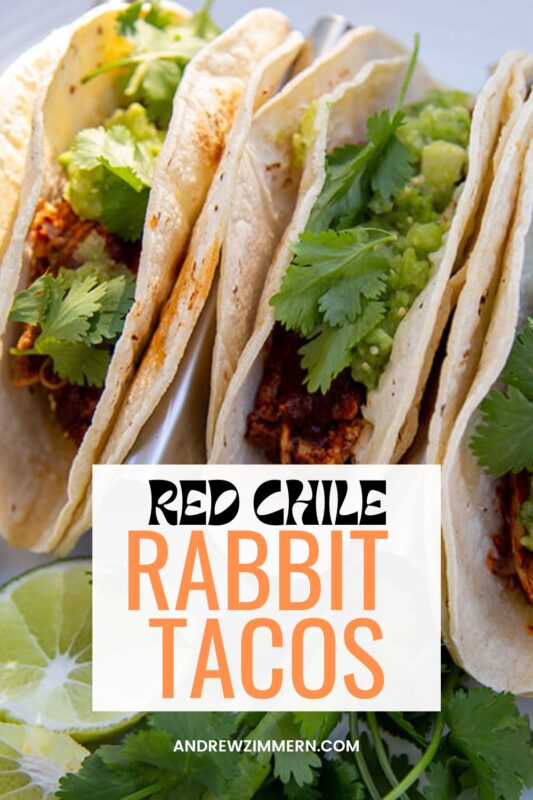 Red Chile Rabbit Tacos with Tomatillo Salsa Recipe
---
Ingredients
For the Red Chile Rabbit:
3 dried whole ancho chiles
2 chipotle chiles
3 pasilla chiles
1/4 cup vegetable oil
1 cup tomato puree
1 large onion, minced
3 cloves garlic, minced
1/2 cup Ancho chile powder
2 tablespoons Mexican oregano
2 tablespoons ground cumin
1 tablespoon ground coriander seed
1 quart poultry broth
1 whole rabbit, cut into 6 parts, the 2 front legs, the 2 rear legs and the central body cut in half crosswise
1 cup seasoned flour
1/2 cup vegetable oil
1 cup fresh cilantro, stems and all
Juice of a lime
For Tomatillo Salsa:
1/2 pound tomatillos, husked, rinsed and quartered
1 small onion, minced
3 tablespoons fresh cilantro leaves
2-3 serrano chiles, chopped
1 jalapeno, chopped
Juice of 1 lime, or more to taste
1 garlic clove
1 ripe avocado
Salt
Instructions
Place the 8 dried chiles in a bowl and cover with boiling water. Cover with plastic wrap and let sit for 45 minutes. Carefully seed and de-stem the chiles, discard seeds and stems. Reserve the chile water.
Take the oil and place it in a skillet over medium heat. Fry the chiles until aromatic, pull from oil and place the chiles in a blender. Blend with about a 1/2 cup of the reserved chile water and tomato puree. Blend until smooth.
Add the onions and garlic to the pan over medium heat. Saute for a few minutes, then stir in the ancho chile powder, oregano, cumin, coriander seed and cilantro. Allow the dry spices to toast for a couple minutes, then pour in the stock. Bring to a simmer, then add the blended chile mixture. Stir to combine. Maintain a simmer while you brown your rabbit.
Add 2 tablespoons of vegetable oil to a dutch or stock pot. Season the rabbit well with salt. Dredge each piece in the flour. Add the rabbit pieces to the pan and brown on both sides in batches. Once it is all browned, add all of the rabbit pieces back to the pot and pour the chile mixture into the pot. Bring to a simmer, cover and let it cook slowly for an hour, or until rabbit rear legs are flaking and tender all the way through.
While the rabbit is cooking make the salsa. Combine the tomatillos, onion, cilantro, chiles and lime juice in a food processor and combine to a chunky paste. DO not over puree. Peel, seed and chop the avocado, add it to the food processor and pulse briefly. You still want pieces of avocado in the salsa. Season well with sea salt.
Pull the rabbit meat from the bones, discard bones and return meat to chile sauce.
Season and serve with tortillas of your choice, the salsa, and garnish with minced onions and chopped fresh cilantro.