Steak tartare feels like a special occasion dish.
That said, you don't have to wait until your next steakhouse outing to enjoy it. This is one of those dishes that is so much easier to make at home than you think, especially when you have the right tools and ingredients.
---
Want 20% off your Shun knife purchase? Use code AZSHUNX20S7 at checkout. Please note: You must create an account and be signed in to activate code. 
---
Knives Used in this Video:
Some cooks simply prefer a longer chef's knife, and this one can't be beat. The longer blade provides additional cutting leverage and is especially handy when it comes to cutting larger foods. That said, it is an all-purpose blade ideal for a wide variety of cutting tasks—slicing and dicing just about anything in the kitchen. Plus, you can cut more product with fewer strokes—for example, cutting several carrots at once instead of just one.
Shun Premier Master Utility 6.5"
This versatile knife combines the nimbleness of a utility knife with the do-it-all capabilities of a chef's knife. The blade is slightly longer and significantly wider, so you can easily accomplish a wide range of food preparation tasks while enjoying the ease of use and agility of a compact knife.
Other things you'll learn in this video:
How to slice and frizzle leeks.
Tips for mincing raw beef.
How to create the perfect texture in a beef tartare.
How to separate eggs.
How and why to use lemon zest in this recipe.
How to slice a serrano pepper.
How to mince parsley and shallot.
How to perfectly plate beef tartare.
Like this recipe? Save it on Pinterest: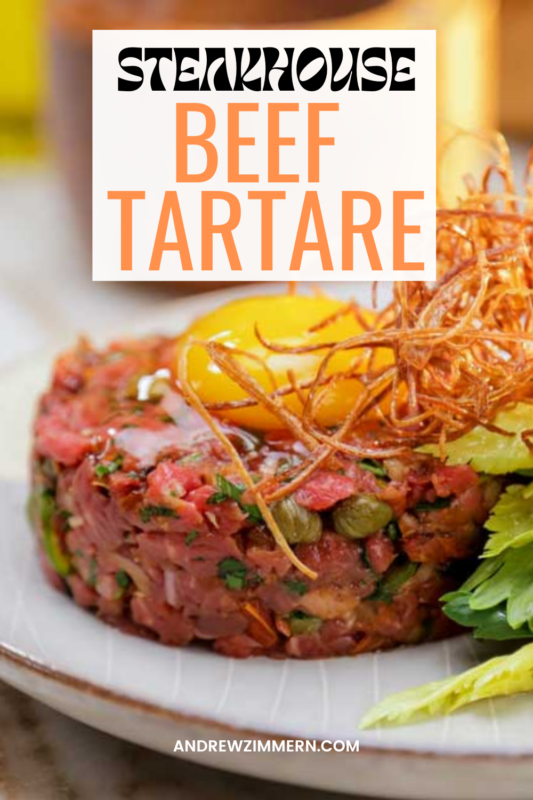 My Steakhouse-Style Beef Tartare Recipe
---
Ingredients
1 quart oil
1 large leek
2 tablespoons Worcestershire sauce, or more to taste
1 serrano chili, thinly sliced
4 tablespoons well minced oven roasted tomatoes
5 tablespoons minced shallots
Zest of 1 lemon
3 tablespoons capers, rinsed and dried
3 tablespoons minced parsley
1 pound hand chopped beef top round, tenderloin or top sirloin
Handful of celery leaves
Olive oil, for seasoning
Lemon juice, for seasoning
Salt
2 egg yolks
Toast points, for serving (optional)
Instructions
To make the crispy leek garnish:
Place the oil in a small pot over medium low heat. Julienne the leek and add to the oil. Stir and cook until leeks are soft and beginning to take on some color. Raise heat and when browned (this will happen quickly so be ready) reserve to a paper towel.
Beef Tartare:
In a large mixing bowl, combine the Worcestershire, serrano chili, roasted tomato, shallot, lemon zest, capers and parsley. Mix well.
Mince the beef by hand. It's much easier to work with if you keep it refrigerated until the last second, the colder meat is easier to chop. Add to the mixing bowl, season with salt and stir to evenly combine. Refrigerate until ready to plate.
In a small bowl, add the celery leaves and season with a drizzle of olive oil, lemon juice and salt.
Portion the tartar on 2 plates. Place an egg yolk on top of each portion, garnish with the celery leave salad and crispy leeks. Pass some toast points at the table.