Japanese Gyu Don
By Andrew Zimmern
This is a simple, sweet-and-savory Japanese beef dish served over rice.
Watch me make this recipe:
Like this recipe? Save it on Pinterest!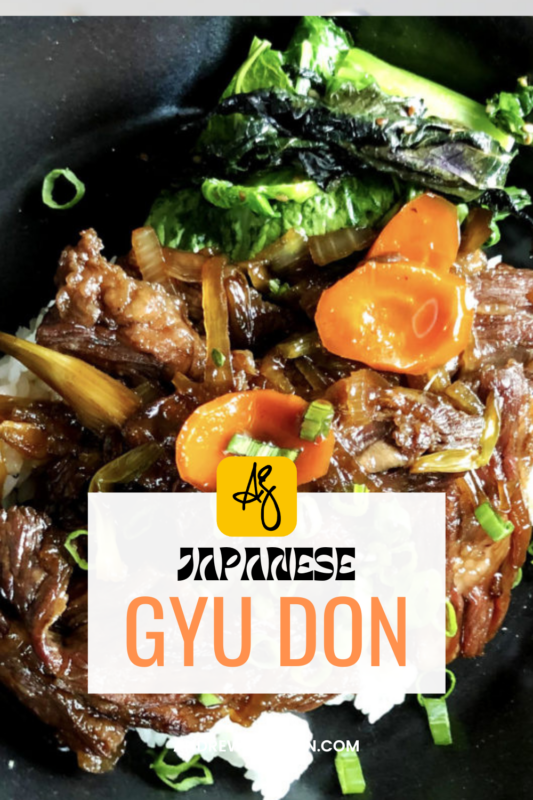 Japanese Gyu Don
---
Ingredients
Several cups cooked Japanese short grain rice
3 scallions
1 large yellow onion
2 carrots
16 ounces thinly sliced ribeye or skirt steak (Leftover pot roast or brisket, and ironically luxury cuts like tenderloin work well too. For luxury cuts simply cut a tad thicker)
1 cup sake
1/3 cup soy sauce
1/4 cup mirin
1/4 cup sugar
1/2 teaspoon instant dashi (hon dashi from Ajinomoto works great) or 1/3 cup dashi
Instructions
Combine the sake, soy, mirin, sugar and dashi in a small pot and bring to a simmer. Simmer while you get the rest of the ingredients ready.
Halve and slice the onion, slice the carrot very thinly, slice the scallions very finely… set all aside.
Take a large skillet and over high heat saute the onions, add the beef and carrots, stir. Cook for a minute.
Add the liquids and reduce to a light glaze. Taste for sweetness and salt, adjust to your taste.
Spoon beef and sauce over bowls of rice, garnish with scallions.