Elevate your holiday party with this stunning charcuterie board.
Knives Used in this Video:
The Shun Kanso Asian Utility Knife is a perfect multi-tasking blade—from its sharp tip, which can be used to peel ginger, to its long, straight edge, perfect for portioning meat. The Kanso Asian Utility Knife is also adept at processing quantities of vegetables for stir fry and thinly slicing meats. Every part of this knife can be put to use. Use the flat to smash a garlic clove; use the back to tenderize meat. Once you try it, you will find yourself reaching for this precision knife more and more often
The ultra-versatile Shun Classic Master Utility combines the nimbleness of a utility knife with the do-it-all capabilities of a chef's knife. The blade is slightly longer and significantly wider, so you can easily accomplish a wide range of food preparation tasks while enjoying the ease of use and agility of a compact knife.
Tips for making a great charcuterie board:
Clump sections of fruit, like grapes and strawberries, as well as dried fruit like dates and apricots.
Invest in good salumi, and cut it yourself. The pre-cut stuff might seem easier, but trust me— the whole stuff is way more delicious.
Cut your cheeses into bite-size pieces that are easy for guests to eat.
Use a variety cuts to add texture and visual interest.
Opt for a variety of cheeses— hard, soft, bleu, spreadable, etc.
Add sweet and savory spreads, like relish, jams, honey, even salted butter.
Once you've created your board, look for gaps on the platter and fill in with crackers, more fruit, whatever you have.
Place a variety of crackers and breads on or around the platter.
Be sure to place a few small serving forks, spoons, knives and toothpicks on or near the board.
Like this post? Save it on Pinterest!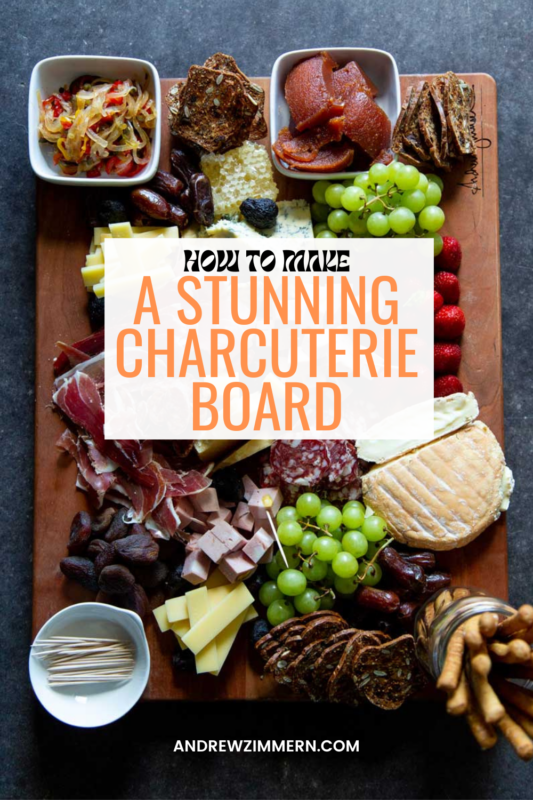 Sweet & Sour Pepper Relish for a Charcuterie Board
---
Ingredients
1 cup apple cider vinegar
1 cup sugar
1 tablespoon black peppercorns
3 fresh bay leaves
Pinch of nutmeg
Pinch of cloves
1 onion, sliced
3 cups diced mixed hot and sweet peppers
Salt
Instructions
In a medium saucepan over medium heat, whisk together vinegar and sugar. Bring to a simmer, and add the peppercorns, bay leaves, nutmeg, cloves, onion and peppers. Season with salt.
Simmer slowly until liquid is syrupy and thick, about 30 to 40 minutes.