I'm an elk guy all the way.
It's just gamey enough to remind you're not eating beef, and is beautifully marbled. In this recipe, I grill bone-in elk chops with a simple mustard glaze over hardwood charcoal, served with mashed rutabaga and an irresistible topping of pan-seared bacon, apples and onions.
I loves to use a luxury cut for this one, loin, ribeye, back strap, or ribeye chops, tomahawk-style if you want to be really showy.
Watch me make this recipe here.
Like this recipe? Save it on Pinterest!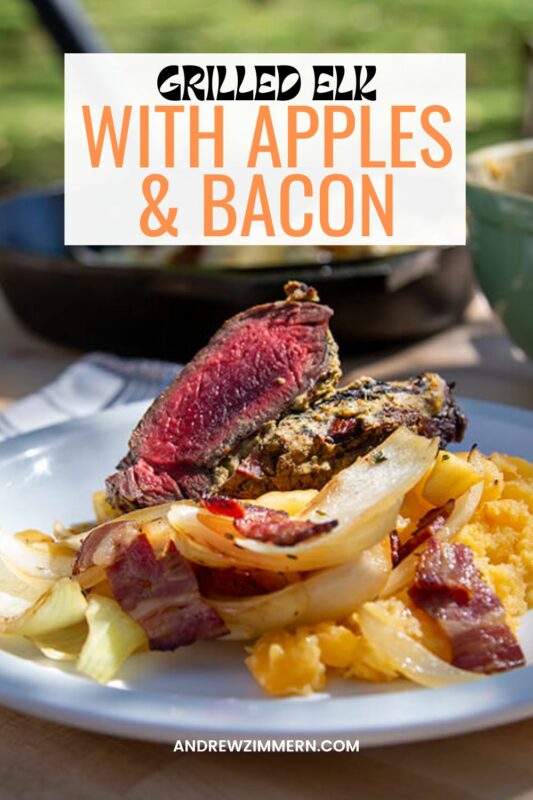 Grilled Elk Chops with Apples, Onions and Rutabaga Mash
---
Ingredients
For the Rutabaga Mash
2 pounds rutabaga, peeled and cubed
4 tablespoons butter
Pepper
Salt
1/4 cup whole milk
For the Bacon & Apples
4 slices wild boar bacon, sliced into 1-inch pieces
2 tablespoons fresh thyme leaves
2 tablespoons vegetable oil
3 medium yellow onions, peeled and cut into sixths lengthwise
2 apples, peeled, cored and chopped
For the Elk:
2 tablespoons apple cider vinegar
2 tablespoons Andrew Zimmern Mediterranean Mix (or your favorite herb, chile and citrus seasoning)
1/4 cup Dijon mustard
4 bone-in elk chops, about 1 ½-inches thick (or about 8-10 ounces of pre-cooked meat per person)
Instructions
First, start the rutabaga. Bring a pot of salted water to a boil over high heat. Add the diced peeled and trimmed rutabaga. Cover and cook until tender, about 30 minutes. When tender, drain and mash the rutabaga with the butter, pepper, salt and milk. Reserve in a warm spot.
Meanwhile, saute the bacon, onion and apples. Place a cast-iron pan over medium direct heat. Add the bacon and cook over medium heat for a few minutes. Add the thyme, a bit of vegetable oil, onions and apples. Cook for about 10 minutes, the apples and onions should be crisp/tender. Reserve in a warm spot.
Next, prepare the elk. Combine the vinegar, seasoning mix and mustard in a small bowl. Rub one side of the elk chops with this marinade. Rub the bare side with a bit of oil and place over high direct heat with the mustard side up. Cook on this side for about 8 minutes. Once you flip the chops, bast the bare side with a coating of the mustard-vinegar marinade. Cook for about 8 more minutes, and reserve to a plate to rest for at least 10 minutes.
Serve the elk chops with mashed rutabaga and a big scoop of the bacon, apple and onion mix.