By Andrew Zimmern
Pickle brined fried chicken three ways – Nashville style hot chicken, buffalo sauce and dry rubbed with Sichuan peppercorns and cumin. So easy and delicious, you gotta try it for Super Bowl Sunday!
Like this recipe? Save it on Pinterest!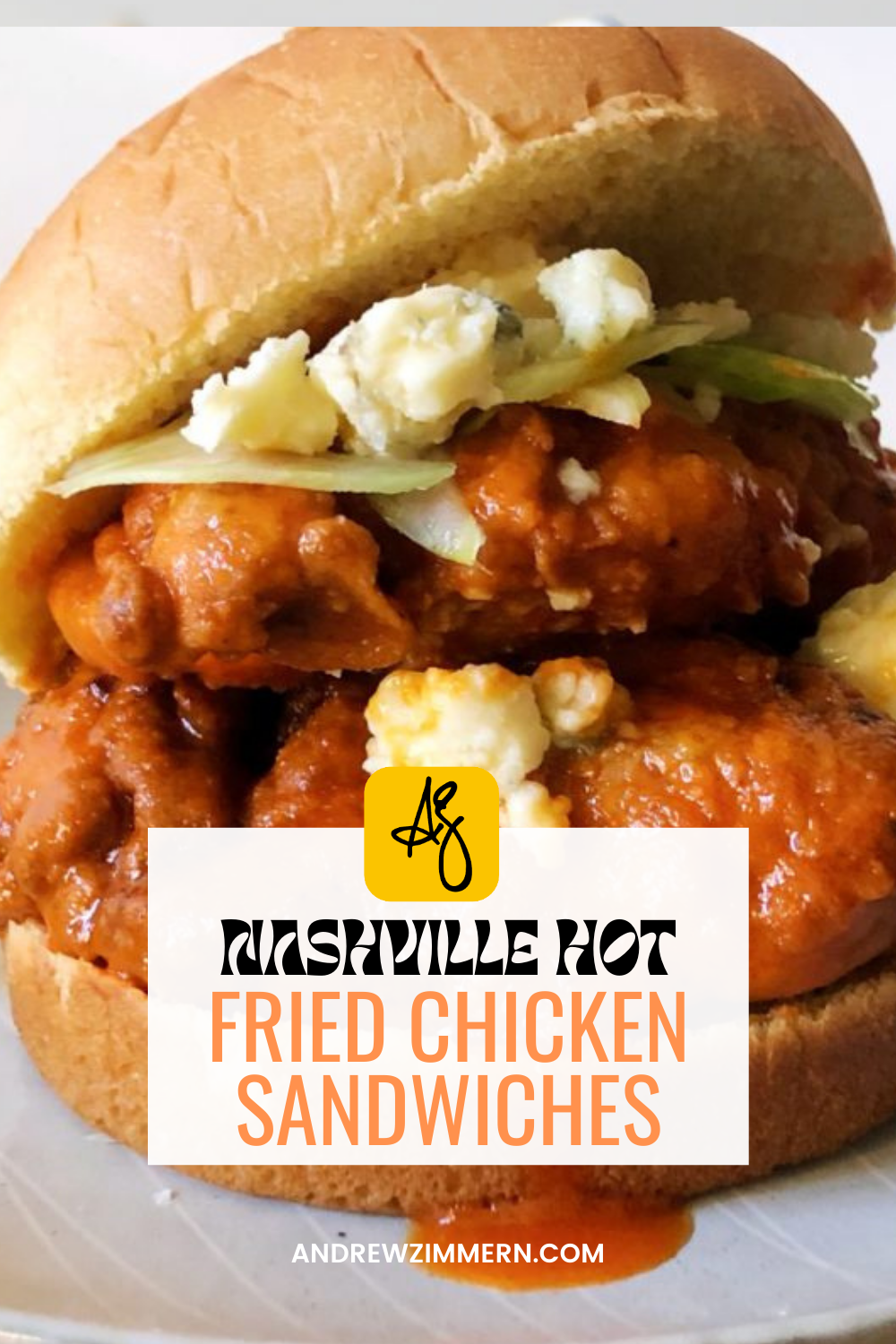 Fried Chicken Sandwiches
---
Ingredients
2 cups of pickle juice
6-10 chicken thighs, boneless (some like skin on, some don't, your preference)
2 cups buttermilk beaten with one egg
3 cups of mixed flour, corn starch and rice flour
Sea salt, ground celery seed, and ground pepper
Frying oil or lard
Instructions
Place the thighs and juice in a zip top bag, sealing as you squeeze out the air. Store overnight in fridge.
Two hours before frying, place thighs on a small rack over a pan in the fridge and air dry, discarding the brine.
Dredge the chicken in the buttermilk-egg mixture and then season with the salt, celery seed and ground pepper. Then dredge in the mixed starches. Repeat if you like, some people love a thicker crust.
The Fry
Heat frying oil to 375 degrees F. Fry the coated chicken thighs for 8-10 minutes, depending on the size. I like to add a few slices of bacon to the fryer, an old Edna Lewis trick that adds a hint of smoky pork-ness to the oil.
The Seasoning
Sichuan– Season the chicken immediately with 2 teaspoons ground Sichuan peppercorns, 2 teaspoons cumin and 1 teaspoon salt. Add more to taste if you like.
Buffalo– Toss fried chicken in 2:1 mixture of hot sauce to butter and serve. Frank's and Crystal brands work great for traditional flavor/heat.
Nashville Hot– remove chicken to a plate with a paper towel. Ladle 6-8 ounces of hot frying oil into a stainless steel work bowl. Immediately add 1 tablespoon cayenne pepper, 3 tablespoons brown sugar, 1 tablespoon smoked paprika, 1 tablespoon onion powder, 1 tablespoon garlic powder and 3 tablespoons hot sauce of your choice. Again, this is a place to use a hot sauce with FLAVOR and heat. Whisk to combine and liberally brush the seasoned oil on the chicken or dunk it in the mixture for maximum heat.
The Plating
On a toasted potato roll, with pickles, and your condiments of choice – cheese, lettuce, tomato, onion, etc, but please opt for simplicity.
For the Buffalo sandwich, think blue cheese and celery shavings
For the Sichuan sandwich, think sliced cucumber and hoisin sauce
For the Nashville Hot, think of a cold glass of water!