The best way to cook corn on the cob is in the husk directly on the coals. The husk protects the cob from incinerating, while the embers impart a smoky, fire charred flavor. Smother the sweet corn with classic elote toppings—crema, mayo, cilantro and my Mexican Fiesta seasoning.
Like this recipe? Save it on Pinterest!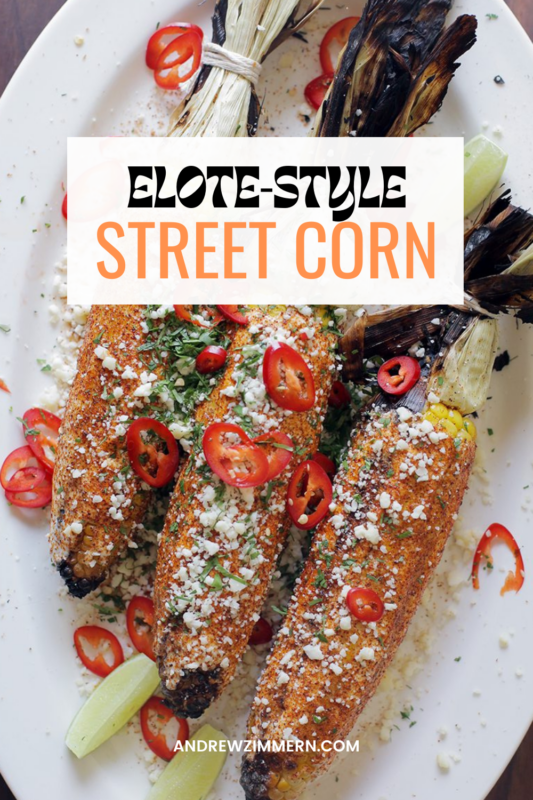 Elote-Style Street Corn with Mexican Fiesta Seasoning
---
Ingredients
4 ears of corn
1/4 cup mayonnaise
1/4 cup Mexican crema
1 tablespoon Mexican Fiesta seasoning
1/2 cup cotija cheese, crumbled
2 fresh red chiles, thinly sliced
2 tablespoons cilantro, minced
1 lime, cut into wedges
Instructions
SERVINGS: 4
Light a chimney full of natural hardwood charcoal. When it's white hot, dump into the bottom of a charcoal grill. Tap the coals lightly to get rid of some of the ash.
Carefully pull back the husks of the corn, leaving them attached at the base, and remove the silks. Put the husks back into place around the ear of corn and lay them directly on the coals. Cook, turning occasionally, until the husk is completely charred and the corn is cooked, about 10 minutes.
Remove the corn from the grill. Pull back the husks from the corn and tie them together with kitchen twine to form a handle. Stir together the mayonnaise and Mexican crema. Generously coat each corn cob on all sides with the mayo and crema mixture. Sprinkle with the Mexican Fiesta seasoning and crumbled cotija cheese. Place on a platter and garnish with fresh chiles and cilantro. Squeeze a couple wedges of lime over the top and serve!