Homemade Crispy Onion Rings
With a light and crispy batter, these buttermilk fried onion rings are a perfect snack for game day, or as part of a backyard burger bash side dish. It's a classic Southern-style recipe, with an extra flavor boost from my Lemon & Shallots spice blend and hot sauce. Make sure your oil is up to temperature while frying and you'll end up with the crispy, crunchy onion rings of your dreams.
You can serve with ketchup or ranch. Or eat them straight up.
Watch Andrew make his homemade onion rings recipe:
Tips for Making Crispy Onion Rings:
Cut the onion rings into 3/4-inch slices. Separate all of the rings and let them sit out to air dry. The less moisture in the onions, the more crispy the final product.
Like this recipe? Save it on Pinterest.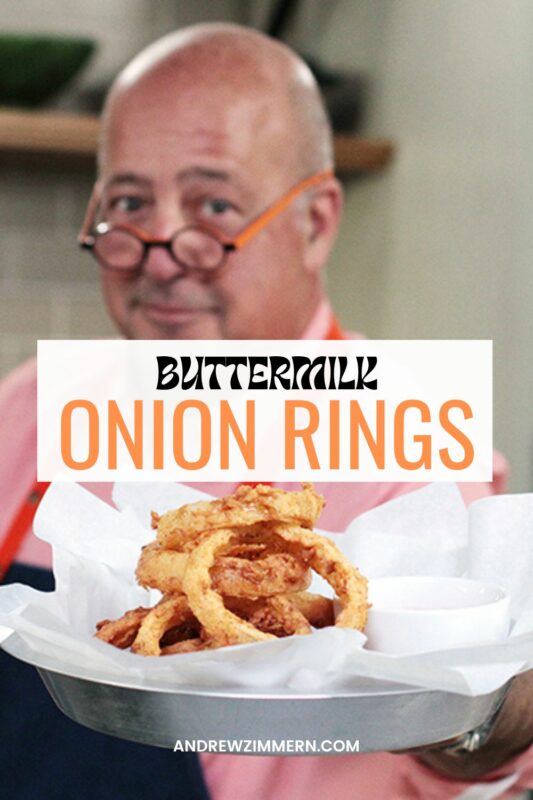 Onion Rings
---
Ingredients
2 large Vidalia or sweet onions
2 quarts peanut oil
2 eggs
2 cups buttermilk
2 tablespoons hot sauce, such as Crystal
2 cups all-purpose flour
1 tablespoon AZ & Badia Lemon & Shallots spice blend
1 tablespoon Kosher salt
1 teaspoon freshly ground black pepper
Sea salt
Instructions
Cut the onions into roughly 3/4-inch thick slices. Separate the slices into rings, reserving the smallest inner rings for another use.
In a large heavy pot, heat oil to 375 degrees F.
In a mixing bowl, whisk together the eggs, buttermilk and hot sauce. In a separate bowl, whisk together the flour and Lemon & Shallots spice blend. Season well with salt and pepper.
Working in batches, dip the onion rings into the seasoned flour, shaking off any excess. Dip into the egg wash, again allowing the excess to drip off. Dip the rings back into the flour and place in the hot oil. Fry for 3 to 4 minutes, until golden brown. Let rest on a paper towel and season with sea salt. Repeat until the onions are done.
• The World's Best French Fries
• Classic Buttermilk Fried Chicken
• Tostones
• Chicken Fried Steak with Cream Gravy