Mixed Berry Crumble
One morning several years ago, I was set up in the kitchen to bake a dessert as my contribution for a family dinner. My son begged me to make cookies, but I had a berry crisp in the works, so a compromise was made and this recipe was born. I took my typical crumble topping and added the elements of a great sugar cookie, and I guarantee you'll love the result. This easy, rustic dessert is a cinch to throw together and works well with any fruit filling you have on hand.
Watch Andrew make this recipe:
Like this recipe? Save it on Pinterest!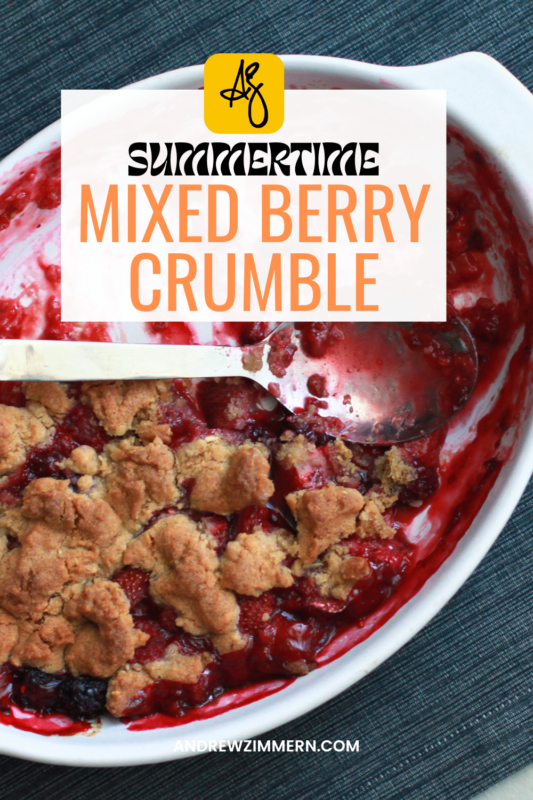 Mixed Berry Crumble
---
Ingredients
 Filling
1 quart strawberries, hulled and quartered
1 pint raspberries
1 pint blackberries
1/4 cup sugar
1 teaspoon pure vanilla extract
Pinch of salt
2 tablespoons cornstarch
Topping
1/2 cup sliced almonds
1/4 cup light brown sugar
1 stick unsalted butter, softened
1 large egg yolk, at room temperature
1/4 teaspoon pure vanilla extract
1/4 teaspoon baking powder
1/4 teaspoon salt
1/4 cup granulated sugar
3/4 cup all-purpose flour
Whipped cream or ice cream, for serving
Instructions
Prepare the Filling
Preheat the oven to 350°.
In a large bowl, toss the strawberries, raspberries and blackberries with the sugar, vanilla, salt and cornstarch. Gently toss to incorporate. Pour into a pie plate or casserole dish and reserve.
Make the Topping
Spread the almonds onto a baking sheet and toast in the oven, stirring once, until golden and fragrant, about 7 minutes. Let cool completely.
In a food processor, pulse the almonds with the brown sugar and butter. Place the almond mixture in a bowl of a stand mixer fitted with a paddle attachment. Add the egg yolk, vanilla, baking powder, salt, sugar and flour. Beat at medium speed until fully incorporated.
Dollop teaspoon-size clumps of the batter over the fruit. Bake until the topping is deeply browned and the juices bubbling up around it appear thickened, about 45 minutes. Let cool slightly. Serve with ice cream or whipped cream.
• Apple & Cranberry Crumble
• Lattice Top Blueberry Pie
• Strawberry-Rhubarb Crumble