Ginger Scallion Noodles
If you love to cook, you should learn how to recreate the tent poles of culinary wisdom from cultures around the world, starting with these addictive ginger scallion noodles. This recipe has the hallmarks of classic Shanghai-style scallion noodles mixed with Japanese-style charred scallion noodles with tsukemono pickles. It wouldn't hurt to make a double batch of the master sauce in this recipe, you'll use it on everything.
Watch Andrew make this recipe:
Like this recipe? Save it on Pinterest!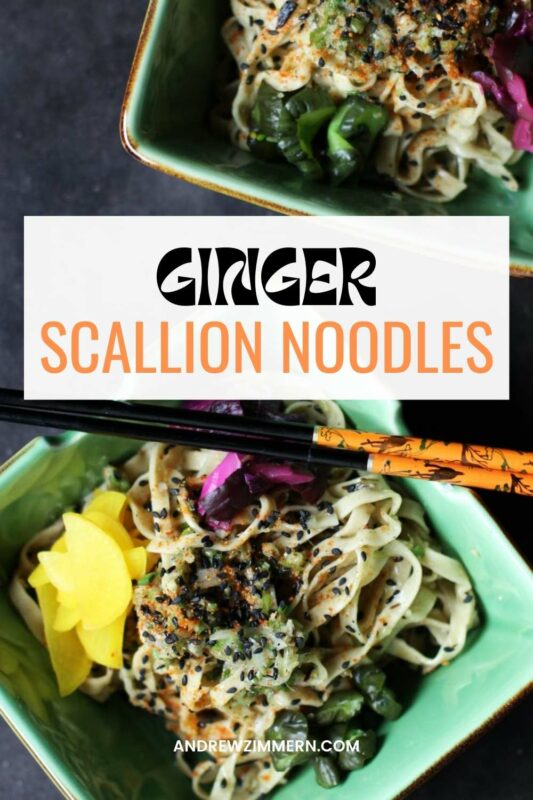 Ginger Scallion Noodles
---
Ingredients
1  1/2 cups scallions, sliced
1/2 cup fresh ginger, peeled and grated
1/4 cup grapeseed oil, plus more for brushing
1 teaspoon kosher salt
1 tablespoon sherry vinegar
1  1/2 teaspoons soy sauce
2 bunches scallions
1 serrano chiles
12 ounces (dry weight) of thin egg noodles, ramen noodles or thin buckwheat noodles
Toasted black sesame seeds, for garnish
Togarashi, for garnish
Takuan: pickled daikon radish
Shibazuke: eggplant and cucumber pickled with shiso
Kyurizuke: pickled cucumbers
Instructions
Mix together the sliced scallions, ginger, 1/4 cup grapeseed oil, salt, vinegar and soy sauce. Let the mixture rest in the refrigerator for about an hour while you grill the scallions.
Prepare a grill for direct high heat cooking. Brush 2 bunches of scallions and a serrano chile with grapeseed oil and season with salt. When the grill is hot, place the scallions and chile directly over the hot coals and scorch.
Allow to cool and remove the stem of the chile. Pulse the grilled scallion and chile in a food processor to make a coarse puree. Add the pureed mixture to the bowl of raw scallions you had in the fridge, and mix to combine. Taste and correct the vinegar and salt seasoning. Add the cooked noodles and toss to evenly coat.
Divide the noodles into the bowls. Sprinkle with toasted black sesame seeds and togarashi. Garnish with Japanese pickles. Serve.
• Hainanese Chicken Rice
• Aromatic Soy Sauce Noodles
• Cold Peanut Sesame Noodles