Classic Caesar Salad
This beloved dish was invented nearly a century ago in Tijuana by a chef name Caesar Cardini, who threw together a salad with the only ingredients he had on hand after the restaurant sold out of its regular offering. It has since turned into an American classic, a staple on most menus from coast to coast. Don't buy your dressing at the store—it's so easy to make at home, with a rich, tangy and savory vibe that a jarred dressing can't provide. Be sure to serve it with plenty of garlic and herb croutons.
Watch Andrew make this recipe:
Like this recipe? Save it on Pinterest.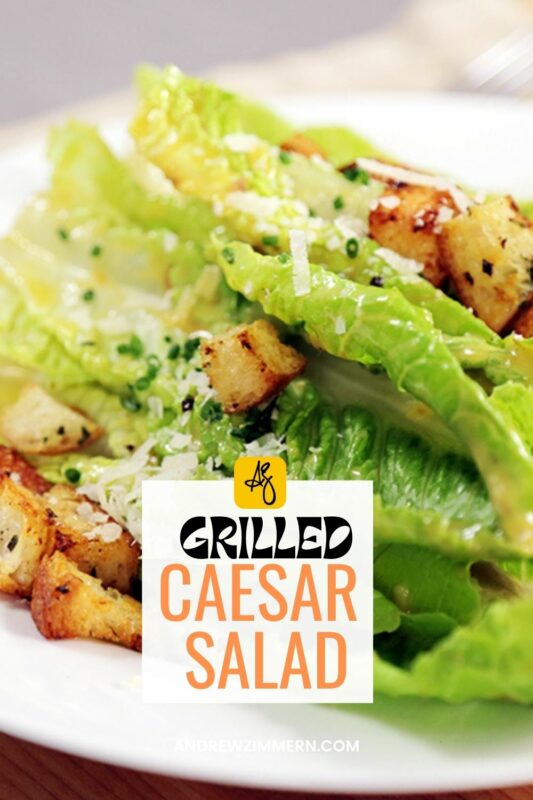 Andrew Zimmern Cooks: Caesar Salad
---
Ingredients
Croutons
3 tablespoons butter
1 garlic clove
1 tablespoon chives, minced
2 tablespoons parsley, minced
2 cups cubed baguette
Salt
Pepper
Salad
2 heads romaine lettuce, leaves left whole
3 tablespoons minced anchovies, plus 1 tablespoon oil from anchovy tin
1 garlic clove, grated on a Microplane
3 egg yolks, beaten slightly
1 teaspoon Dijon mustard
1 tablespoon Worcestershire sauce
Pepper
1/2 cup olive oil, or more to taste
3 tablespoons fresh lemon juice
1/2 cup Parmesan cheese, grated
Chives, minced for garnish
Instructions
First, Make the Croutons
Preheat the oven to 350 degrees F.
Melt the butter in a small saucepan. Once the butter is melted, grate the clove of garlic and add to the pan. Turn off the heat and let the flavor of garlic infuse into the butter for a minute.
Place the chives, parsley and bread cubes in a large mixing bowl. Season with salt and pepper. Pour the garlic butter over the bread and toss to coat. Spill the contents of the bowl onto a baking sheet and bake in the oven for 10 to 15 minutes, until nicely browned. Reserve.
Prepare the Salad
Wash and dry the lettuce leaves. It needs to be bone dry!
In a large salad bowl, whisk together the anchovy oil, grated garlic, egg yolks, mustard, Worcestershire sauce, pepper and minced anchovies. Slowly add the olive oil in a thin stream, stirring constantly to emulsify. Then add the lemon juice and half of the grated parmesan cheese. Stir to combine.
Turn the leaves of lettuce in the salad bowl to coat well. Season to taste. Plate and garnish the caesar salad with chives, remaining cheese and croutons.
VIDEO: How to Make Croutons