Putting Her Best Dish Forward
As the first blind contestant on the home-cook competition show MasterChef, Christine Ha had her work cut out for her, but she overcame the obstacles and cooked her way to the top winning over the palates of three notoriously harsh critics. We chat with Christine about competing with a disability and what she's got cooking for the future. Think you have what it takes to become the next MasterChef? Take your winning dish to an open call (auditions held around the country, including Minneapolis on Oct. 13).
AndrewZimmern.com: When did you first start cooking? What was your inspiration?
Christine Ha: I began cooking in college after moving out of the dorms into an apartment with a small kitchen. It was a means of survival because I knew I couldn't keep eating fast food, instant ramen and frozen pizzas. I bought a cookbook from a used bookstore and taught myself. I missed the foods I grew up eating, and because my mother died when I was a teenager and left me no recipes, I wanted to recreate the dishes she used to cook during my childhood. That first cookbook I bought was a Vietnamese cookbook, and ever since then, I'm mostly inspired by memories of my mom's food.
AZ.com: You lost your sight as an adult, how did you learn to adjust in the kitchen?
CH: Baby steps. I learned of adaptive cooking aids for the vision impaired, e.g. talking thermometers, talking scales, etc., and began to use them to start cooking again.
AZ.com: What made you decide to try out for MasterChef?
CH: I've been through a lot in my short life—by my mid-twenties, I'd lost my mother, I'd been diagnosed with a life-changing autoimmune condition and I'd lost my vision. I felt like because I survived all those things, I could survive anything. I began to take on an attitude that welcomed challenges. I like to push myself to see how far I can go. I'm naturally very competitive. And because I'm a home cook, I figured why not?
AZ.com: What was your experience like on MasterChef with a disability? What were the challenges of working withan aid?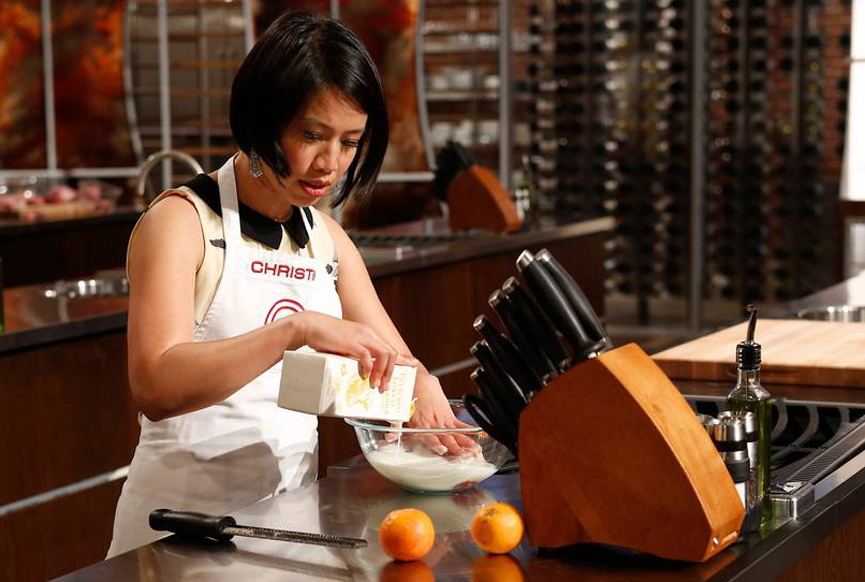 CH: It was very stressful because I knew I was the underdog. An aid was provided to me to level the playing field. I had to learn how to communicate with her and trust her. A person with vision could glance inside a drawer and immediately spot the slotted spoon. I would have to find the drawer handle, open it, and feel around for the slotted spoon, all the while frantically asking my aid, "Where is the slotted spoon?" She would then have to take my hand and wrap my fingers around the slotted spoon. This takes much longer. This is why I'd embark on the challenges strategically, i.e. when a challenge is timed for 60 minutes, I'd often think of what I can execute in 50 minutes successfully in order to allow myself some cushion.
AZ.com: Now that you've taken home the title of MasterChef, what's next?
CH: Work on my cookbook, of course. I still plan to graduate school, so I'm working on my memoir which will be my thesis (I want to become a Master of Fine Arts in addition to a MasterChef).  I would also love to continue writing about food whether it's as a columnist, critic or author.  Lastly, if I can find the right investors and partners, I would love to open an ice cream shop with creative, unexpected ice cream flavors and a gastropub with a farm-to-table concept. I'd design the menu with small plate offerings that require diners to order plenty and share family-style, and the menu would change monthly or seasonally according to my whim and what's at the farmers' markets.
AZ.com: What's in your fridge?
CH: Right now, there is black garlic that I fermented myself, some peaches, some limes we grew in our backyard, leftover Vietnamese chicken noodle soup (pho ga) that I'd made the other day, a piece of fried chicken left over from a batch I'd made yesterday, almond milk, five bars of Hershey's Extra Dark chocolate, a few Belgian ales and double IPAs, a dozen cage-free eggs, some cured meats and cheeses.
Christine Ha,  Vietnamese American from Houston, Texas, is the first blind contestant and the winner of the third season of MasterChef in 2012. Ha suffers from neuromyelitis optica. In 1999 she lost sight in one eye, and was completely blind by 2007. She received a Bachelor of Business Administration degree in Finance/MIS from University of Texas at Austin in 2001 and is now a Master of Fine Arts candidate for creative fiction/nonfiction at University of Houston's Creative Writing Program. She recently received the editor's poetry prize from The ScissorTale Review and was a finalist in the 2010 Creative Nonfiction MFA Program-Off contest. For more information, check out Ha's website and blog, The Blind Cook.