Kansas City's Barbecue Guru
Ardie Davis, PhB (doctorate in barbecue philosophy), founded the American Royal BBQ Sauce, Rub and Baste Contest, has written nine barbecue cookbooks and is a backyard meat-smokin' professional. We chat with Ardie about the country's best barbecue, the competition trail and tips for championship-quality ribs. For your own taste, head to the American Royal's annual barbecue competition (the largest in the world) October 4-7, 2012.
AndrewZimmern.com: What is it about standing over a fire and smoking slabs of meat that attracts people of all ages and backgrounds?
Ardie Davis: No doubt there are some omnivores and vegetarians who have somehow lost their way. However, I have yet to meet anyone of any age or background who doesn't suddenly crave barbecue the instant the aroma of a meat fire hits their nose. It touches a primal button in our DNA that is as powerful as the sex drive. That said, if not for barbecue, I could easily be a vegetarian.
AZ.com: You've eaten your way across the country, what barbecue joints are worth a detour?
AD: I've tried several hundred of the more than 8,000 barbecue restaurants in America today, and I will enjoy many more on the road ahead. What I'll give you now is a tip of my Derby hat to 13 places in random order that I guarantee are worth the trip. I could name more than a hundred others. Read America's Best BBQ for other tips that will serve barbecue road trippers well.
Brisket, ribs & sausage at Louie Mueller in Taylor TX, and Smitty's Market in Lockhart, TX
Barbecue spaghetti, pulled pork & ribs at The Bar-B-Q Shop in Memphis, TN
Ribs, brisket, chicken, black beans & rice at Dinosaur in Syracuse, NY
Burnt ends, ribs, brisket, Z-Man, Carolina Pulled Pork & seasoned fries at Oklahoma Joe's in Kansas City, KS
Pulled pork & cobbler at Allen & Son in Chapel Hill, NC
Beef & ribs combo & fries at Arthur Bryant's in Kansas City, MO
Ribs, beans, slaw & free strawberry-banana cake at Leo's in Oklahoma City, OK
Brisket sandwich & sauce from heaven at City Market in Luling, TX
Pork ribs, beef ribs, lamb ribs, brisket & steaks at Jack Stack in Kansas City, MO
Ribs, brisket & potato salad at Rudy's in Leon Springs, TX
Brunswick Stew at Johnny Harris in Savannah, GA
Doug Pierce's ribs at the Arapahoe Café in Dillon, CO
Pig snoots & rib tips at Smoki O's in St. Louis, MO
AZ.com: What makes Kansas City a barbecue destination?
AD: Kansas City benefits from the migration of workers from Southern states who were attracted to jobs in transportation, meat processing, agribusiness and manufacturing a hundred years ago. They brought their barbecue skills and traditions with them, and given ready access to an abundance of meat, hickory, oak and pecan, weekend street-corner barbecue soon followed. When barbecue joints set up shop, thanks to Henry Perry and others, word spread quickly that Kansas City's fusion of the best Southern barbecue was the place to go. Social networking wasn't as fast then as now, but word got around.
AZ.com: What does it take to become a certified judge for the American Royal, the largest barbecue competition in the world?
AD: Spend the better part of a day as an attentive student in a Kansas City Barbecue Society Certified Barbeque Judge (CBJ) class. There you'll learn the essential rules and procedures of judging a KCBS-sanctioned contest, plus basics on the four meat categories: chicken, beef brisket, pork shoulder and pork ribs. If you are invited to judge, arrive early. More than 500 judges are needed at the Open Contest. More than 500 prospective CBJs are invited—but once the tables are filled, no more invited judges are allowed in the judging area. The wait line stretches three times longer than the lunchtime lines at Arthur Bryant's and Oklahoma Joe's combined.
AZ.com: What criteria does a winning rack of ribs need to meet?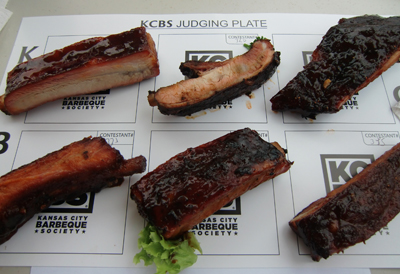 AD: Judges these days tend to go for ribs that are glazed or sauced with sweetness. Cooks know it. Thus a winning rack of ribs will most likely be sweet,sometimes so overseasoned that you can't taste the natural meat, fire & smoke umami. I call them candied ribs. The meat will be tender enough to easily pull off the bone. It will be judged down if the meat falls off the bone. Although I'm not on the same page with all of the rules, I judge by the rules when I'm at contests. Anywhere else, I want ribs that are lightly seasoned with dry seasonings or no seasonings at all, sauce on the side. If the ribs are smoked or grilled to perfection, sauce isn't necessary.
AZ.com: What's in your fridge?
In the freezer I have homemade pesto and tomato base pasta sauce, two slabs raw pork ribs, smoked salted pork belly, fire-roasted hatch peppers, BBQ rib scraps for beans and peas for the grandchildren. My fridge is always filled with hot sauces, barbecue sauces, mustards, salsas, jams, jellies and relishes; I also found local eggs, cucumbers, cauliflower, sliced Texas sweet onion, plain Greek yogurt, edamame dip and a half-full bottle of Charles Shaw merlot.
Ardie A. Davis, aka Remus Powers PhB, founded the Diddy-Wa-Diddy National Barbecue Sauce Contest in his backyard patio in 1984. Three years later the contest became the American Royal International Barbecue Sauce, Rub & Baste Contest.  Davis is a certified Memphis in May Barbecue Judge and a Kansas City Barbeque Society (KCBS) Certified Master Judge. A charter lifetime member of KCBS, he has served three terms on the Board of Directors. Davis and Ed Roith wrote the original judge certification curriculum for the Certified BBQ Judge program. The CBJ program has become a successful sanctioned contest network resource of more than 15,000 certified barbecue judges in the US and other countries. He is now a Board Member Emeritus and inductee in the KCBS Hall of Flame. Davis' most recent books are 25 Essentials: Smoking; 25 Essentials: Grilling; America's Best BBQ, with Chef Paul Kirk; the 25th Anniversary Kansas City Barbeque Society Cookbook, with Paul Kirk and Carolyn Wells. America's Best Ribs, with Paul Kirk, and America's Best BBQ – Homestyle – What the champs cook in their backyards, with Paul Kirk, to be released by Andrews McMeel in May 2013.